November 1, 2021
Do you think you need acres of grass to have a stunning backyard? Well, think again. This stylish small backyard proves that you can create a relaxing retreat, complete with an in-ground pool. All it takes to build the backyard pool of your dreams is thoughtful planning, a little creativity, and well chosen patio accessories.
Whether your backyard is teeny-tiny or awkwardly shaped, you can choose a small pool to fit your space and vibe. A plunge pool or other small pool can be 12 feet in length — or smaller if need be.
While you think a small backyard might be a challenge, architects and builders are up to the task. Large properties are often the exception — not the norm — and contractors are knowledgeable in taking advantage of the available space.
And even though the pool is smaller when compared to more luxe builds, you can still take advantage of the many benefits. Exercise or swim leisurely; relax on a pool float; sit in the shallow end and soak up some vitamin D.
If you have doubts, just look at this picture-perfect small backyard in-ground pool.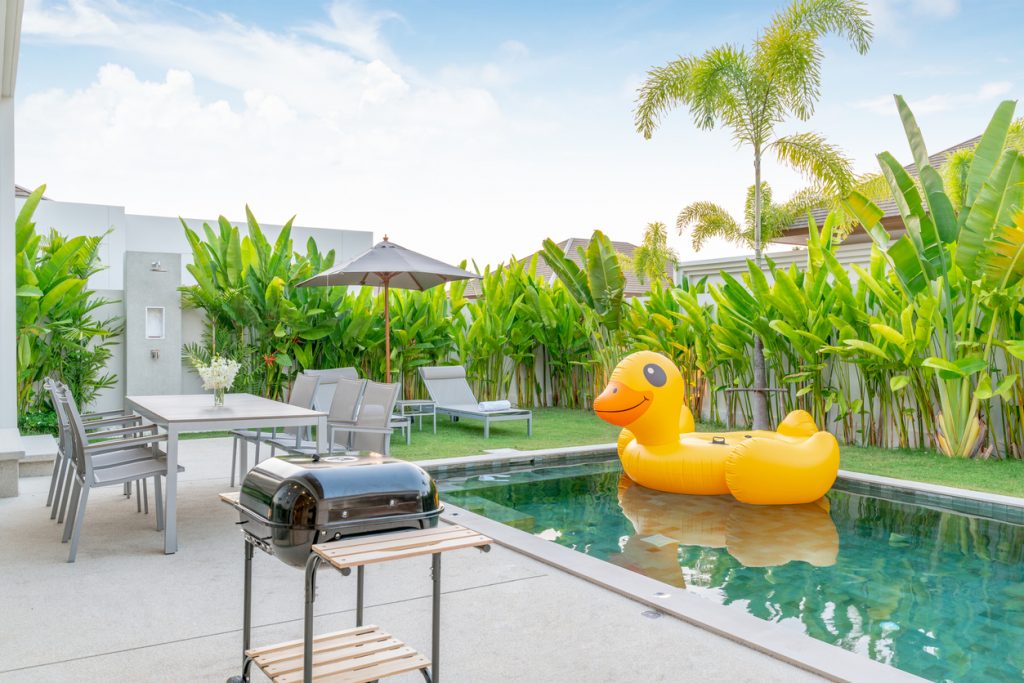 In-ground pools in small backyards
You might believe that a small backyard might limit your in-ground swimming pool options. However, there are many small pool ideas — whether you want a plunge pool, above-ground pool, swim spa, or a stock tank pool.
But if you have longed for a traditional in-ground pool, creative design can take you a long way without taking up a lot of space.
If you are planning an in-ground pool in your small backyard, it's important that you prioritize the features and feel that you want and don't get caught up in other, more grand designs.
Considerations for building a small in-ground pool include:
Going with the flow. Choose a pool shape that complements the size and orientation of your backyard. You will be able to create a bigger pool if you are open to different shapes.
Double duty.  A tanning ledge is a feature that many homeowners want to incorporate into an in-ground pool. If you have a small backyard, though, you might not have room for the pool and tanning ledge. You can create wider steps that double as tanning ledges.
Depth. Most in-ground swimming pools are between 3 feet deep and 5 feet deep. Larger pools can go deeper but might need space for additional slope. If you are planning a plunge pool or other small pool, you do not want to go deeper than 5 feet.
Deck. When you are building a backyard water feature, the deck area can often take up as much space if not more than the pool. But you might not have that room when you have a small backyard. Depending on the position of the backyard, you can choose to minimize the deck area or keep it on just one side of the pool.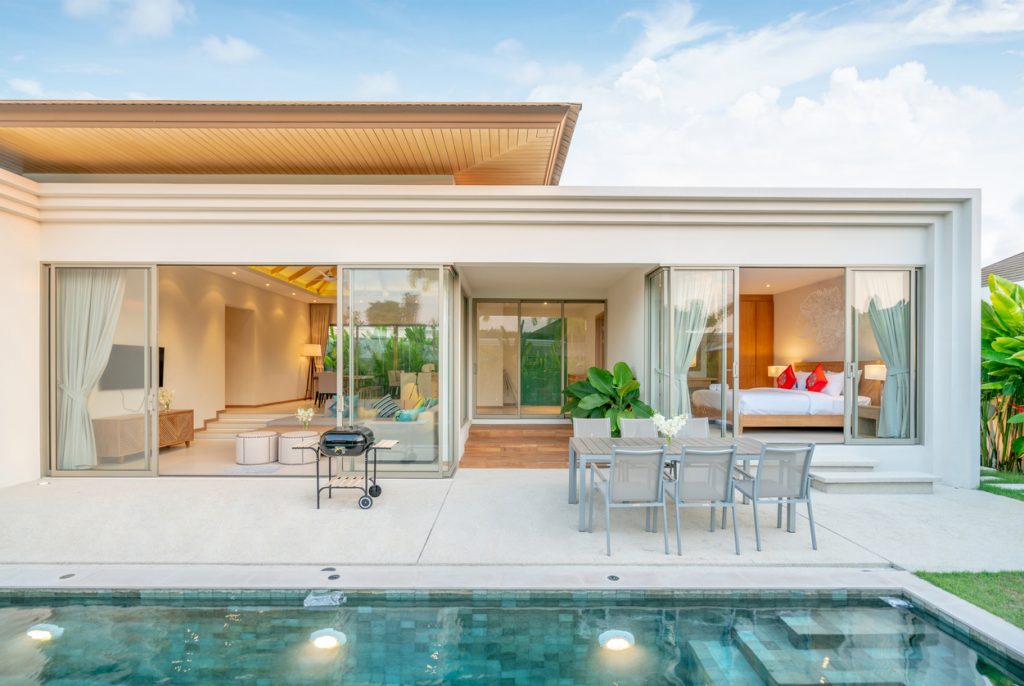 Small backyard pool ideas
A backyard pool does not need to be perfect for hosting a party or swimming laps. It just has to be perfect for you and your family.
And this backyard swimming pool was designed to be perfect for the homeowners.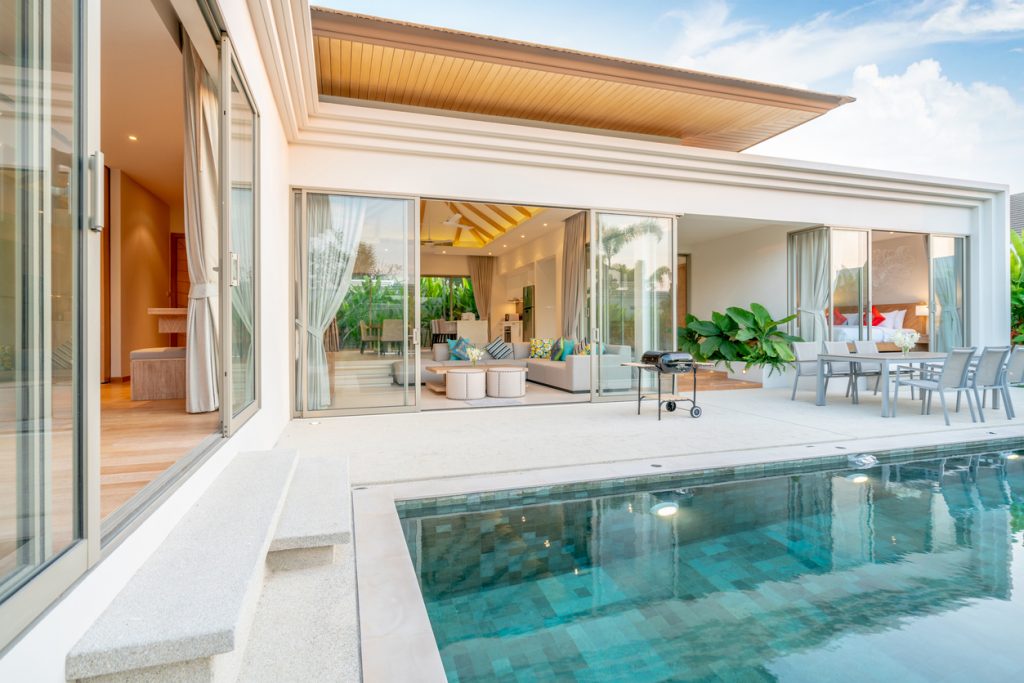 Panoramic view. This modern home features large glass patio doors, blurring the line between the outdoor and indoor living spaces. The doors can be opened up to expand the patio space, making it feel larger.
Access to the pool. Another advantage to the glass patio doors is access to the pool. The homeowners can walk out to the pool from the master bedroom or the living space. 
Planting the seed. Large tropical plants give the backyard a lush, exotic feel. They were strategically planted along the fence line to create privacy. This small backyard goes to show that you don't need grand flower beds to have a beautiful landscape.
Modern patio furniture. Metal patio furniture and lounge chairs have clean lines and neutral color so that the star is the backyard pool
Throw some shade. No matter how much you like to soak up the sun, there are times when you just need some shade. A lightweight patio umbrella is strategically positioned between the patio loungers. The homeowners can stretch out and rest their eyes or flip through a magazine after spending time in the water.
Pool accessories. No matter what size pool you have, you want to maximize the fun. Oversized pool floats and toys can help you get the most out of your in-ground pool. We love this giant duck float! Can't you just see yourself floating on a hot summer day with your toes dipping into the water?!
If you are looking for more pool accessories, be sure to check out this post!