December 7, 2021
The experience of owning a hot tub is all about what happens when you get in the water. The hot water is soothing, the hydrotherapy jets are relaxing. You feel tension release and your mind ease. But how do you get into your hot tub? Hot tub steps are not the most glamorous part of a spa purchase. However, it's important to have a way to safely get in and out of the spa.
Hot tub steps can be basic, made from all-weather plastic. Or, you can choose a custom look and have wood steps built to complement the look of your backyard. There are durable options made from powder coated aluminum and others made from a recyclable polymer material.
The best hot tub steps will depend on who is using the spa, your installation, and the size of the spa. These hot tub step ideas and tips will help you select the best set so that you and your loved ones can enjoy the spa.
How to select hot tub steps
What's the first step in selecting steps for your new spa? You need to consider the dimensions. Not just how much space you have for your new spa but the size of the hot tub.
The size of your backyard and hot tub installation will ultimately determine how much room you have for the steps. With a small space, you might not have room for a spa surround or set of storage steps.
Just as you need to consider the size of your space, you need to factor in the spa dimensions. One size does not fit all when it comes to hot tub steps. While most sets have two steps and that will work, taller spas or custom installs might require a different option.
Other things to consider when selecting steps for your spa:
Spa users. If you have young kids or struggle with balance, the best hot tub steps will be wider and have built-in traction. Polymer steps might have traction built into the design. Other steps might have traction treads applied to each step. You can also find some with handrails that make it easier to get in and out.
Material. Your outdoor hot tub — and the steps —will be exposed to the elements. Sun, rain, snow, and wind can all wear on the set. It's important to consider the material. For example, brushed aluminum steps might get too hot to step on if you live in a very sunny climate. Alternately, heavy steps might be hard to move in the winter when you need to remove snow.
Weight limit. If you are buying after-market hot tub steps, you might be surprised to discover that some have a weight limit of 250 pounds to 300 pounds. Steps that are made of a lesser quality material might bow even when someone under that weight uses them. If you have concerns about the weight limit of the steps, check the specifications or consider choosing a sturdier version. You can also choose to have custom steps built, which can elevate the look of your backyard.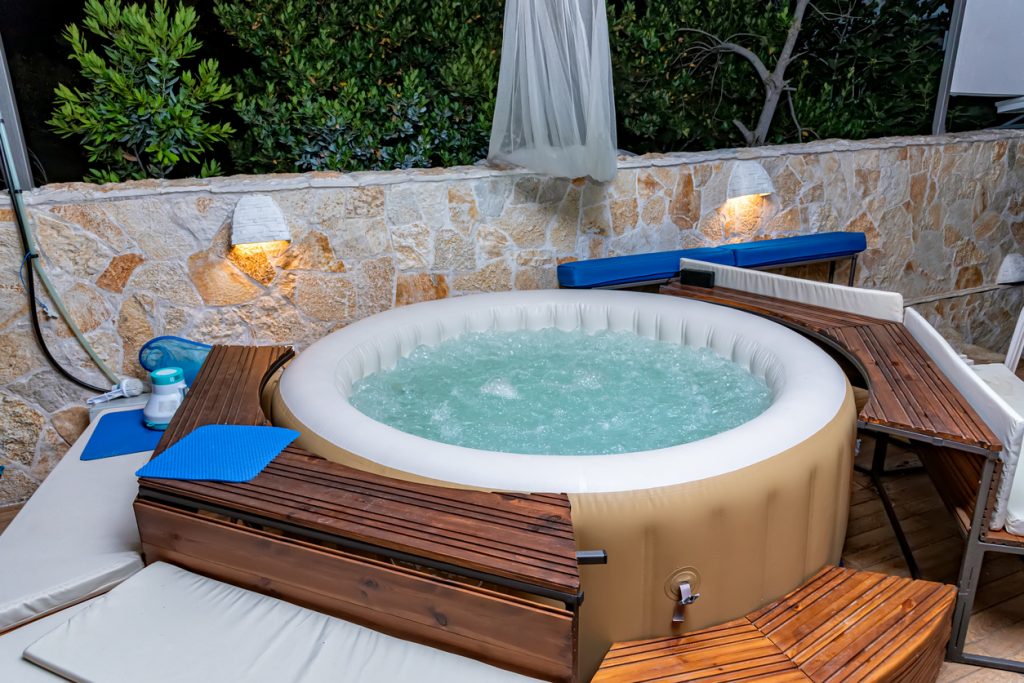 Hot tub step ideas
When you are choosing the best hot tub steps, you might have a hard time seeing the whole picture. These spa installations will give you different ideas so you can picture the stairs — and spa — in your backyard.
Inflatable hot tub steps
The owners of this inflatable spa chose a curved surround to make getting in and out easy. The surround also offers a place to rest a drink or set your towel.
---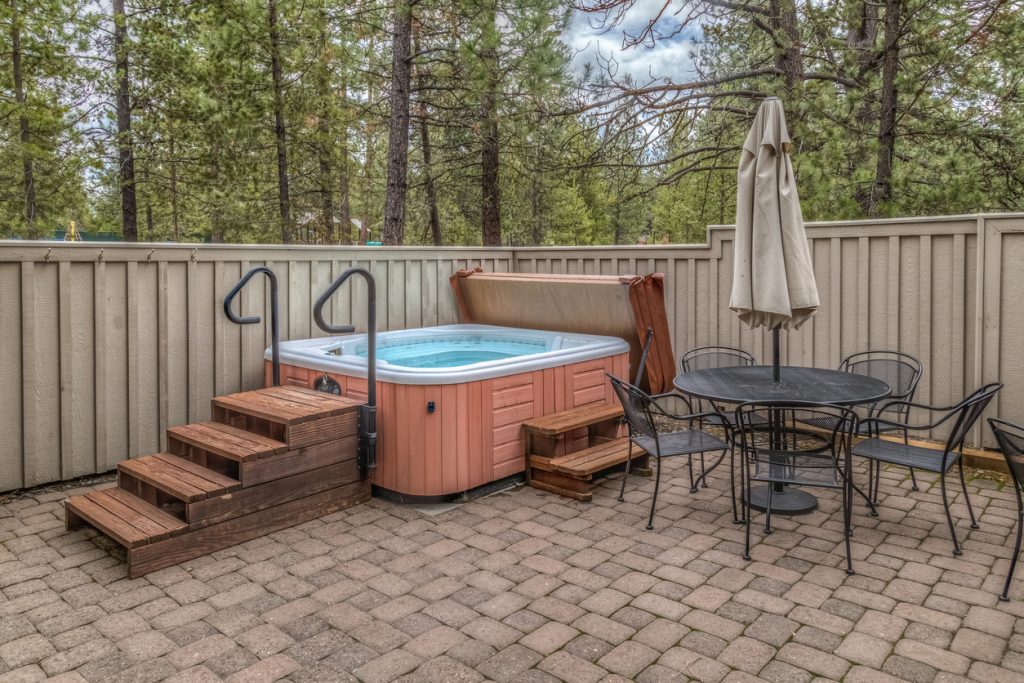 Paver patio spa
This square outdoor spa is positioned in the corner of a paver patio. Two sides of the spa can be used to get in and out, and the homeowner chose to have two sets of hot tub steps. There's a small two-step unit, as well as a bigger set with a handrail. The wooden steps are wider and come out farther into the patio, making it easier for those with mobility issues to get in and out.
---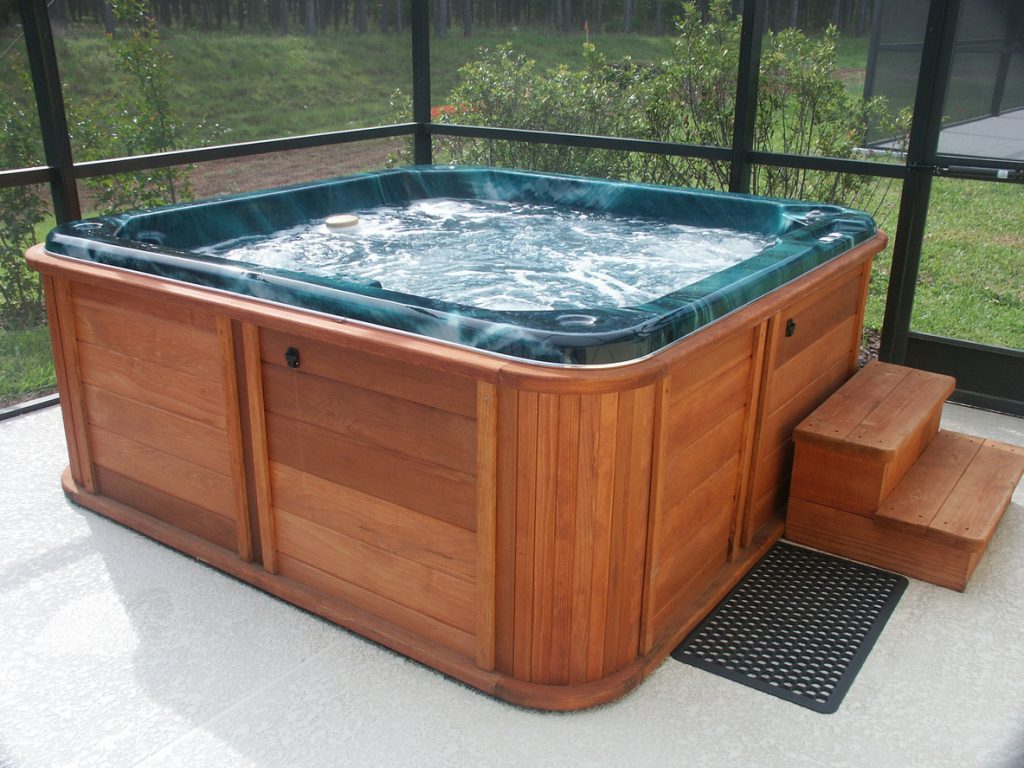 Indoor hot tub idea
One thing to consider when choosing an indoor hot tub is drainage and splash. The flooring, as well as the steps, need to provide traction so you can safely enjoy the water. The homeowners built a set of two wooden stairs for the spa. In addition, there's a traction mat next to the steps for added safety.
---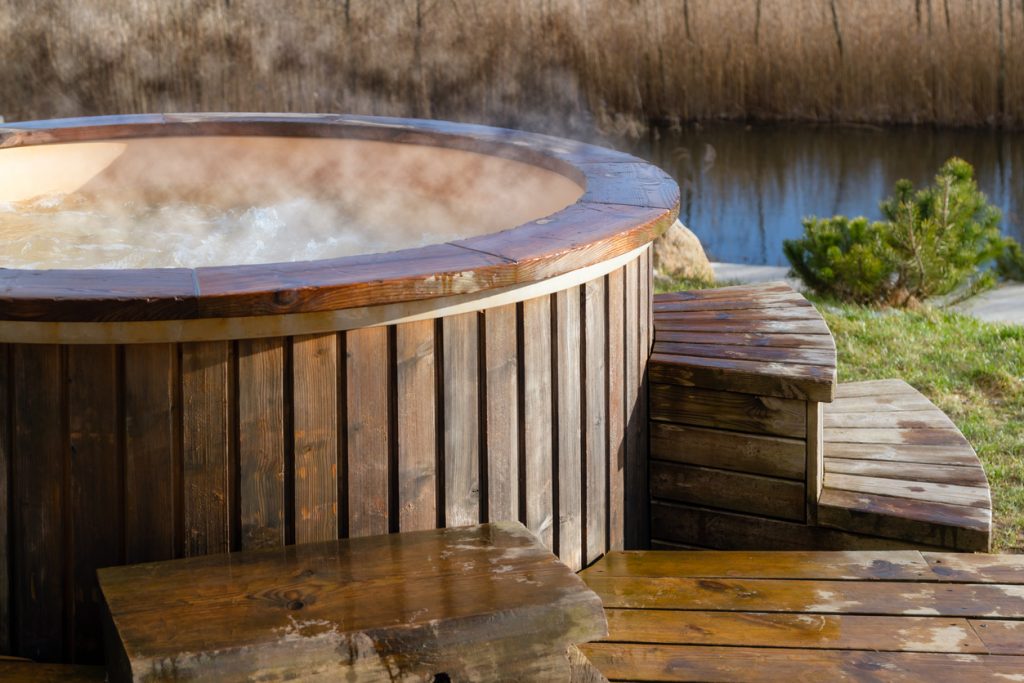 Round hot tub stairs
One thing you might not consider when choosing the best hot tub steps is whether the set is flush against the unit. If there's a gap between the stairs and spa, you might catch your toe and stumble getting in and out. The owners of this outdoor round spa found curved steps that could be nestled against the cabinet. Installed next to a deck, this hot tub has two sets of stairs — a small set on the deck and another set on the grass.
---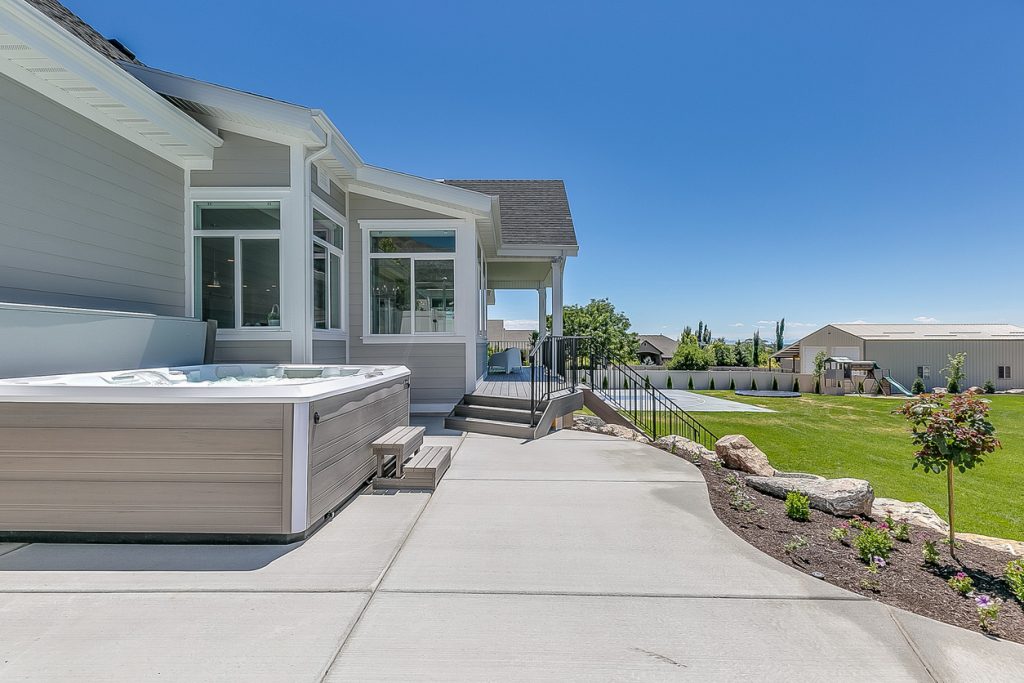 Modern spa look
This gray hot tub and installation is sleek and modern, and the homeowners needed a set that complemented the look. The light gray stairs next to the spa almost blend into the installation. The lines are clean, and the overall design is sophisticated.
---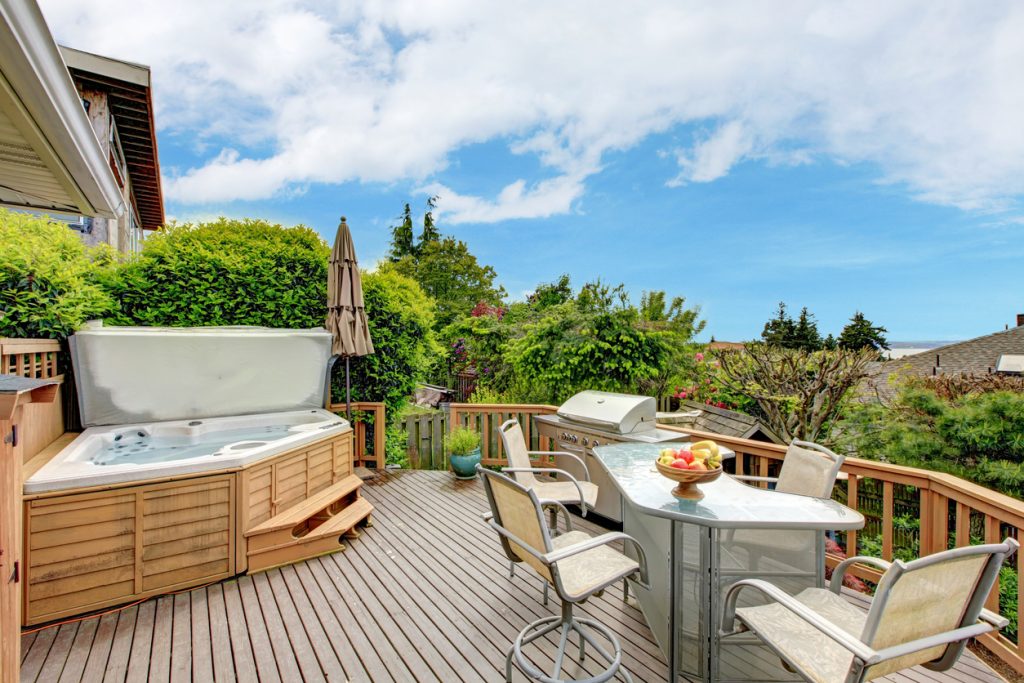 Corner hot tub idea
Sometimes you don't want the traditional rectangular hot tub. A corner hot tub can fit perfectly into a deck or patio without overtaking the space. The homeowners found the perfect spot on the deck for this corner hot tub and built a custom wood cabinet for the spa. To complement the look is a custom set of wood stairs.