July 5, 2022
Are you looking for a way to transform your backyard into a relaxing destination? A backyard pergola can change the look of your space. Providing space for entertaining and unwinding, these breezy structures can extend your living area and add privacy.
As the popularity of outdoor spaces continues to grow, there are more designs and styles available to homeowners. There are traditional pergolas with vertical posts and lattice-style ceilings. Modern pergolas can be made of steel and feature stylish side panels.
We chose some of our favorite backyards with pergolas to inspire your outdoor makeover. You can use these pergola design ideas to create a space for relaxing, entertaining, spending time with family, or just being in nature.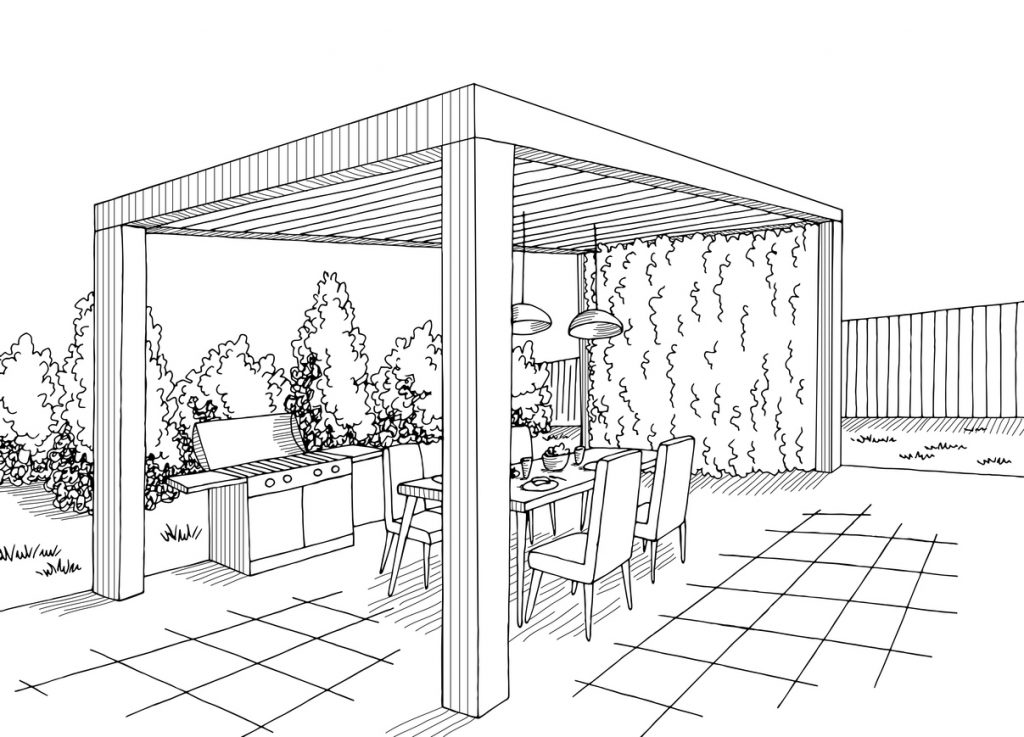 12 pergola design ideas
A backyard pergola can easily accommodate all your outdoor activities. You can enjoy a quiet dinner al fresco or host family and friends on a summer afternoon. The best pergola will depend on your space, design preferences, and budget.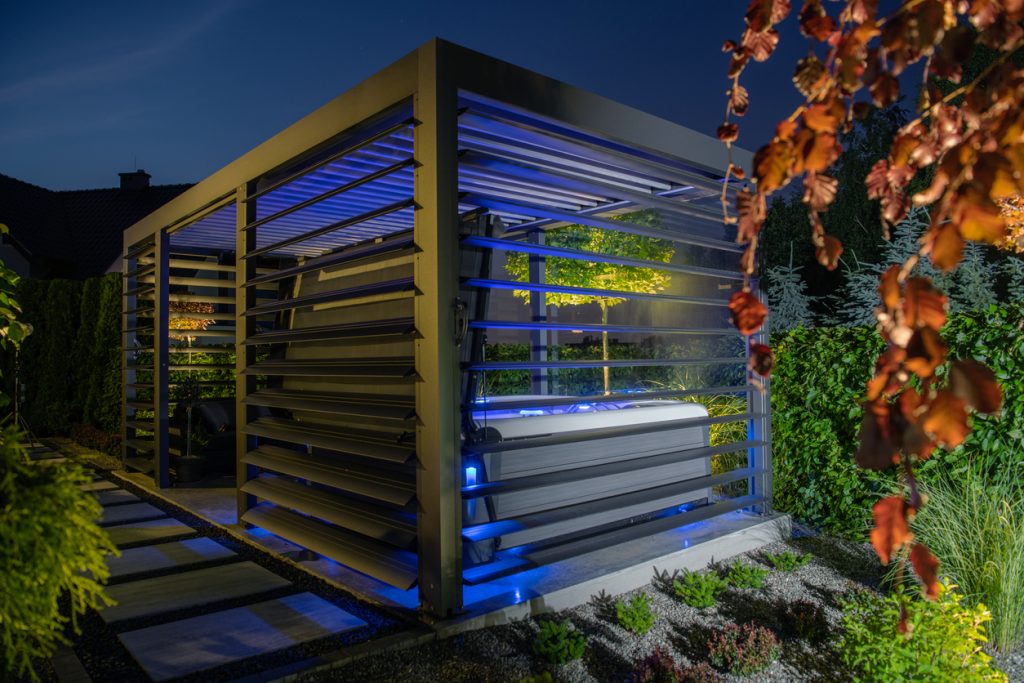 Modern pergola with hot tub
A pergola adds an architectural element to any backyard. But this modern pergola, with its sleek lines and clever use of materials, makes a statement. The roof is a galvanized metal while the sides function almost like shutters. Inside the pergola, a hot tub offers space for relaxation and entertaining. Shrubs and bushes soften the look while adding color and texture.
---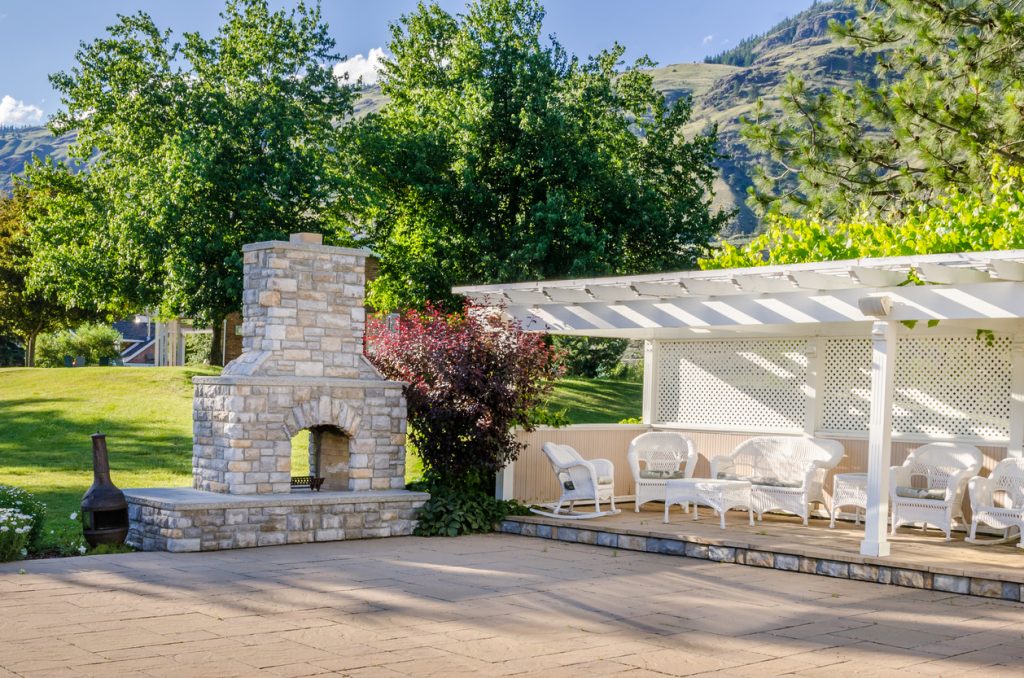 Traditional pergola and porch
A pergola can help define your outdoor space, and this backyard is a shining example. The pergola was built around an outdoor seating area in an expansive backyard. The white lattice complements the stonework while wicker furniture invites you to sit and relax. In addition, a large outdoor fireplace makes a statement. 
---
Rustic pergola
A pergolas are a beautiful design element on their own. However, they can also provide the structure for climbing flowers, vines, and ivy to grow. Need an example? Just look at this gorgeous rustic pergola. Vining plants climb up the posts and along the roof, creating a lush hideaway. A cozy seating area invites the homeowners and guests to relax. The space also features natural stone — from the patio to the outdoor fireplace.
---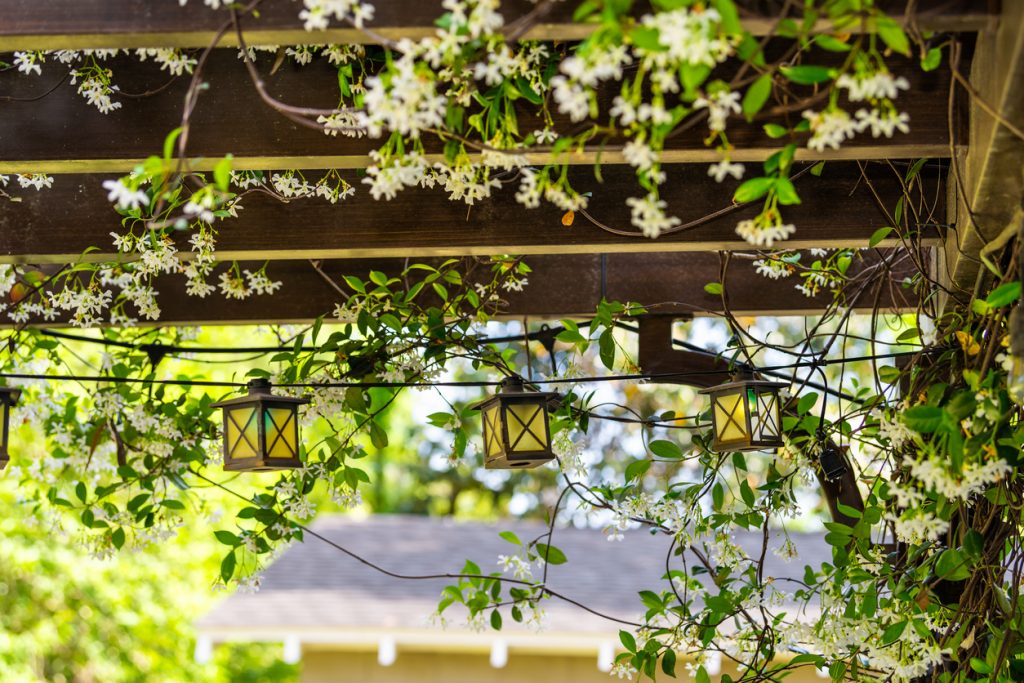 Sweet dreams
Pergolas can be an extension of your living space and your garden. You can set the mood of your space by allowing climbing flowers to create a canopy over your patio. String lights in a mini lantern design add to the overall look.
---
Poolside escape
Cabana chairs and a plush outdoor couch make it easy to relax poolside. But you can upgrade your pool deck with a pergola. Enjoy a cool drink or chat with guests as you keep an eye on the others in the water. This pergola features large white pillars with natural wood planks for the roof. A true escape, this backyard pool deck also features turf, mature succulents, and shrubs.
---
Modern terrace
Are you in the planning process of your backyard makeover? Consider this rendering of a private patio that is perfect for entertaining and enjoying the outdoors. Custom planters are home to lush tropical plants that add privacy and color. Instead of lawn or turf, custom planks reduce outdoor maintenance and allow you to enjoy your space more. However, the star is the modern pergola with an open slat roof and retractable shades. There's a large outdoor dining table underneath the structure, as well as an outdoor fireplace.
---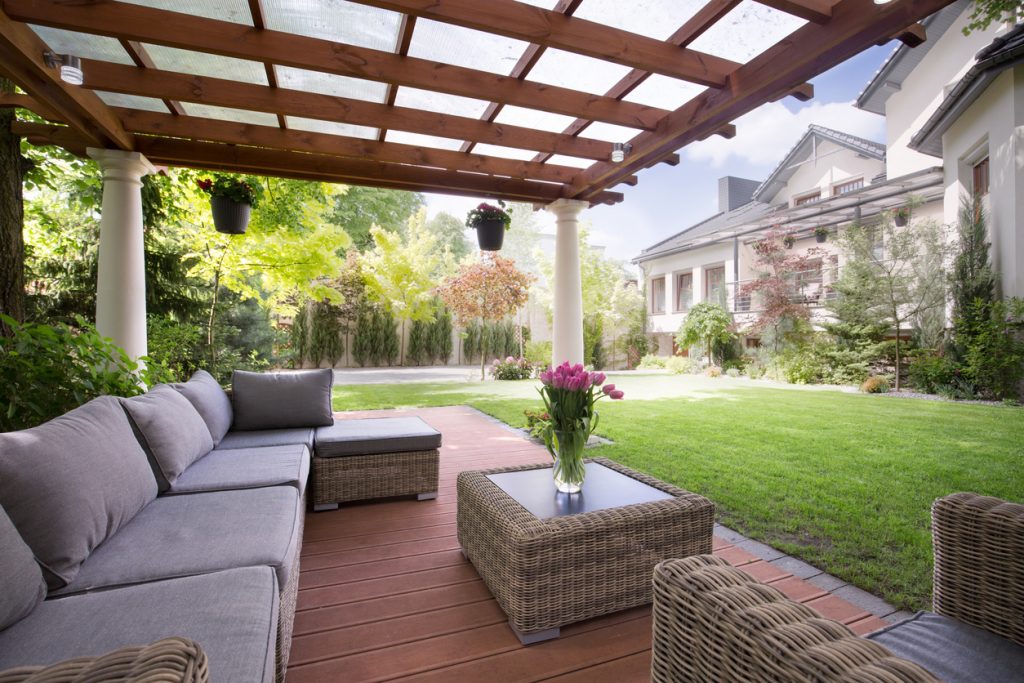 Best outdoor lounge
Every backyard has the potential to be an inviting oasis. With comfortable furniture designed for living and lounging, you can design a space where you can refresh and reconnect with loved ones. Under the roof of a large pergola, there is a modern wicker sectional, wicker chair, and table. Gray cushions create a sense of coziness, and a vase of vibrant pink tulips brighten up the space.
---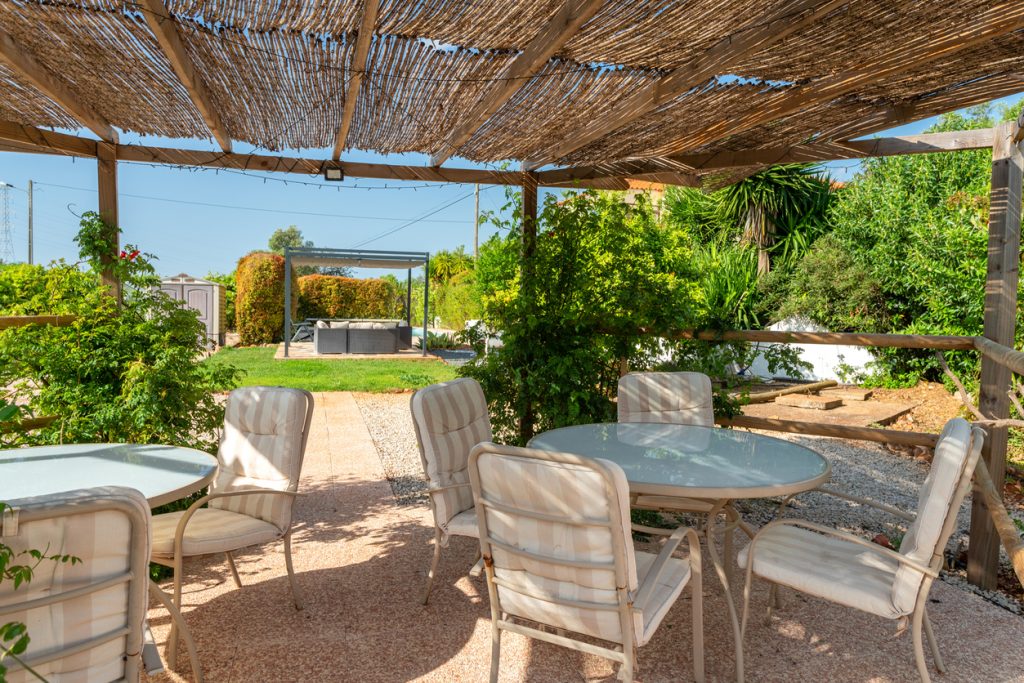 Tropical oasis
Your favorite resort could just be a pergola away. This simple structure features a nearly circular design, unimposing beams, and a thatched roof. An epoxy-stone patio features warm-colored rocks and there are multiple outdoor dining tables for hosting dinner parties al fresco. This backyard also features a hot tub with a pergola for shade and protection.
---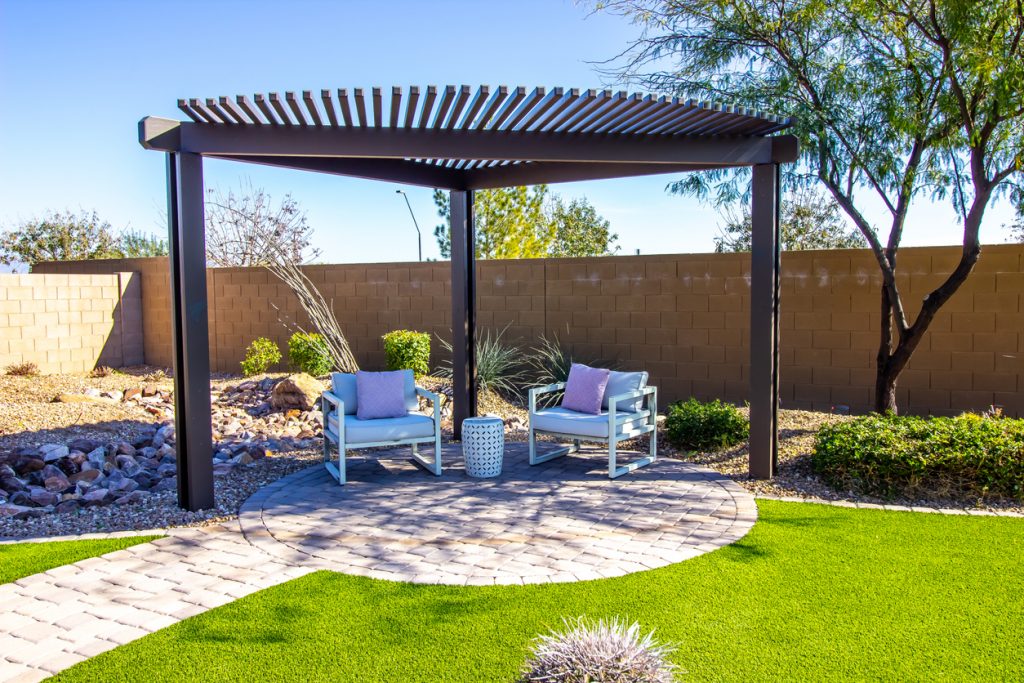 Simple and sleek outdoor seating area
Turn your phone on "do not disturb" and grab a refreshing mocktail as you enjoy this modern seating area. Sleek white aluminum chairs feature cozy cushions and pink throw pillows for just the right amount of color. Overhead, a modern pergola offers a bit of shade and a lot of interest. The triangle design looks like it was meant for this corner of the outdoor space.
---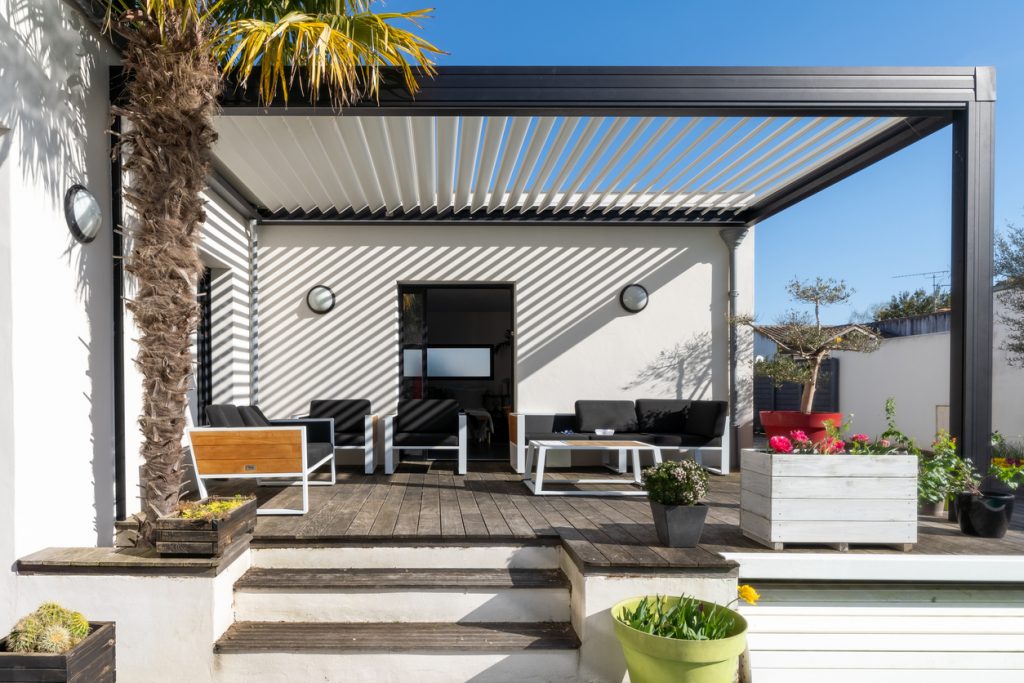 Updated Mediterranean deck
Surrounded by palms and succulents, this deck is a modern take on outdoor Mediterranean style. The outdoor seating area features brushed aluminum furniture with wood insets. Black cushions are durable and comfortable so you can enjoy the outdoor seating area in the warm summer months or on a cool fall night. The custom pergola is made of black aluminum with a galvanized-style roof.
---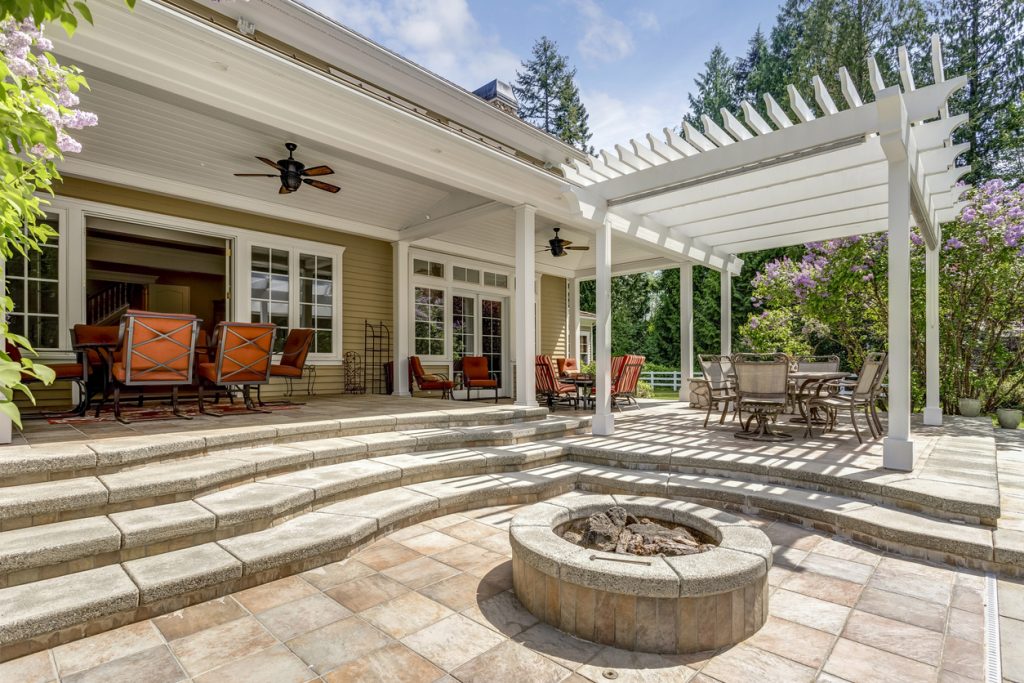 Traditional porch and pergola 
One of the benefits of a pergola is that it can define a space while keeping it open and airy. In this backyard, a large stone porch extends the length of the home. There are multiple seating areas for entertaining and outdoor ceiling fans to keep guests comfortable. A traditional-style white pergola creates an extension of the porch, providing space for an additional dining area. This beautiful backyard also features a custom fire pit and blooming lilac trees.
---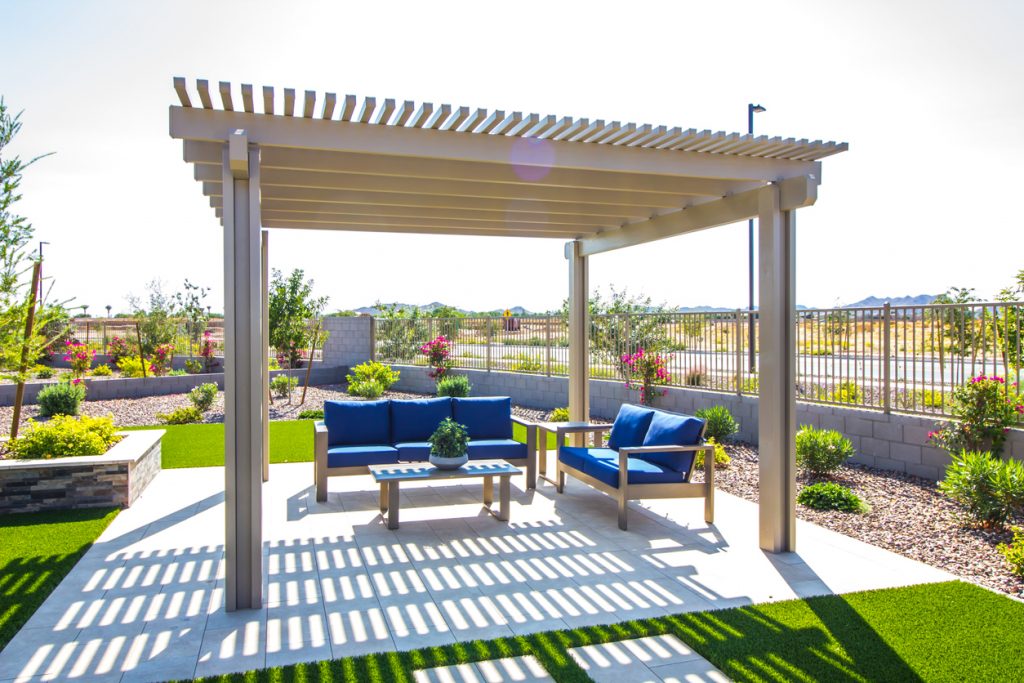 Desert oasis
The landscape of the southwestern United States offers breath-taking views of the mountains and desert. When you live there, you want a space to take in the outdoors while staying cool. In the middle of turf and bordered by rock gardens, this patio is no mirage. With a breezy feel, simple outdoor furniture with blue cushions gives you a place to sit and talk. The pergola offers shade from the desert sun while setting it apart from the rest of the backyard.
More backyard ideas
Whether you want to install a pool or host a summer party, our forum and its members offer tips and tricks.