April 2, 2022
Every homeowner needs a place where they can find sanctuary from the pressure and pace of daily life. For some, it might be their bedroom. Others might find peace cooking in a chef's kitchen. However, an inviting and comfortable outdoor space offers fresh air, sunshine, and nature.
Installing a backyard swimming pool can transform that outdoor space into a true sanctuary. You can swim, splash, or simply float as the water washes away your stress. 
However, the process of building an in-ground pool might seem daunting. There are so many types, designs, and features.
This stunning backyard design is full of inspiration, from the living room-inspired covered patio to the unique design of the in-ground pool. We won't blame you if you are already planning your first pool party after getting a sneak peek.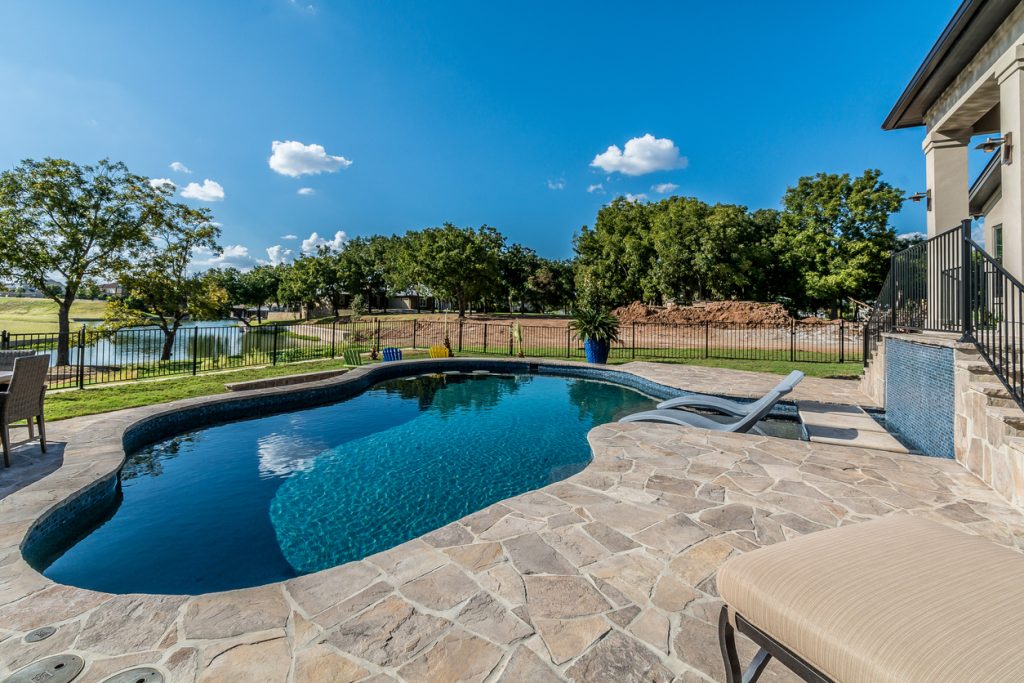 Unique in-ground pool installation
An in-ground swimming pool is not only a way to increase the value of your home and elevate the look of your backyard. A pool can also help bring your family and friends together while giving everyone a chance to beat the summer heat.
Many homeowners want to incorporate a variety of gathering areas in their backyard pool design so that the space becomes the focal point. A casual dining area is the perfect spot to sip lemonade during an afternoon of family fun while bar seating can be perfect for an evening party.
This backyard and in-ground pool installation is the perfect example of how to create an outdoor living area that will encourage quality time with those you love.
Multi-level patio design
This backyard features a covered porch, double staircase, and a multi-level patio. The design takes advantage of the slight slope of the backyard, rather than letting the grade be an obstacle. More than that, a multi-level patio encourages good flow throughout the space and helps design areas.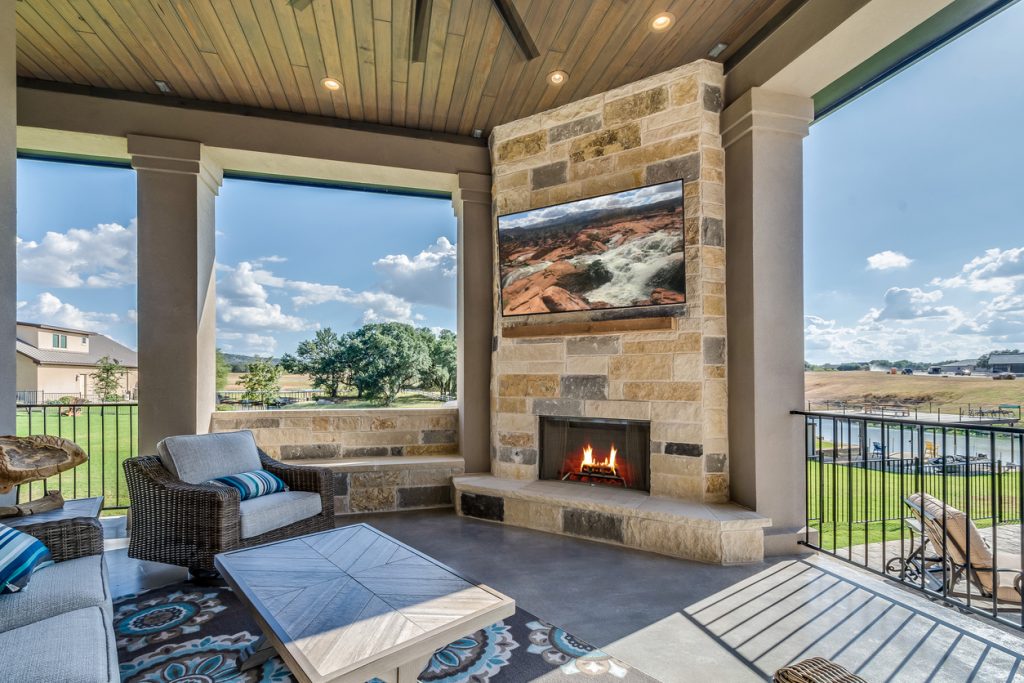 Covered back porch
The backyard has become an extension of the home, and this home could not be a better example. A covered porch has myriad entertaining options, including an outdoor living room, fireplace, and a television.
An outdoor living room like this invites you to spend more time outdoors, where you can listen to the birds and feel the sun on your skin. You can use it as a place to relax with your morning cup of coffee or unwind after dinner.
When you furnish your outdoor living space, consider pieces that are easily moved around depending on the occasion. A lightweight couch can be easily pushed to the wall if you need more space to move. Modular furniture can be arranged for cozy conversation as you entertain friends.
A key element to an outdoor living space is to make it comfortable and cozy. These homeowners incorporated accessories such as an outdoor rug and lumbar pillows on the furniture. A ceiling fan helps circulate the air on a day when you don't have a breeze or it's particularly hot.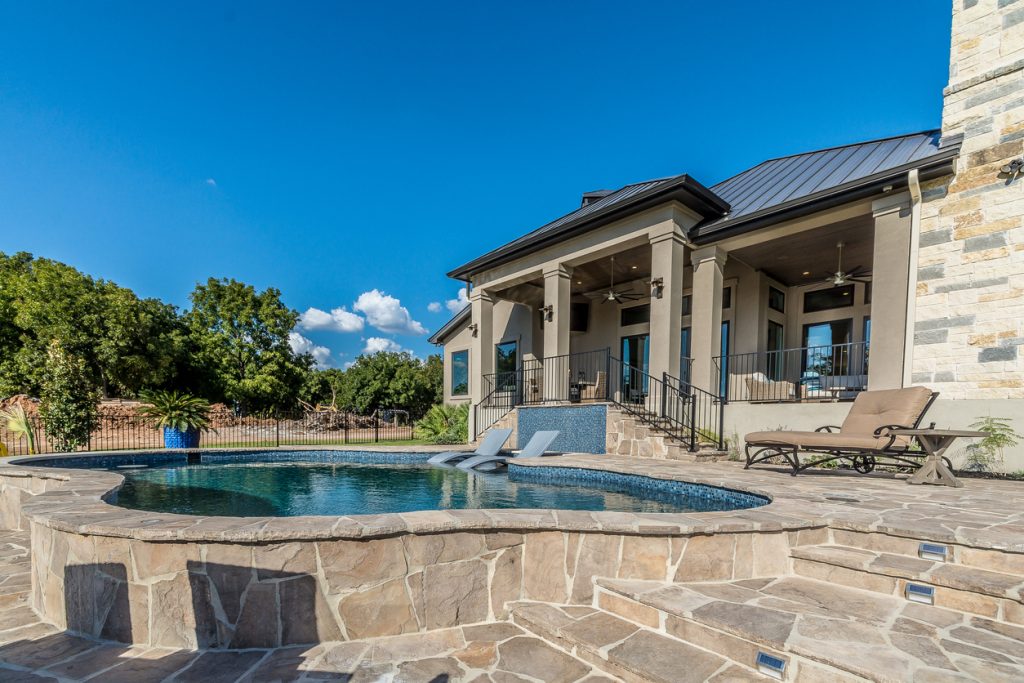 Custom swimming pool
Inground pools are often built in a rectangular or kidney shape. Common pool sizes are 16 feet by 32 feet and 20 feet by 40 feet. However, there is still room to customize your inground pool design.
This backyard pool is unique as it was built into the slope of the yard. From the covered porch, it looks like a typical in-ground pool. From the back of the property, the pool looks partially-recessed. This design allows for bar-style seating, extending the outdoor living space into another part of the backyard. The rock wall adds dimensions and complements the large curved patio.
Another feature of this custom in-ground swimming pool is a tanning ledge and water feature wall. A tanning ledge offers a place to enjoy the pool even if you don't want to go for a dip, and it's a great place for children to splash around.
Outdoor seating arrangements
Your backyard is more than just a place for grass to grow and flowers to bloom. It's a place to dine, entertain, and lounge. When you are designing your backyard, you want to make sure you have furniture that fits how you will use the space.
This backyard features a variety of outdoor furniture, from lounge chairs by the in-ground swimming pool to an outdoor dining set.
Colorful adirondack chairs
Bright accessories, like these adirondack chairs, are a way to personalize your space. The chairs in yellow, blue, and green draw people from the house out to the pool deck. An oversized blue planter adds lush texture to the suburban lawn.
When choosing furniture and other outdoor accessories, be sure to choose pieces that are easy to clean and are weather-resistant.
More backyard ideas
Whether you want to install a pool or soak away your stress in a hot tub, our forum and its members offer tips and tricks.