April 16, 2022
Do you want an Instagram-worthy backyard? Creating the picture-perfect outdoor space might be easier than you think. All it takes is one accessory — a hanging chair.
Hanging chairs for the backyard have become one of the must-have outdoor furniture pieces. Homeowners love these chairs not just for their style but the comfort and calming sway effect. Whether it's an egg chair on a stand or a hammock chair hung from a tree, these backyard items are the perfect place to lounge.
But how do you pick the best hanging chair for your backyard?
These stylish backyards display how you can incorporate a hanging chair into your own outdoor space.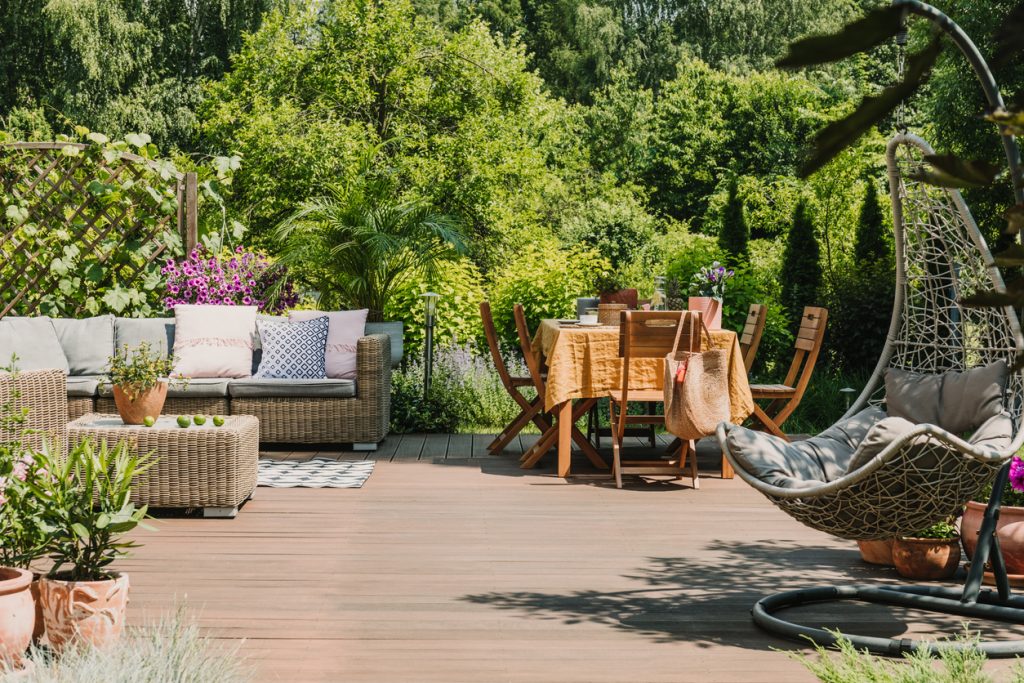 Best place for an outdoor hanging chair
From magazines to the social media feeds of your friends, cozy hanging chairs are among the top outdoor decor trends. If it feels like you can't escape the aesthetic, it might be time to stop scrolling and pick up one of your own.
Hanging chairs, whether an egg-style or the globo look, are spacious and inviting. With a cushion made of a weather-resistant fabric, they are the perfect reading nook on a warm spring day.
One of the advantages of hanging chairs is that you do not need a lot of real estate. You can hang one on your back porch or deck, in the garden, or from a mature tree, where you can take advantage of its shade.
Other popular spots for an outdoor egg chair are next to the pool or as part of your patio furniture arrangement.
But the best spot to put your hanging chair is in a place where you can best relax.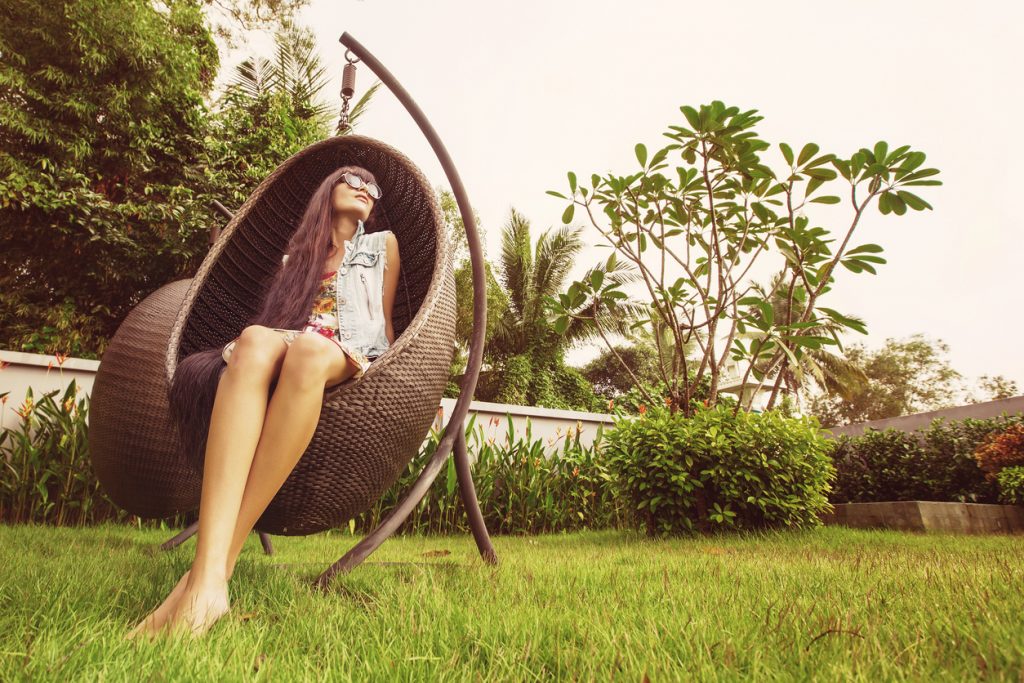 12 outdoor hanging chair ideas
A hanging outdoor chair is not a singular look. These outdoor furniture trends are popular because they come in myriad styles and options.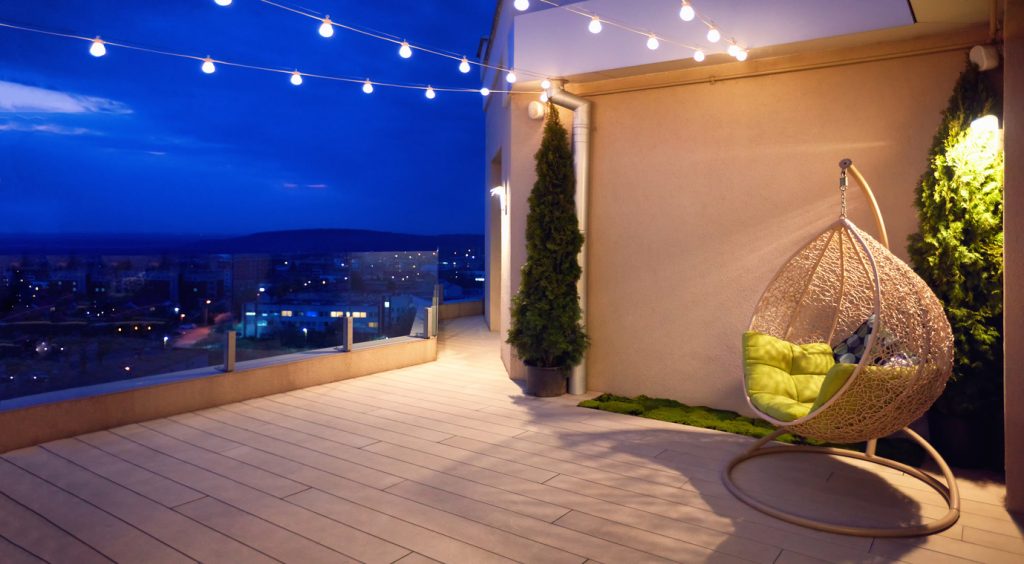 Second-floor deck
Whether you have a deck off your master bedroom or live in a high-rise, a balcony is the perfect space to take in the surrounding landscape. This modern space features ornamental trees, string lights, and glass railing panels. The cozy egg chair, hung from a stand, is in the corner of the space. It feels tucked away yet the view is unobstructed. A lime green seat cushion adds a pop of color while serving as a functional way to add comfort.
---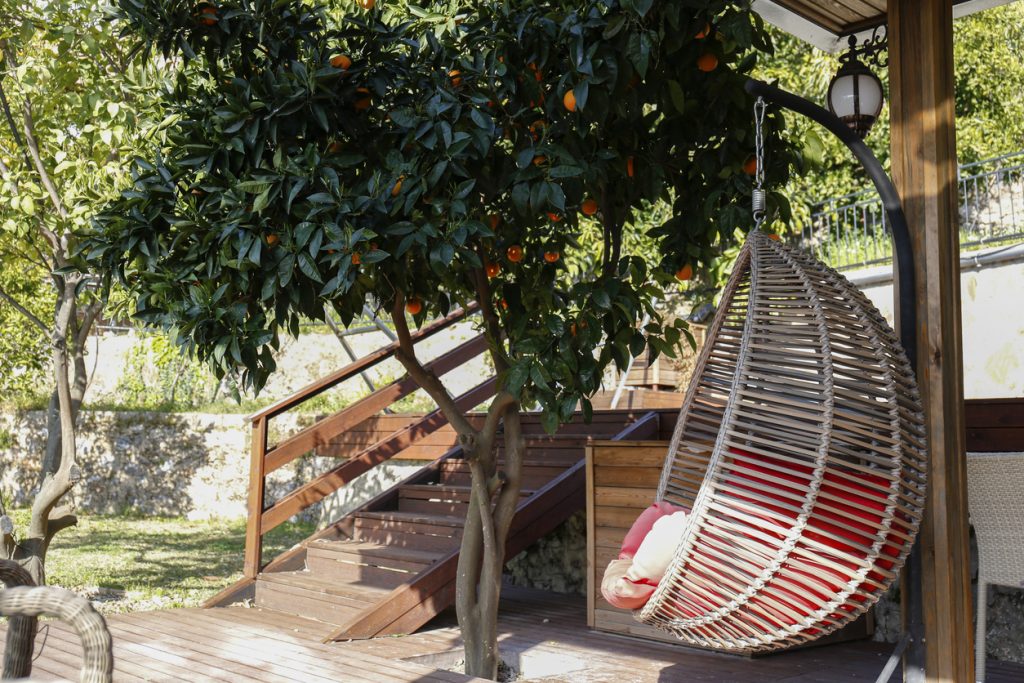 Seeking shade
You need a sturdy stand or tree to suspend an egg chair or similar piece of patio furniture. These homeowners took advantage of a porch post and created a hangar with powder-coated metal. But that's not the only way they made the most of their backyard space. A nearby orange tree provides shade, as well as a sweet aroma. The hanging chair itself is wicker-style, which holds up to the weather.
---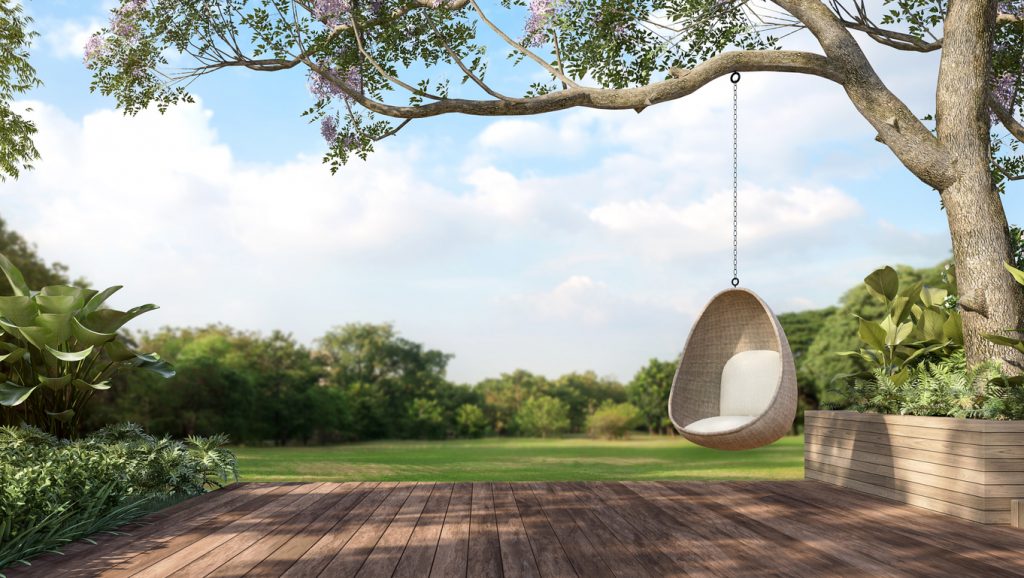 Solitary sanctuary
Do you want a place to get away from it all? This sleek deck and sprawling lawn provide the space you need. A neutral-colored hanging chair is suspended from a mature tree with a screw eye metal hook.
---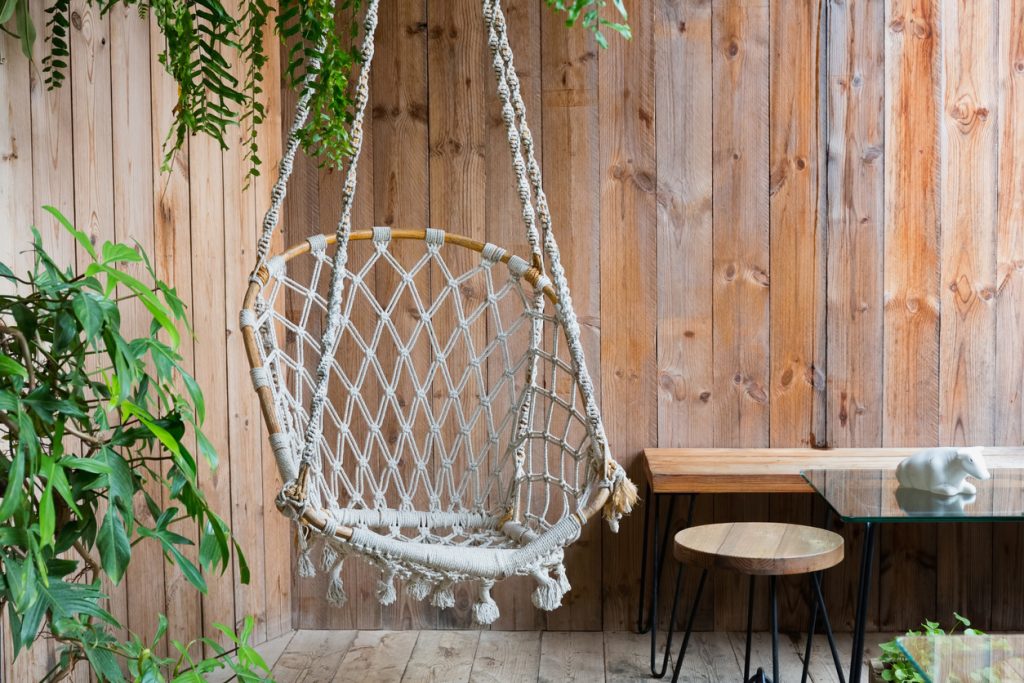 Boho vibes
Boho spaces are typically bright and eclectic. While this space doesn't quite meet that criteria, the crochet hammock chair and lush plant life create a bohemian style look. A crochet hammock chair helps add an airiness to a patio or deck, which is ideal if you have a smaller space.
---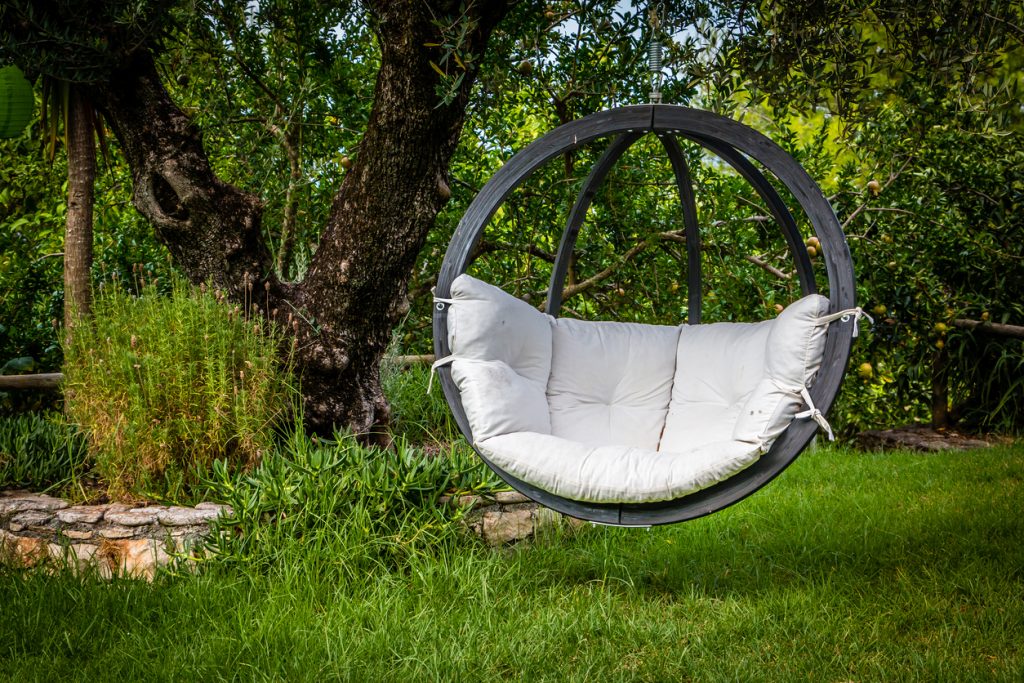 Style all around
A modern-style hanging chair, this globo design adds a distinctive look to this garden. The chair is made from a dark weather-resistant wood, a contrast from the green of the grass and trees. With a wraparound cozy cushion, this hanging chair is the perfect spot to find some peace and quiet.
---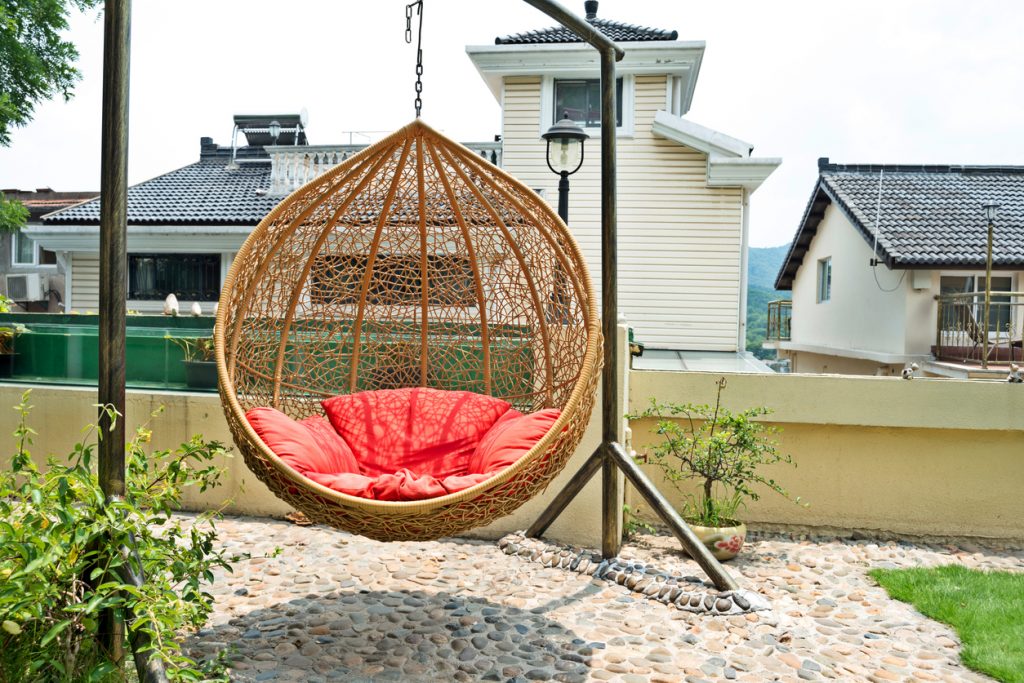 Garden hangout
This rattan outdoor hanging chair turns an awkward backyard space into a chic place to relax. The bright cushion adds personality to the space.
---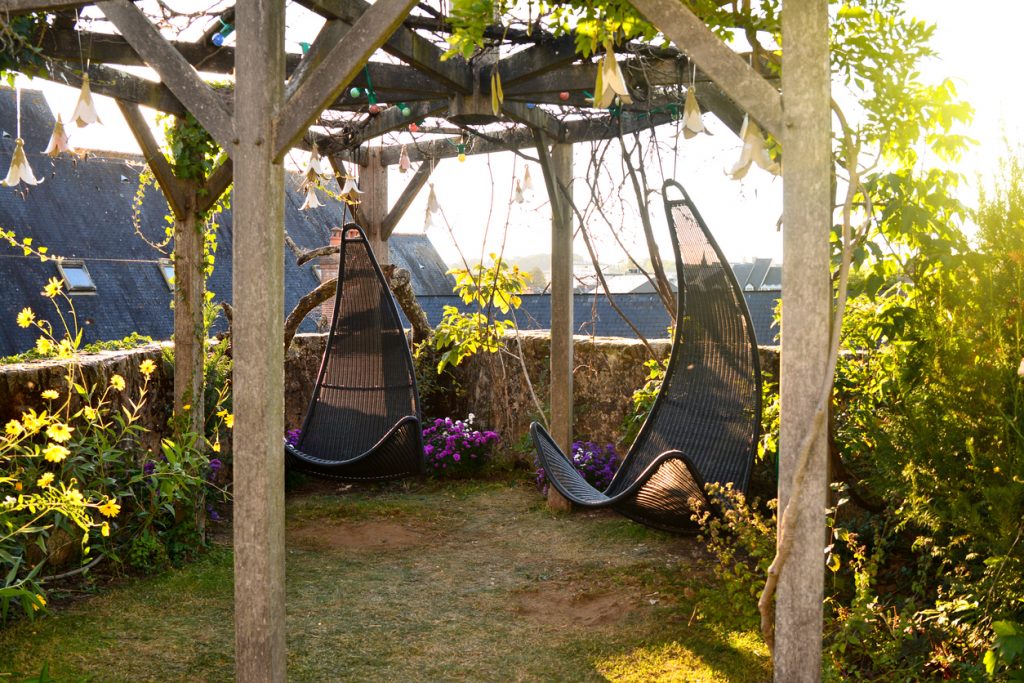 Double time
A natural-style pergola, made of timber, is a distinctive look. A pair of modern-style outdoor chairs takes advantage of the structure. There are native plants that add whimsy while purple flowers add a pop of color.
---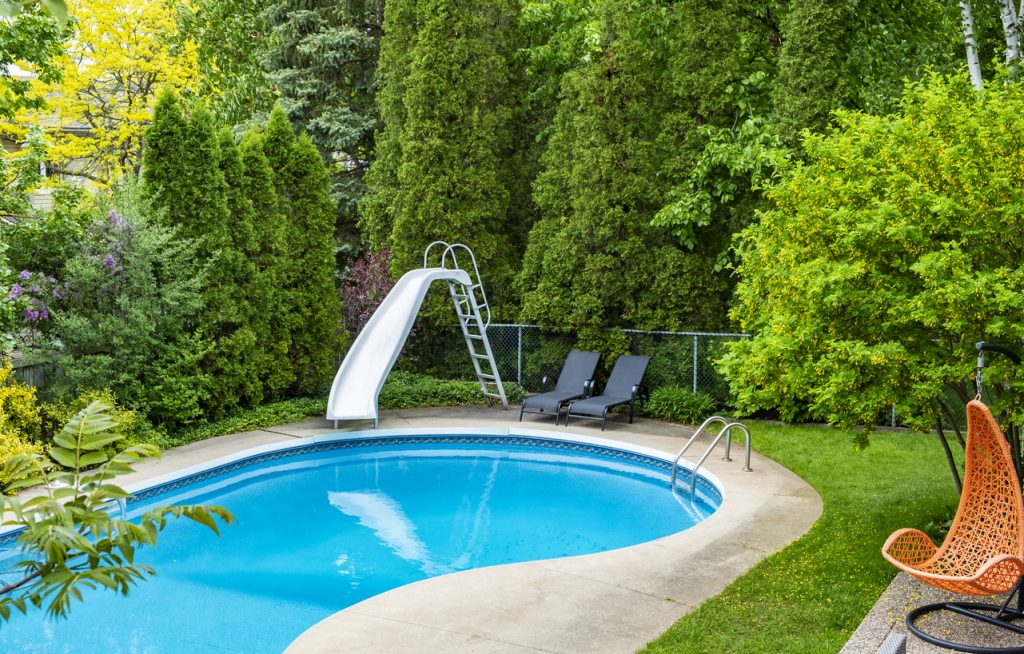 Pool-side hangout
Do you need a break from the fun of the pool? Take a moment to dry off in a hanging chair on a stand. This orange chair is situated in a cozy area next to the in-ground swimming pool.
---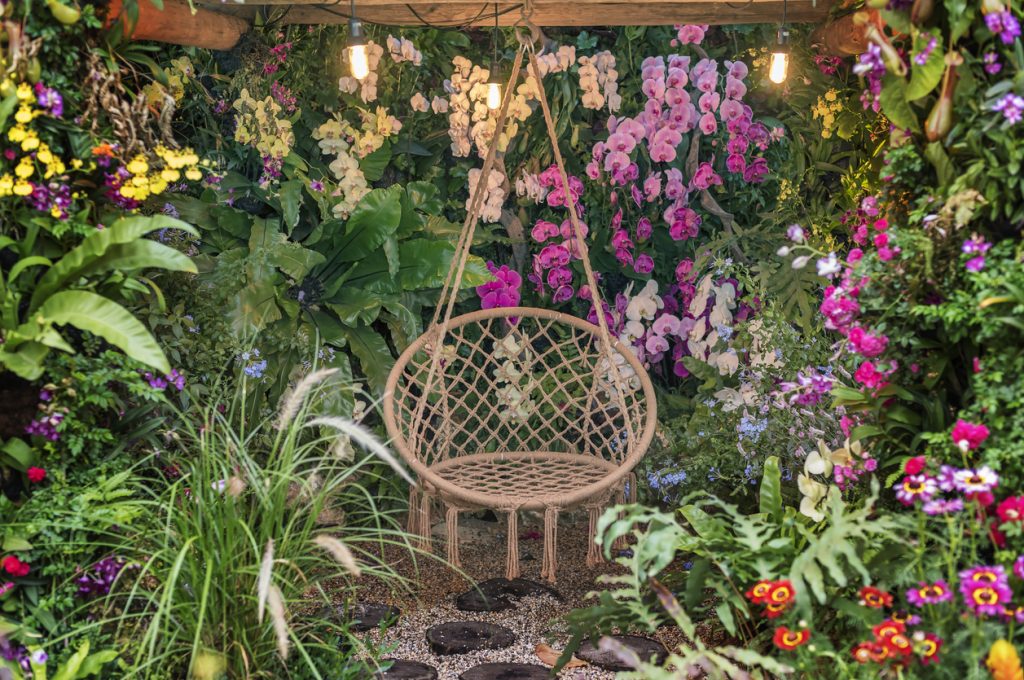 Garden retreat
It's hard not to find sanctuary in this idyllic garden. A macrame chair is hung from an overhead structure. The space is surrounded by vibrant blooms, from purple orchids to fuchsia daisies.
---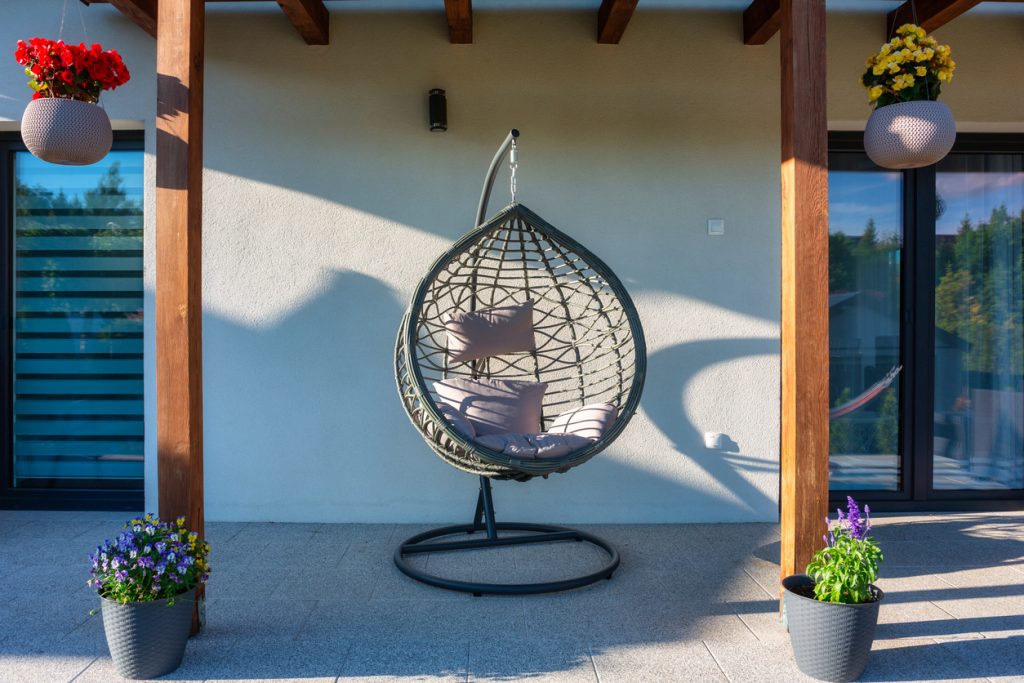 Summer terrace
A hanging rattan chair brings a sense of comfort to this modern terrace. The gray pillows and neutral chair allow the summer flowers to stand out.
---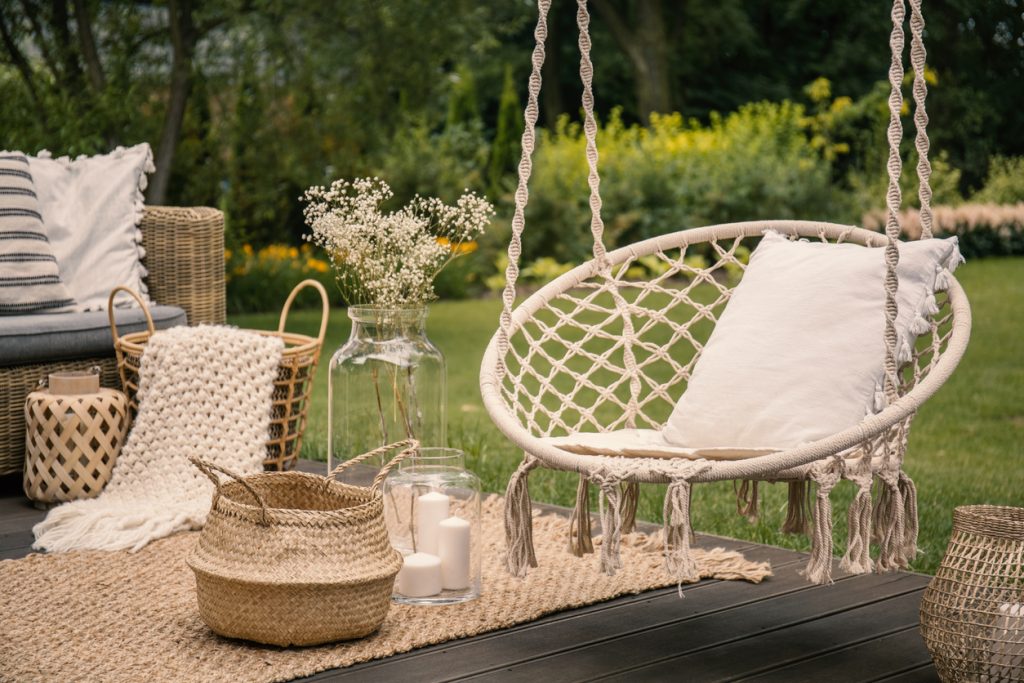 Let's picnic
Thoughtful design and sweet touches, such as baby breath in a tall vase, create a coastal getaway in a suburban deck. The macrame chair hangs close to the ground but not so low that you can't sway with the breeze. Other touches include an outdoor couch, pillar candles, and natural baskets and lanterns. It's the perfect space for an afternoon picnic with friends.
---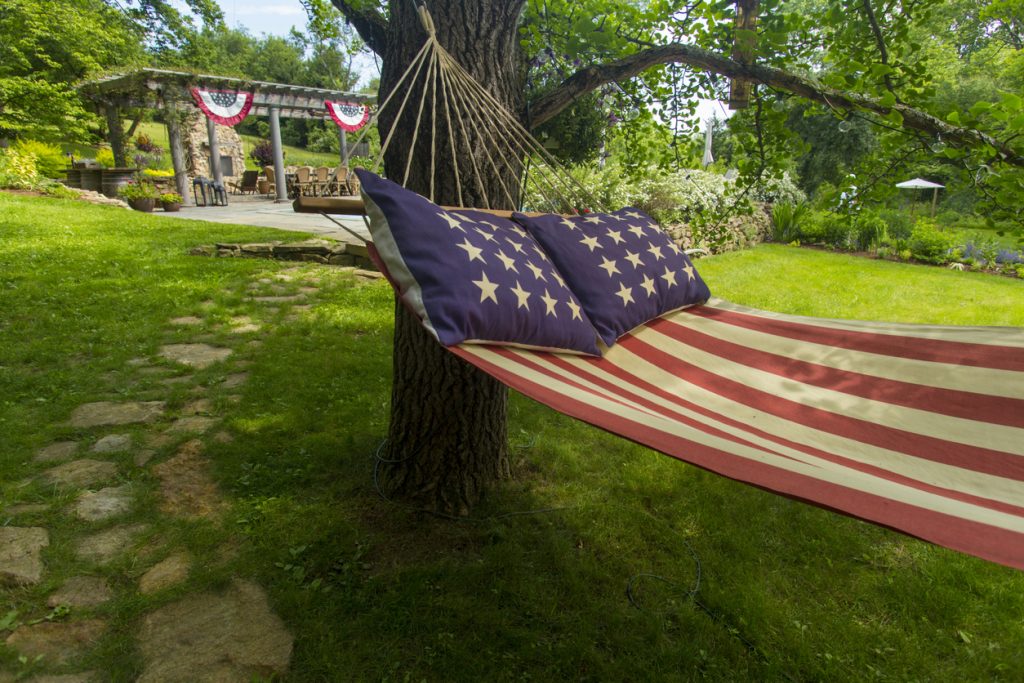 All-American style
The classic hanging chair is not really a chair at all. A hammock can easily be hung between two trees or on a stand in your yard. This patriotic hammock is the perfect backyard accessory for summer parties or afternoons at the lake.
More backyard ideas
Whether you want to install a pool or soak away your stress in a hot tub, our forum and its members offer tips and tricks.