February 17, 2022
This blog post is sponsored by Michael Phelps Signature Swim Spas, which are proudly manufactured by Master Spas.
There's a lot to look forward to when you decide that you want to install a backyard pool. Depending on the size and style, a pool can be used for swimming, exercise, a family hangout space, and more. But deciding that you want a water feature in your backyard is the easy part. There are myriad options, from above-ground pools to over-the-top custom installations. It can feel overwhelming to choose the right pool that has "it all" without sacrificing your backyard and budget.
But how do you pick something you will enjoy from the day it's filled and in the years to follow?
Before you break ground, it's important to consider the cost, installation process, and how you (and your family) plan to enjoy it. For many homeowners, the solution is not a traditional in-ground swimming pool.
A swim spa combines the best of an in-ground pool with the benefits of a hot tub. Smaller than the average in-ground pool but bigger than a hot tub, a swim spa makes it possible to swim, exercise, relax, and more year-round.
The MP Momentum Deep is a dual swim spa that offers a place for stationary swimming, water exercise, and relaxation. Whether you are an elite swimmer or just want to stay active, this Michael Phelps Swim Spa by Master Spas helps you get the most out of your backyard.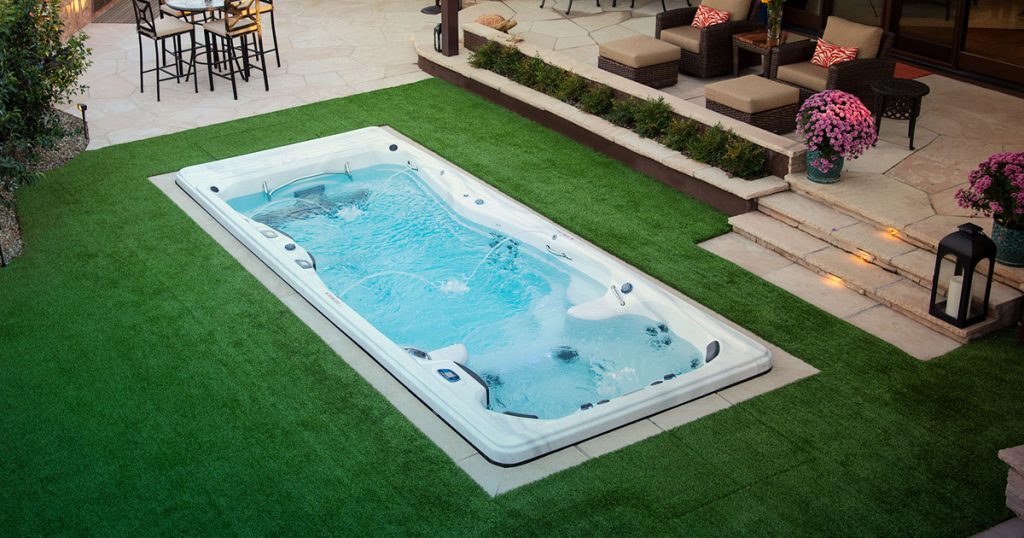 What is a swim spa?
Just looking at it, a swim spa looks like a rectangular above-ground pool. A swim spa, though, is so much more than that.
Swim spas feature a swim system that allows people to exercise against an endless current of water. In addition, there are contoured therapy seats with massage jets — just like a hot tub.
Many swim spas are self-contained units (also called portable spas), with the plumbing and heating systems built in. Not only does this simplify installation but it allows the swim spa to be used year-round.
Swim spas come in myriad sizes, from 11-feet long to over 19-feet long. But while there are large swim spas on the market, many choose standard sizes because they don't require a large backyard.
The MP Momentum Deep is a 19-foot dual swim spa that has separate swimming and hot tub areas. An acrylic divider creates two bodies of water so that you can enjoy the best of a pool and a hot tub.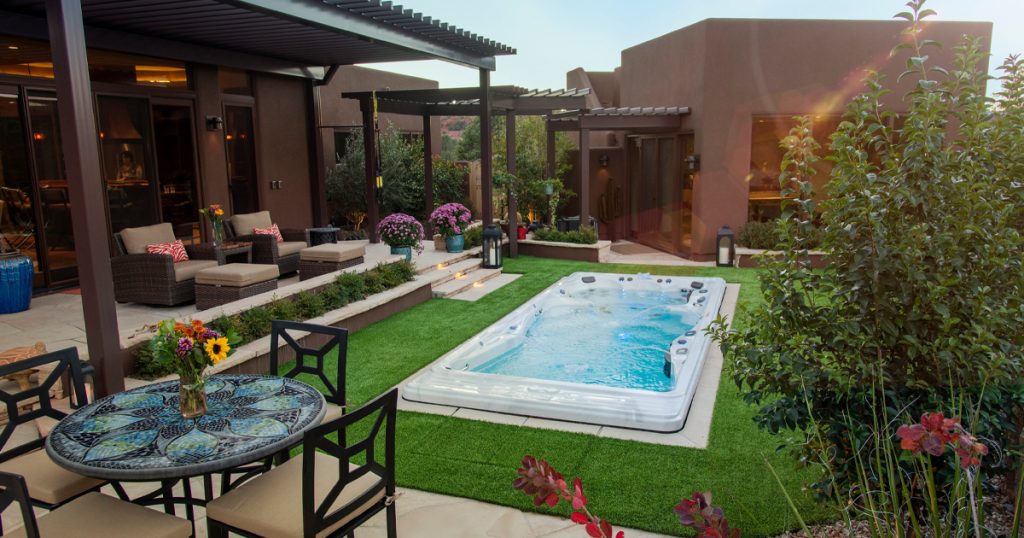 In-ground pool vs MP Momentum Deep swim spa
The benefits of swimming and water exercise are well known. But not every homeowner has the backyard — or budget — for a lavish in-ground swimming pool.
However, the MP Momentum Deep takes up a fraction of the space while still offering the functionality of an at-home lap pool.
And, yes, family fun is included.
But how does the MP Momentum Deep swim spa compare to an in-ground swimming pool?
Construction and installation
An in-ground pool is a permanent structure. During the construction of your pool, your backyard will be excavated into the shape of the pool. The walls are reinforced with steel and concrete is poured in. The process to build your dream pool will take months, and the cost can surpass $100,000. 
The MP Momentum Deep takes one day to install and set-up once your space is ready. You can choose a custom install, such as placing it into a vault or on a deck, but the most popular choice is a concrete pad.
Pool season
In most parts of the country, a pool gets just months of use. The weather is just not conducive to enjoying the water year-round. However, the MP Momentum Deep (like all Master Spas swim spas) are designed to be used year-round.
Features
Depending on the builder and the materials, you can customize your in-ground swimming pool to include the features you want. You can choose an infinity edge, waterfalls, built-in lighting, rock features, and a tanning ledge. But it won't be the creativity that will limit your pool design. Rather, the budget will likely determine what you can add on to your pool. The more custom features, the higher the cost and, potentially, the more backyard space you will need to give up for the pool.
By comparison, a standard fiberglass pool will likely come with basic features such as steps and a tanning ledge.
MP Momentum Deep swim spas come standard with LED lighting features, waterfalls, and a sleek European-inspired design. There are built-in hot tub seats, offering a soothing hydrotherapy massage.

All about the MP Momentum Deep
The MP Momentum Deep is the largest swim spa in the Michael Phelps Signature series. It is a dual swim spa, providing separate spaces for soaking and swimming.
With this dual spa, you can take advantage of the health benefits of being in the water without leaving home. It allows you to add more to your life — family time, exercise, relaxation — without taking away from other areas.
Swimming in a swim spa
It's not always easy to make it to the pool for a swim. Lane times can be limited and some facilities now require reservations, adding to the challenge. Once you factor in your own schedule and family demands, finding the time to swim can feel stressful — rather than improving your physical and mental health.
The MP Momentum Deep allows you to swim at your convenience, year-round. With the Wave XP Pro system, you can swim at a comfortable pace or try to test the limits. The Momentum is capable of producing a current equivalent to a 54-second per 100-meter pace.
But how does the endless swim current work? A propulsion technology creates a smooth flow of water. This flow of water provides resistance, making it possible to swim in place. In addition, the walls are curved to maximize the flow of the water in the spa.
The swim area of this spa is about 15 feet long, 8 feet wide, and 60 inches tall. The water depth is about 51 inches.
Relaxation
Part of the appeal of an in-ground swimming pool is the ability to create a resort-like atmosphere — right in your backyard. However, a pool is often more for recreational use than relaxation.
The MP Momentum Deep is designed to help you relax, whether you need to let go of the day's stress or soothe achy joints.
This dual swim spa has 45 massage jets, including dedicated foot jets. The unique design of the Xtreme Therapy Seat creates a whirlpool-like effect, surrounding you with a swirl of warm water. Each Master Blaster foot jet has 14 individual nozzles to treat your feet.
The hot tub side of this dual swim spa is about 8 feet wide and about 4 feet long.
Plus, with a swim spa with a hot tub, you can choose the temperature on each side. Set the hot tub side to a therapeutic 104 degrees, while the swim side is in the 80s.
Recreation
The water is a place where the whole family can have fun. Screens and other distractions are left on the deck while games and splashing take center stage.
The MP Momentum Deep has plenty of room for water games or just relaxing on a float. You can play a game of catch or get competitive with a Michael Phelps swimming challenge.
How to buy a swim spa
Are you ready to enjoy the health benefits of having a family pool alternative? The MP Momentum Deep, a Michael Phelps Signature Swim Spa, makes it convenient and fun to incorporate swimming and other water exercise into daily routine. How much does a dual swim spa cost? You can request a quote here.