February 7, 2022
Your outdoor space is valuable. And not just from a real estate perspective, either. Spending time outdoors can benefit our mental and physical well-being. When we go outdoors, we move more, feel better, and spend more time with family.
More and more people are seeing the value that an inviting, relaxing outdoor space can add to their lives. According to a 2021 survey conducted for the International Casual Furnishings Association, 74% of Americans use their patios for relaxation. Nearly 60% use their backyards for entertaining, and more than half of those surveyed cook outdoors.
But no matter how you plan to use your space, there's one thing that every backyard needs.
A functional yet well-designed seating arrangement.
The right patio seating can help you draw guests outdoors or create the tranquil retreat you've been seeking. If you're looking to upgrade your backyard, these patio furniture ideas will give you plenty of inspiration.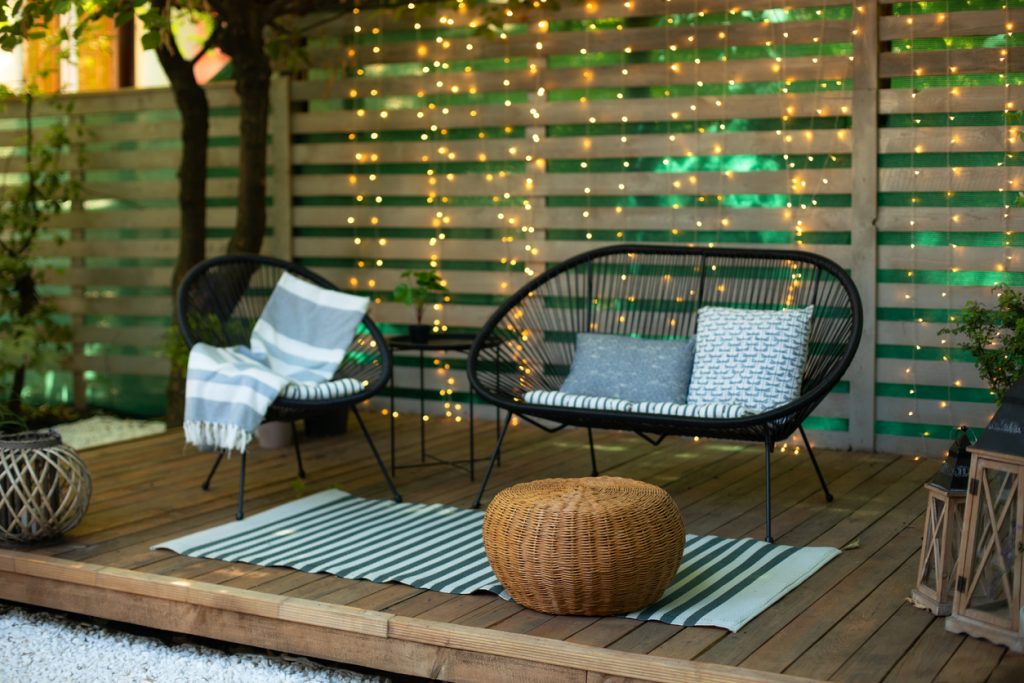 7 picture perfect backyard spaces
Comfortable outdoor seating can help you make the most of your space, as well as take advantage of the surrounding view. Whether you have a porch, patio, deck, or just a swath of grass, these spaces can help you make your space an oasis.
---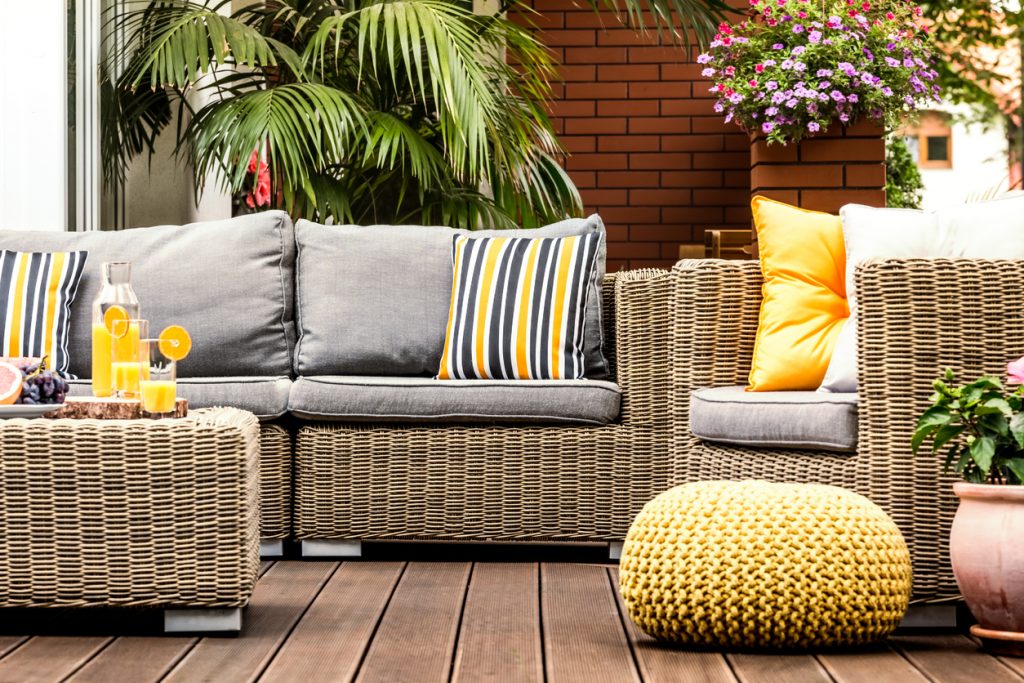 A ray of sunshine
Vibrant throw pillows in golden hues bring this outdoor porch to life. A mix of cozy and classic design, the homeowners chose modular wicker furniture with plush cushions. The outdoor furniture is modular, allowing it to be easily rearranged depending on the occasion or stored during inclement weather. A coffee table offers space for a drink tray while a corded pouf offers a place to rest your feet.
---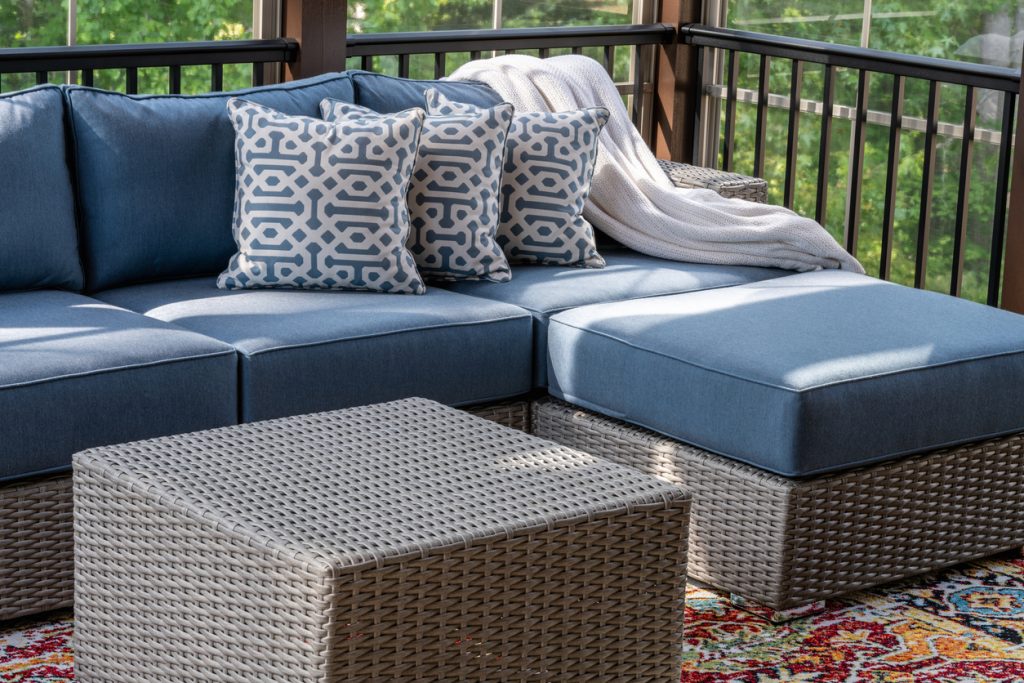 Modern deck furniture
The keys to creating an inviting outdoor living area is to make it cozy, colorful, and include beautiful furnishings. This deck space includes a chic wicker sectional with coastal blue cushions. Accent pillows with a geometric design and a lightweight throw make it easy to curl up and relax. An outdoor rug helps bring the space together.
---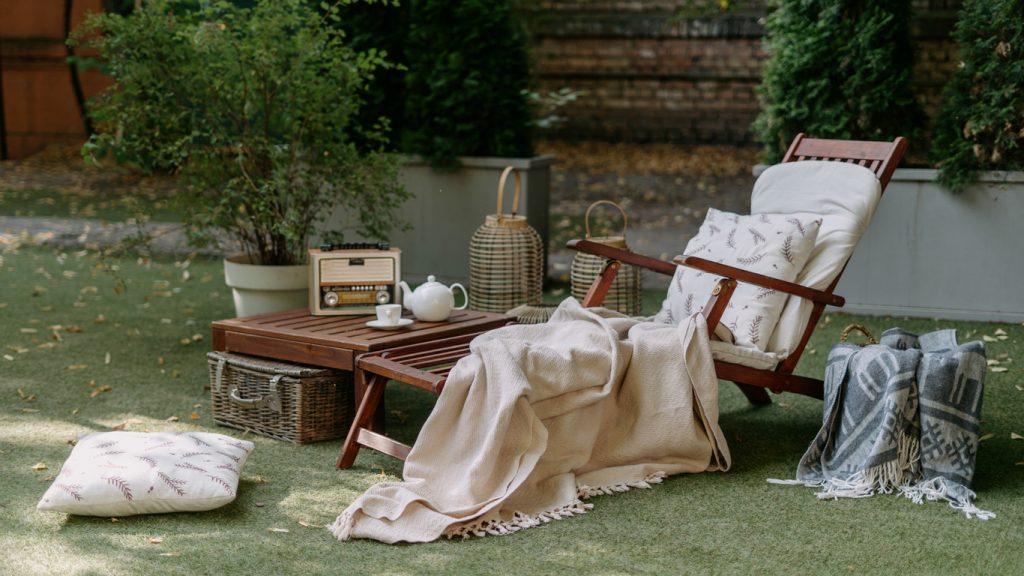 Solo space
Sometimes you just need a space of your own, where you can escape the day-to-day stress of life. This outdoor space includes a solo lounge chair with side table, basket, and outdoor lanterns. The sleek chaise has a classic look, made of weather-resistant wood, while neutral cushions make the space inviting.
If you want to design a similar space, be sure to make sure you can have all your creature comforts close by. You want a place to rest your drink, relax to your favorite playlist, and soak in the beauty of your surroundings. An unexpected feature of this space might be a container tree next to the lounge. While most might not put a pot in the middle of the lawn, this touch of greenery adds to the laid-back feel.
---
Dining al fresco
Elevate your outdoor patio with a dining set that is as chic as it is functional. This patio features a sturdy, weather-resistant table that is spacious enough to seat six. Club-style chairs with a modern geometric design offer a cozy place to sit for a meal hot off the grill.
This standout outdoor dining area is further emphasized by the design of the patio. With turf on one side and a rock garden on the other, this backyard dining space is placed on a plank-style tile patio. The light, neutral design of the tile creates an airy space and invites people to sit down around the table.
---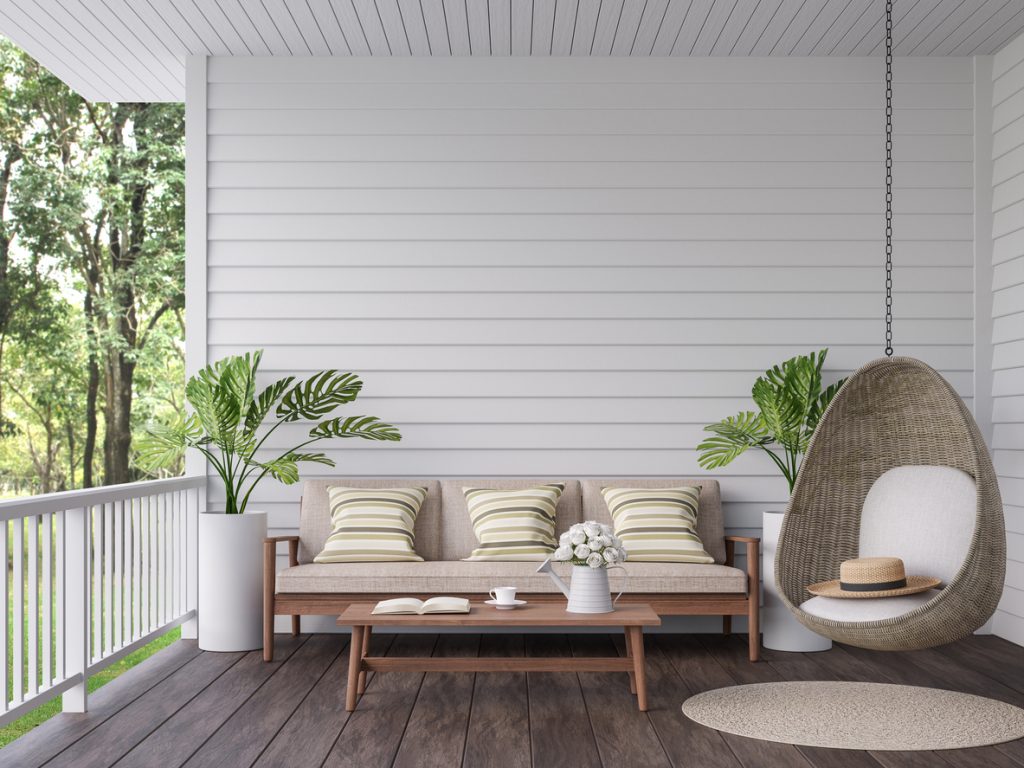 Airy porch
Let's take a moment for the perfect porch. While a lot of (much-deserved) attention is placed on your backyard patios and spaces, a porch is the ideal spot to relax on a summer night or warm-up with a cup of coffee.
This modern porch features sleek, clean lines while still managing to prioritize comfort. The outdoor sofa is made of weather-resistant wood. And while the look is minimal, rounded details soften the look. Cozy cushions and outdoor pillows with a striped design complement the look. Tall cylindrical planters are in a stark white but large green palms brighten the area.
The star of this cozy porch might be the hanging egg chair. Made from a lightweight wicker and adorned with white cushions, you can't help but want to take a moment to unwind.
---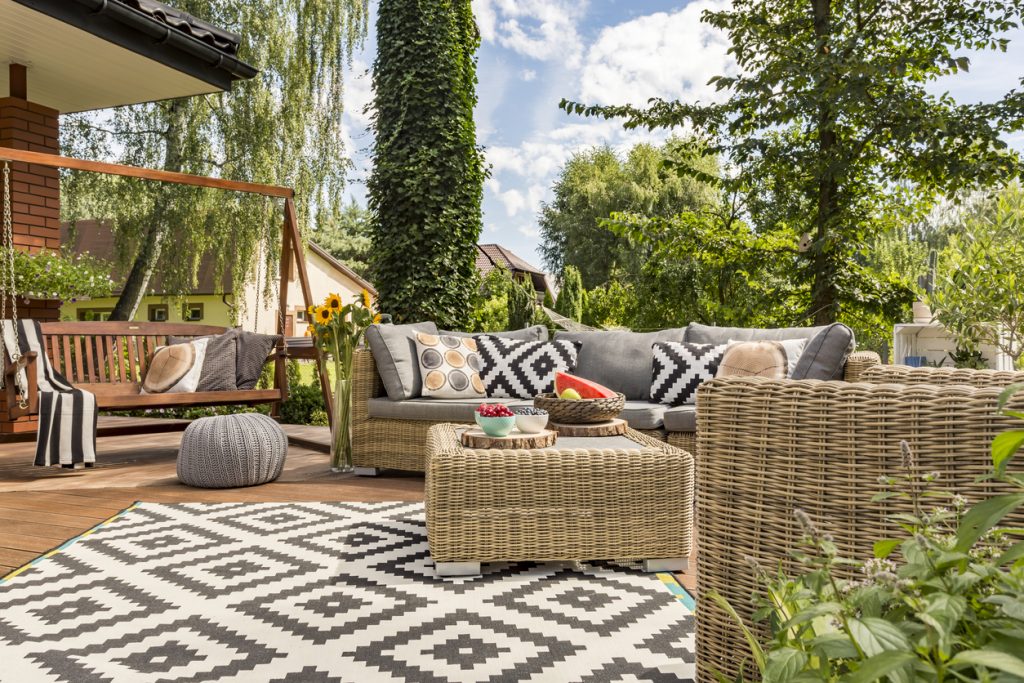 In full swing
There's so much to love about this backyard. There's ample seating for the homeowners and guests with a wicker sofa, chair, and coffee table. A large geometric outdoor rug, in a neutral black and white, defines the space. And there's plenty of outdoor pillows to create that cozy vibe.
But our favorite detail is the wooden porch swing. It features a sleek design but adds a sense of nostalgia to this space. It's also a welcoming place to sit and soak up some vitamin D.
Other fun features to consider when planning your backyard are tall floor vases for seasonal flowers, natural wood trays for drinks or snacks, and a corded pouf.
---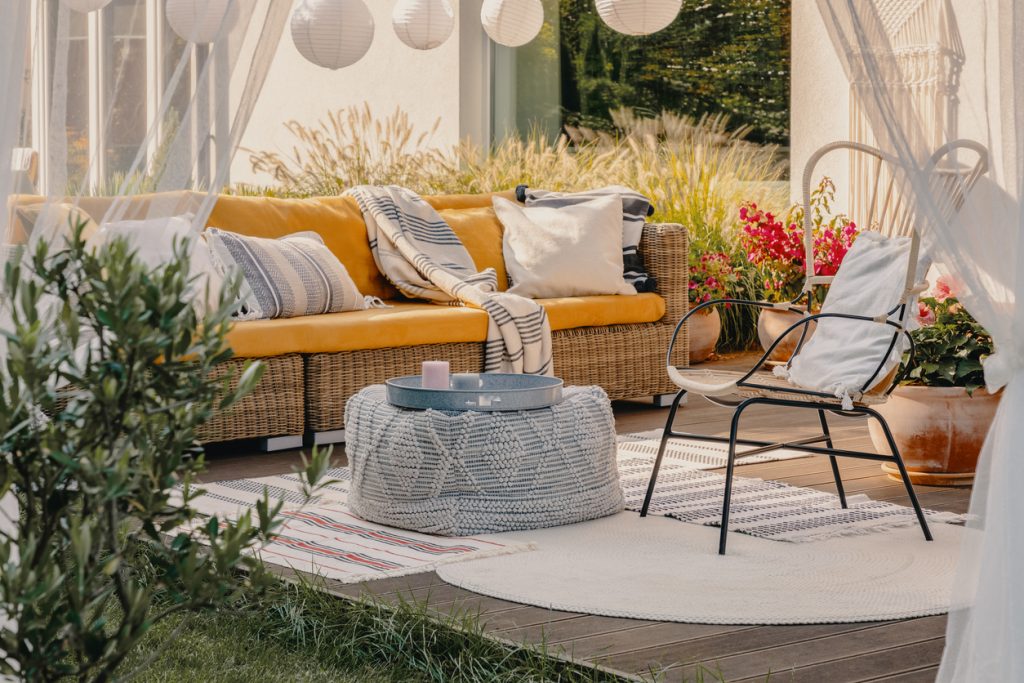 Boho vibes
Bohemian style is often defined by bright colors, eclectic furniture, and lush greens. However, not all boho-inspired spaces have to be over the top. This backyard space is such a bright spot with just a splash of bohemian vibes.
This space is designed as an outdoor oasis. A floating deck was installed in the backyard and sheer outdoor curtain panels can help close off the space, depending on the vibe you want. An interesting accent are white paper lanterns, which draw the eye upward and help open up the space.
Creating a comfortable space is key to encouraging you to spend more time outdoors. And this backyard aces that assignment. A mix of outdoor rugs warm up the space, while yellow cushions add a sunny look. You can put up your feet on the oversized pouf or it can be a place for a guest to sit down. There are earthy-looking containers that are filled with vibrant flowers.
More backyard ideas
Whether you want to install a pool or soak away your stress in a hot tub, our forum and its members offer tips and tricks.