January 4, 2022
Blue skies, warm sun, fresh air — there's so much to enjoy when you install an in-ground pool in your backyard. But for many people, there's a season to an outdoor pool. The sky turns gray, the air becomes cool, and there's snow falling from the ground. However, what if there was a way to extend the outdoor swimming pool season?
Winter pool enclosures can help you think beyond the traditional "pool season." These structures, whether temporary or permanent, can protect your pool from the elements. They reduce the amount of UV rays absorbed when splashing and keep insects and debris out of the water. In addition, winter pool enclosures can withstand snow and wind and act as an insulator.
Another benefit for a pool enclosure, especially for those who don't like to be cold: Domes and other structures can boost the water temperature of the pool without turning up the heater.
But do you need a dome or temporary sunroom for your pool?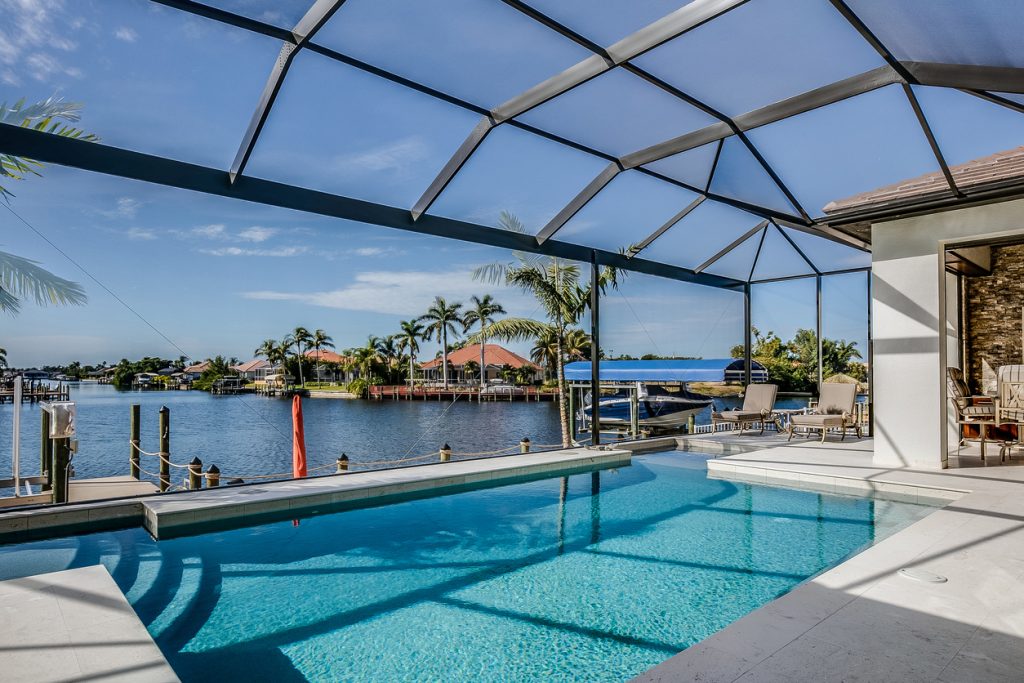 Benefits of a swimming pool enclosure
An in-ground swimming pool is a big investment, with many installations costing more than $50,000 and some over $100,000. You want to maximize that investment and extend your pool season as best you can.
And a swimming pool enclosure can help you do that.
There are myriad benefits to an enclosure for your outdoor pool.
Year-round use. With an enclosure, you can swim and splash — no matter the forecast on the weather app. Even on the coldest days or in the hardest rain, you can head outside confident that your pool is ready and waiting for you.
Pool maintenance. Maybe you have seen the viral pictures of animals enjoying a leisurely swim in a residential pool. Or, you have developed a close bond with the pool skimmer. Traditional outdoor pools require maintenance, from cleaning filters to scooping leaves. But a winter pool enclosure will keep out the elements, allowing you to reduce time spent cleaning the pool and increasing your time in the water.
Utility savings. When you are building a pool, you might wonder whether it's worth it to heat the water. And, for many, the answer is yes. A pool heater can extend the swimming season from three months to five. However, it can be expensive to heat the water to a comfortable temperature. A swimming pool enclosure, such as those made of polycarbonate, can make it easier to keep the water warm while requiring less energy. How does it work? The enclosure protects the pool from strong winds and the cool night air.
Bonus: Your new pool deck will have the feel and look of a residential indoor swimming pool without some of the considerations. An indoor swimming pool is a much more extensive project, with additional ventilation and special flooring required.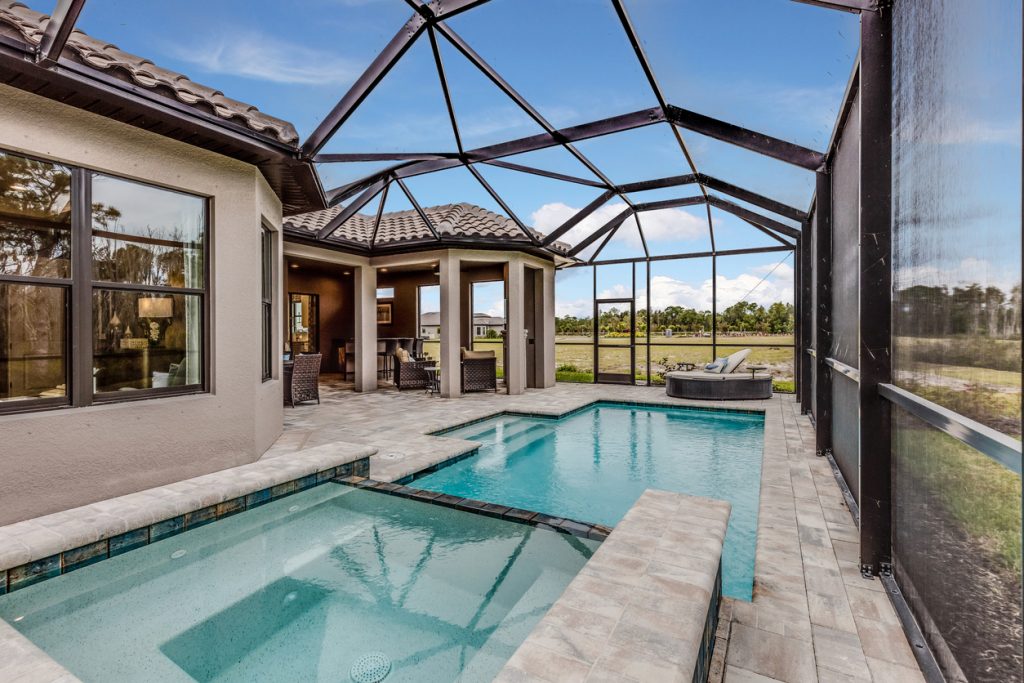 Types of winter pool enclosures
The most common pool enclosure is a semi-permanent structure that has the look of a sunroom. However, newer winter pool enclosures can be inflatable and be used only in the winter months.
Winter pool bubbles
A pool dome provides a summer-like swimming environment, even in the winter. Looking almost like a giant balloon or igloo and made of vinyl, most domes are supported by an air pump. The dome blocks out the cold air while acting as a passive solar heater.
Winter pool bubbles, as domes are sometimes called, are temporary structures. These are erected when the cooler temperatures begin to arrive. This type of enclosure allows you to enjoy swimming outside when it's hot. When it's cold, you can put up the dome.
In addition, a pool dome is often less expensive than a more permanent pool enclosure. A pool owner can expect to spend between $4,000 and $8,000 on a dome.
Semi-permanent enclosures
Pool enclosures are sometimes called Florida rooms for a reason. These screen rooms are popular in the Sunshine state and often built around in-ground pools. Providing style and function, a screened-in pool enclosure keeps out mosquitoes and other insects so you can better enjoy your pool.
However, pool enclosures are also made out of polycarbonate and glass. While a screen or mesh is more affordable, it will not provide the year-round use that you might want from a winter pool enclosure.
A polycarbonate is a popular choice because of its wind resistance, insulation factor, and design versatility. Retractable models are available, as well as those that stay in place. They can be installed over a pool in the middle of the yard or attached to the home. They can be of medium height or with cathedral ceilings.
If you opt for a retractable enclosure, you can open it when the weather is nice. You can close it when it's winter or have inclement weather. There are a variety of features available for retractable enclosures, including ones that open with the push of a button.
A medium-height design allows you to take advantage of the view from your backyard but still relax and lounge around the pool. A taller structure allows you to create an outdoor entertaining space. You will have room for patio furniture and space to walk around.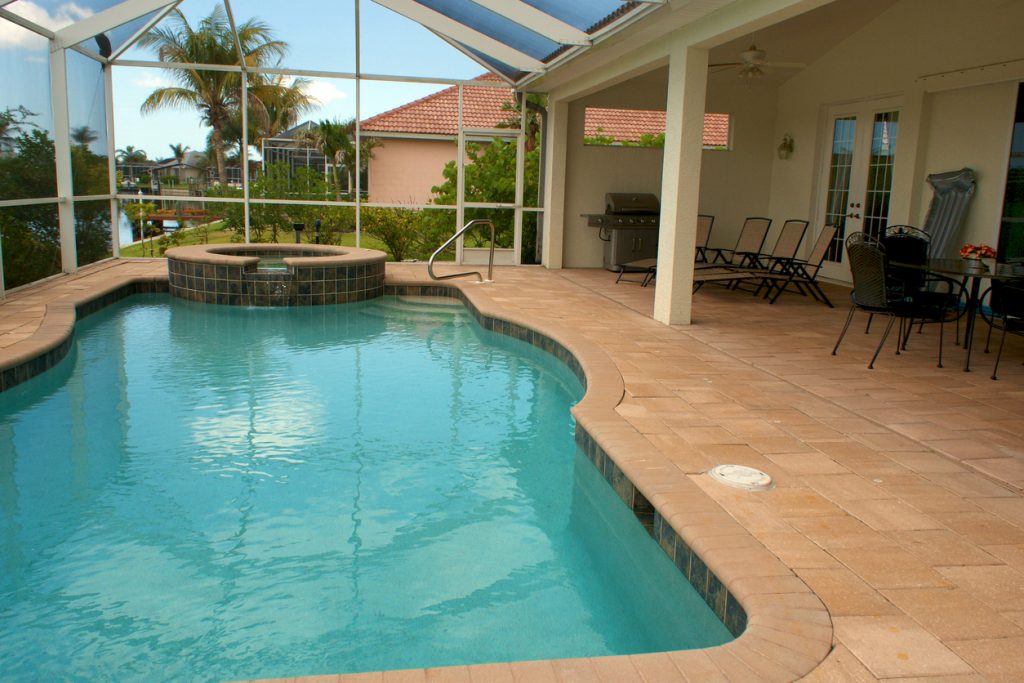 Planning for a pool enclosure
When you are looking at a polycarbonate or even glass pool enclosure, there are a couple factors to consider.
Enclosure door. If you have an enclosure for your outdoor swimming pool, you will need to be able to get in and out. Some enclosures are attached or built next to a home, and you can easily access it from the patio doors. However, you will still want a door that leads to the larger outdoor space.
Lighting. If you are opting for an inflatable pool bubble, lighting might not be an option. However, semi-permanent structures can benefit from additional lighting — especially if you plan to swim at night. Not just for ambiance, lighting will make your pool deck safer at night.
Extended electricity and HVAC system. A pool enclosure will help make it more comfortable to swim year-round. However, the outside temperature will still affect the ambient temperature inside the room. One addition to your polycarbonate pool enclosure to consider is extending your HVAC system into the space. You will also want to make sure that there are GFCI outlets available for any lighting or patio accessories that you might want.
Should you invest in a winter pool bubble?
A pool enclosure is about more than just extending the pool season. It can also add to your overall backyard design, increase the "curb" appeal and, potentially, increase your home value. 
If you feel like your home and life would benefit from an enclosure, consider adding one to your property. There are myriad designs and price points that can fit your style and budget. You can find one that complements your backyard and will enhance your use of your backyard pool.
However, if you don't think you will make the most of your pool in the winter, a bubble cover can suffice. A quality winter cover will protect your water and make opening your pool in the spring easier.
Do you have questions about enclosures and pool ownership? Join our forum. Our members offer tips and tricks so you can enjoy the fun and relaxation of your pool.