December 14, 2021
Winter is a break for pool owners. You might not be able to enjoy the benefits of having an above-ground pool. However, you also can take a break from pool maintenance, like adding chemicals and skimming the water. The break from adding chemicals does not mean you can ignore your above-ground pool in the winter.
But what should you do to take care of your above-ground pool in the winter? The most important thing you can do is to put on a winter pool cover. It might seem simple but it's an essential part of winter maintenance.
Why do you need a winter cover for your above-ground pool? During the colder months, you are not turning on your filtration system or adding chemicals. A pool cover keeps things like insects, leaves, and debris from getting into your pool. These natural elements can turn your pool water into a swampy-looking mess if you don't use a cover.
Plus, winter covers are a great way to protect the interior of your pool during the off-season.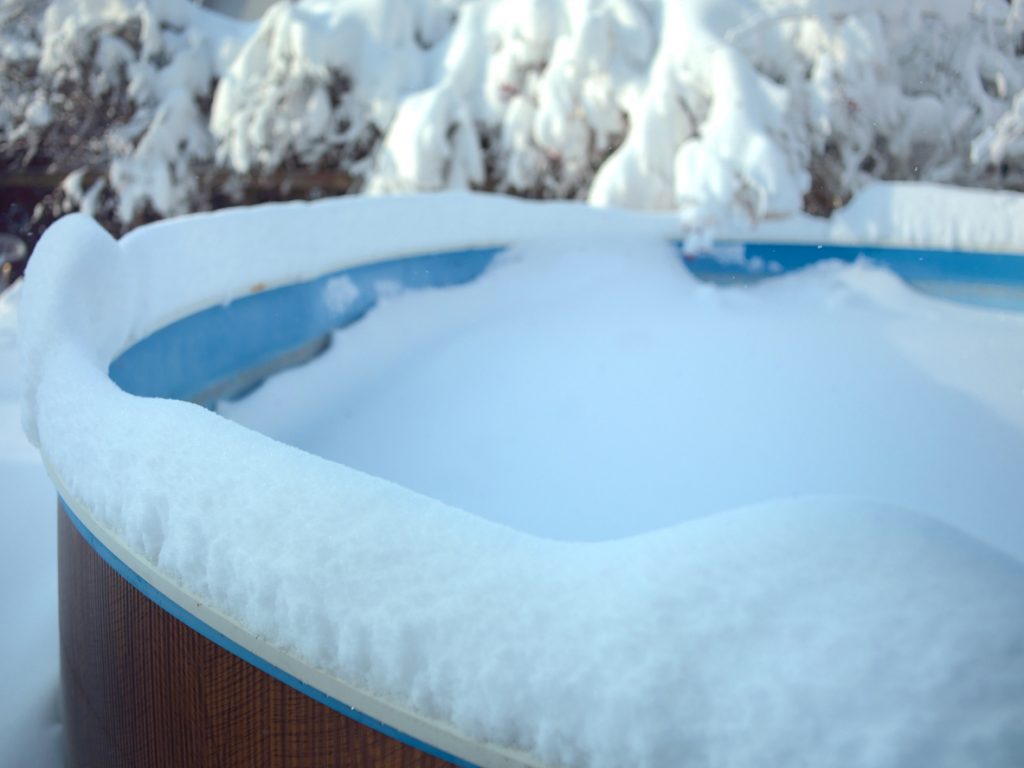 Winter pool cover for above-ground pools
A properly installed winter cover on your above-ground pool does more than keep leaves out of your pool. It will also save you time and money come spring when you open your pool.
What is a winter pool cover? While they vary between manufacturers, it's basically a tarp with grommets around the perimeter. They are larger than the pool itself, designed to hang off the pool wall. Expect to have two feet of overlap around the edge.
To put a cover on your pool for winter, you will need the cover, cables, winch, and a friend. While you can do the job solo, the process will be easier with a second set of hands.
You might be tempted to toss the cover on the top of the pool. However, the first step to putting on a winter cover is to thread the cable around the perimeter of the cover.
Once the cable has been threaded, you and a friend can put the cover over the pool. Together, adjust the material so that it is centered over the pool and the overlap is equal along the edge.
Referencing the manufacturer's guidelines, you will next use a winch to secure the cover. Anchor the cover using water bags or blocks. A general guideline is to place the blocks about 18 inches apart.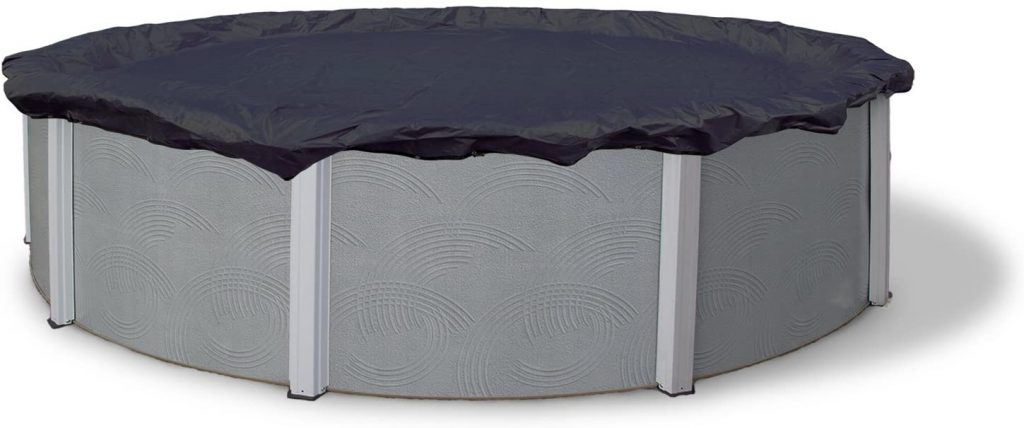 Best winter covers for above-ground pools
Winter covers for above-ground pools come in a variety of shapes and "weights." Stronger pool covers can keep out debris and small animals while lightweight covers are easier to install.
When choosing the best above-ground pool cover, consider your climate, manufacturer's warranty, and customer reviews.
You will also need to measure your pool. If you own a round above-ground pool, measure the diameter. For other shapes, measure the width and length. Remember the cover will need to overlap the edge of the pool!
The Blue Wave Bronze grade cover has a polyethylene scrim and coating, making it durable even in the harshest of winters. It also protects your pool from the sun's UV rays. There's a 4-foot overlap, which helps with the fit, and it is secured with a cable and tightener.
---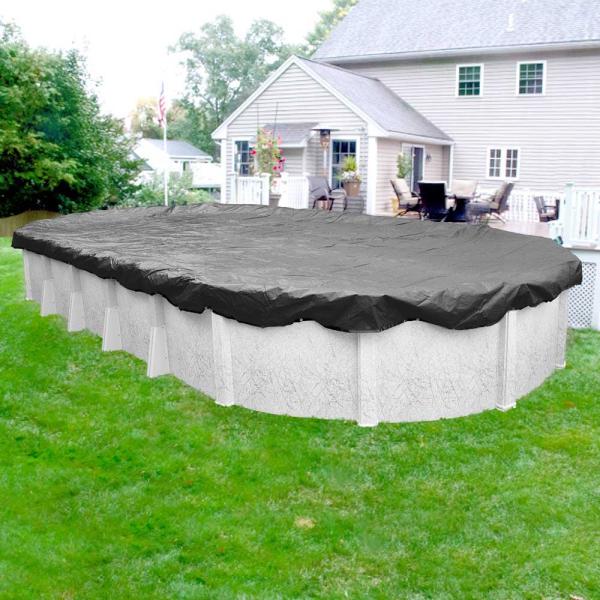 This strong winter cover is made from a polyethylene material and has an all-weather cable and winch to secure it. The Robelle cover also features a 4-foot overlap.
---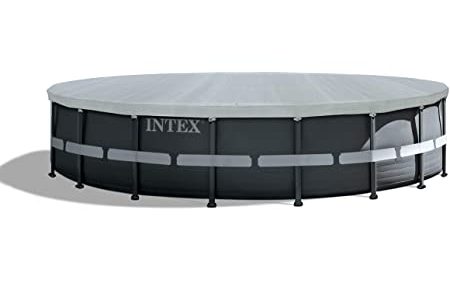 According to the manufacturer, this cover is "made of UV-resistant polyethylene, has built in drain holes to prevent water accumulation and is easily secured with the included rope ties."
---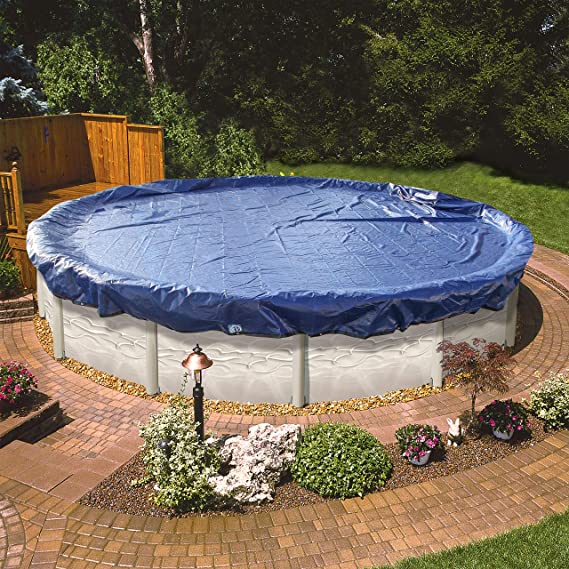 This round winter pool cover is extremely durable, with a 14×14 scrim count, double heat-sealed seams, and black underside to prevent algae growth. It is also one of the thickest covers on the market and has a UV LDPE coating for sun protection.
One last step
The cover is on, the cables are secured. Your pool is ready for winter … right?
Before you head inside, there's one last step to covering your above-ground pool for winter.
When the air temperature is regularly below freezing, a thin layer of ice can form in the pool. Air pillows help protect the walls of your pool from ice and freeze expansion.
How do you use air pillows in your pool? Partially inflate the pillows — about halfway — and then place them on the surface of the water. Remember: Air pillows for your pool go underneath the winter cover!
Have more questions?
Whether you are looking for the best pool accessories or troubleshooting pool water, tap into the knowledgeable community of Pool Spa Forum. Members offer tips and tricks so you can enjoy the fun and relaxation of your pool. There are more than 7,000 users online at any time, offering insight about pool chemicals and swimming pool maintenance. Ask a question today!