January 10, 2022
A tropical vacation can be good for the mind and body. Sleeping in as the waves crash, swimming in the ocean, relaxing poolside. However, booking a trip to your favorite island destination isn't always possible.
You can get away, though, without having to find your passport and waiting in the TSA line. Incorporating tropical plants and design elements of popular resorts can help you re-create your favorite vacations.
And this backyard is proof that you can turn any outdoor space, whether large or small, into a secluded oasis. This small backyard features a plunge pool with an infinity edge, large palms for privacy, an outdoor shower, and plenty of spots to lounge.
What design ideas will inspire your own tropical backyard makeover?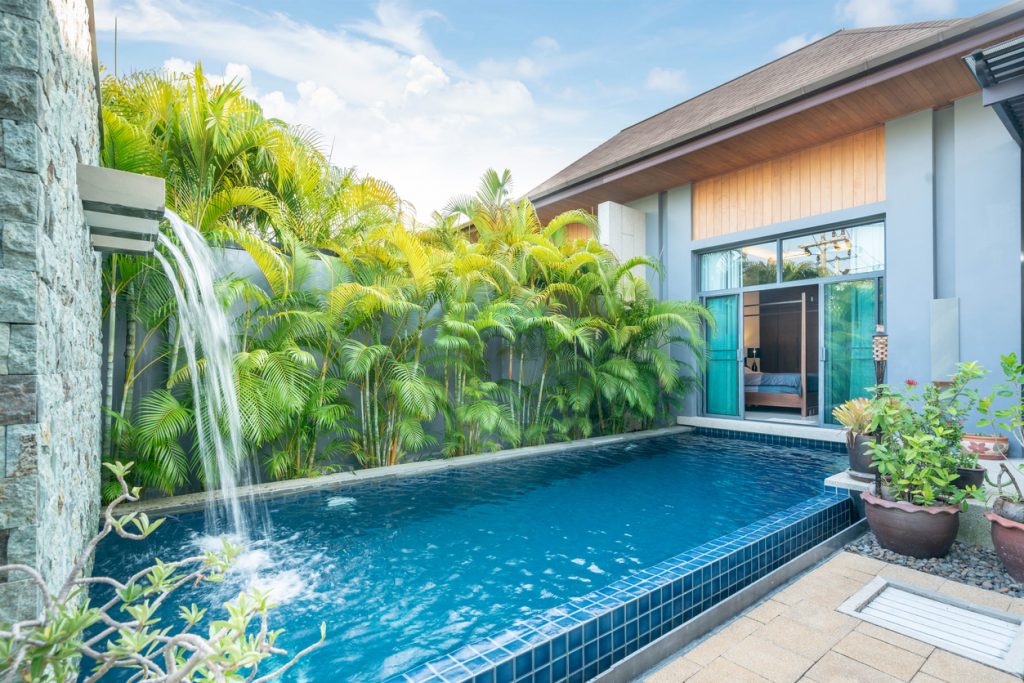 Small backyard tropical oasis
Your backyard is an extension of your indoor living space, and it's important that you want to spend time there. With an outdoor tropical makeover, you might discover that you don't want to leave.
Dive into designing
The perfect pool design can help you re-create the vibe you love at your favorite vacation spot. But you don't need a large backyard or waterfront property to incorporate a water feature. And this small backyard proves that.
This backyard plunge pool runs the length of the backyard, creating a focal point. There's an infinity end and bright, beautiful blue tile. A large stone wall is at one end of the pool with a modern fountain creating a waterfall effect.
Can you imagine it? Lounging in one of the reclining chaises on the patio, soaking up the sun and listening to the sound of the waterfall. It's just like paradise. If you don't have the room or budget for a plunge pool, including a fountain or waterfall in your backyard can help you create your own oasis.
Palm perfect
There's one feature that you will find at almost every exotic locale — palm trees. When you want to create a resort-like atmosphere in your backyard, it's to include palms in your landscape design.
In this outdoor space, there are palms planted between the edge of the pool and a privacy wall. It creates the feeling that you are swimming in a resort rather than in your backyard.
If you don't want to dedicate that much space to palms, you can choose smaller varieties in containers that can be placed thoughtfully around the yard.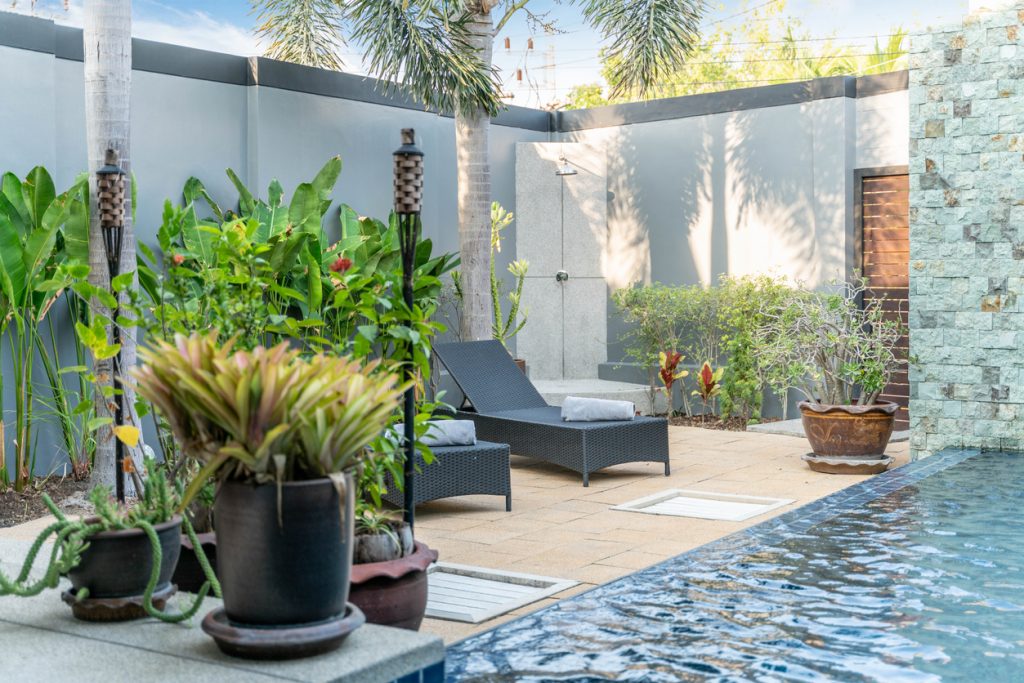 Foliage all around
Creating the feel of your favorite island resort is more than just planting palms. Flowers, fronds, and other foliage are key to turning your space into an oasis. You can place pots around the space or include flowers, such as plumeria, depending on your plant hardiness zone.
Just picture it: You walk into the foyer of the hotel and there's vases overflowing with fresh flowers. There's banyan trees and water fountains. The air is sweet and warm. Instantly, you can feel yourself relax.
This backyard features a variety of greenery bursting from flower beds and containers. The plants feature a multitude of colors, textures, and heights. The feeling is a lush, secluded space designed to transport you to another place.
Luxe outdoor shower
Outdoor showers are one of the most popular features at tropical resorts. They are the perfect way to rinse off after walking on the beach or to cool off if the air is humid.
But you don't need to book a five-star suite to use an outdoor shower.
Tucked away in the corner of this small backyard, there is an outdoor shower. It's connected to the water supply, and the shower head is designed to feel like a rain shower.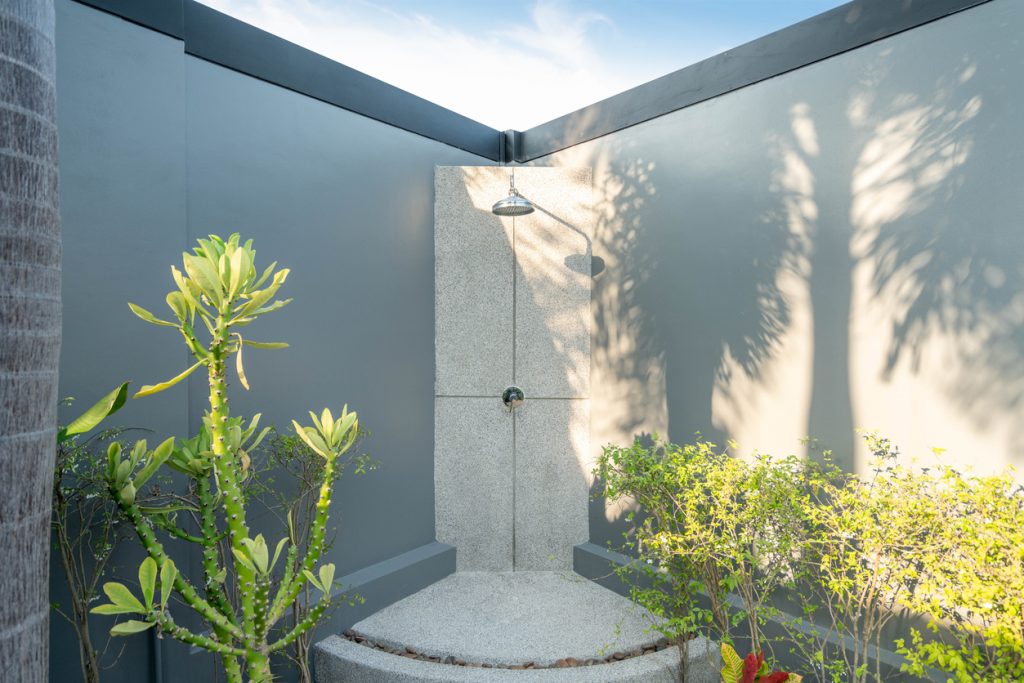 Lounge around
The most popular resort pools are lined with chaise lounges, giving guests a "home base" as they dip in and out of the pool.
Lounge chairs along the edge of this small residential plunge pool give the homeowners a spot to relax and dry off after a swim.
Catch some shade
No matter how much you love the sun, you need a place to cool off and enjoy the shade.
In this backyard, there's a gorgeous pergola that connects the indoor and outdoor living spaces. There's an outdoor dining table so that the homeowners can enjoy a meal al fresco or a refreshing beverage after swimming in the small plunge pool.
A variety of hanging plants helps define this space and take advantage of the structure provided by the pergola.
Backyard pool tips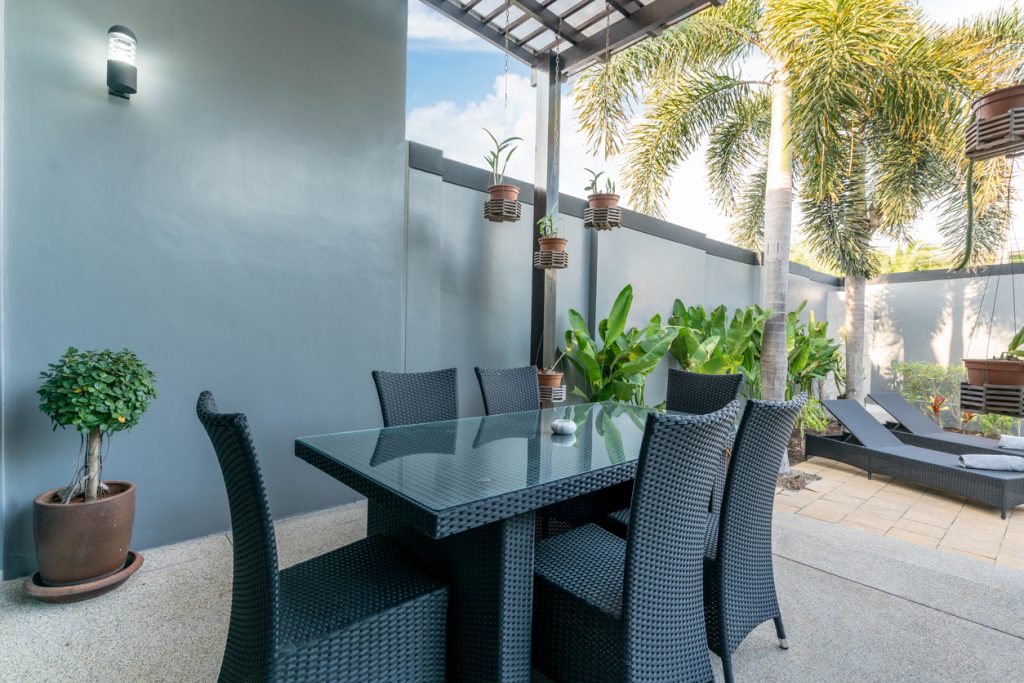 A backyard plunge pool can help you create the backyard you have dreamed of. Whether you create a tropical oasis or choose a design that complements your style, a water feature can create a focal point in the space.
You might have questions, though, about building a plunge pool and pool ownership. You can join our forum, where members offer tips and tricks so you can feel confident as a new pool owner.