April 1, 2021
Can you picture it? Your favorite summer playlist is on repeat and the smell of steaks on the grill is caught in the light breeze. The kids are playing in the pool, and the water splashing on the deck cools your feet. There's not much that could make this day better.
But there are a few things. What does every pool owner need? Sure, you need chemicals to keep the water clean and toys to entertain the kids. However, these must-have pool accessories will make the summer days and nights comfortable.
Whether you enjoy floating on a raft, sitting in a lounge chair, or hanging out at the patio table, check out our list of what every pool owner needs this summer.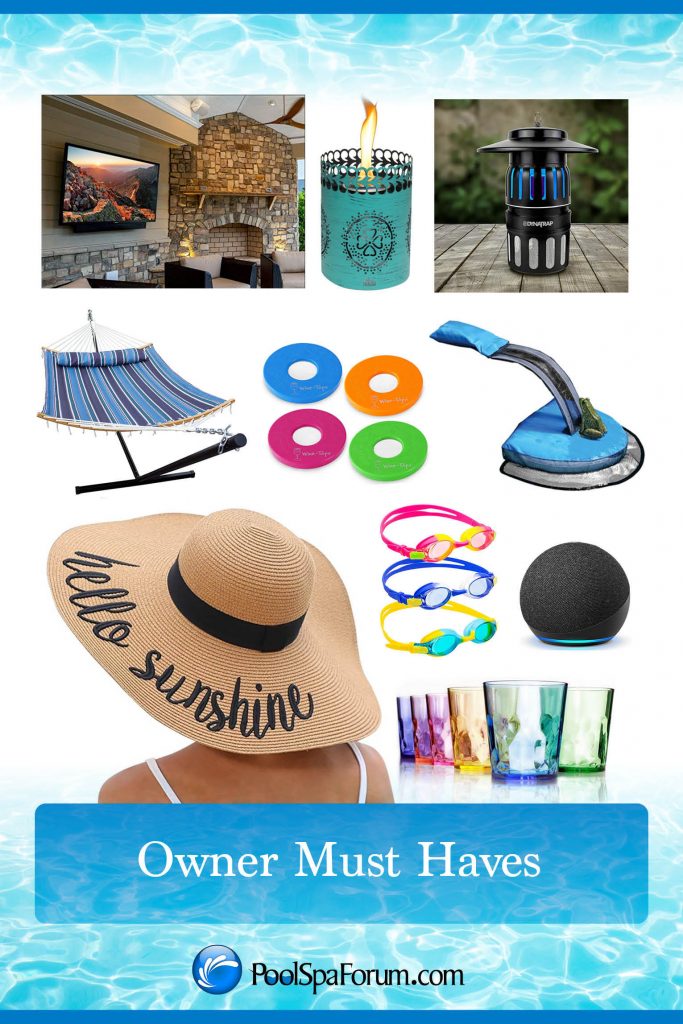 10 Must-Have Pool Accessories
Plastic Drinkware
When you are hanging out by the pool or in it, chances are you are going to want to reach for a refreshing beverage. However, you might want to think twice before pouring a glass of lemonade. We have nothing against lemonade but glass can be risky around a pool. Broken glass can be an injury-risk, as many people will be walking around the pool area with bare feet. And, you don't want to risk glass shards getting in the pool. Glass can't be seen with the naked eye, and it can injure a swimmer.
It's best to have plastic drinkware on hand for sipping soda or a mocktail. It doesn't have to be boring, though. Choose a set of colorful tumblers or go for the popular stainless-steel cups that will keep your drinks cool.
---
Bug Covers
Summer means more than just afternoons by the pool. It also means bugs. And while you don't mind swatting away a mosquito or two, you certainly don't want one floating in your chardonnay. If you plan to enjoy a post-dinner pour, you will want bug covers for your plastic wine cups. These no-spill covers will keep your drink safe when you're not sipping. Bonus: The design of these drink covers will work on coffee mugs and other cups.
---
DynaTrap
Depending on where you live, mosquitoes might be more than a nuisance. Among the must have pool accessories is the DynaTrap, which will help keep bugs at bay. This product features UV bulbs and whisper-quiet fans to tap insects, including mosquitoes. You can place it on a table or choose a model that mounts to a pole.
---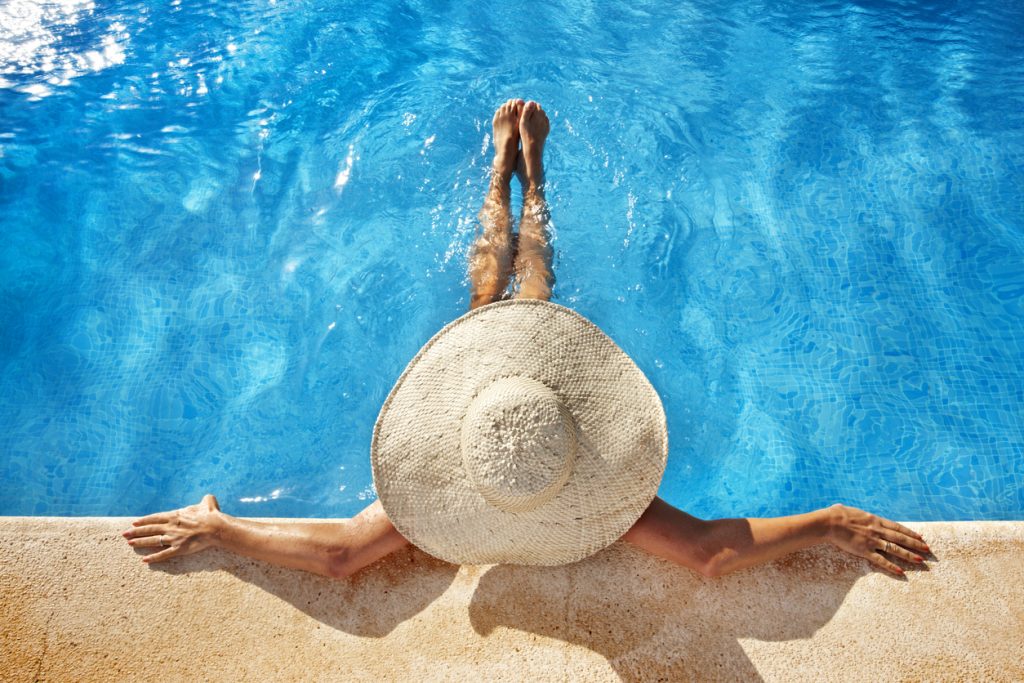 Big, Floppy Hat
A sun hat might not seem essential if you are going to be splashing in the pool But it's a way to protect your skin and avoid sunburn when you are spending hours outdoors. Look for a hat that's tightly woven so the UV rays don't try to sneak through. And a wide brim will also protect your ears.
However, your sun hat can be just as much about fashion as it is function. From sayings to animal prints, you can choose a sun hat that makes a statement.
---
Hammock
You don't have to be in the pool to enjoy the pool. A hammock is a great way to take in the water view without lounging in the water. Hanging a hammock will help you create a quiet spot for unwinding. Or, choose a hammock with a frame so that you can be a part of the fun as you lie back and relax. The frame also makes it easier to move it around so you can find the perfect spot.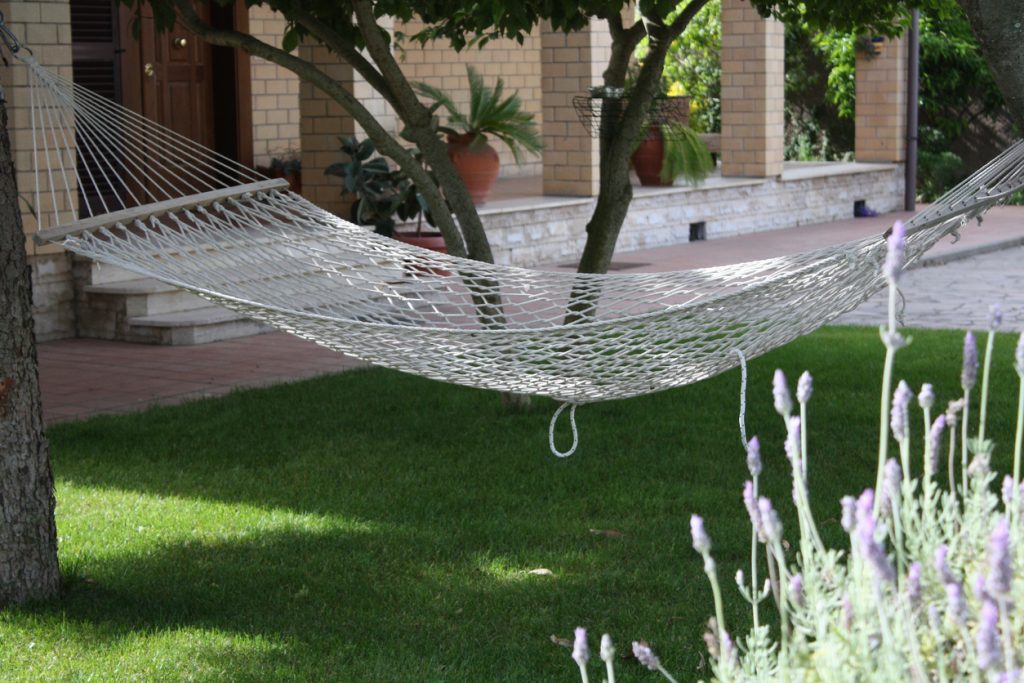 ---
Outdoor TV with Cover
Going from luxury to must-have, outdoor televisions are growing in popularity. You can enjoy the big game as you relax on the patio or you can turn on a movie for the kids. Sure, you can use a projector but setting up an outdoor TV helps you maximize the investment you have made in your backyard.
An outdoor TV will help give you a place to dry off after a swim in the pool or give the kids a break between games of Marco Polo.
---
Frog Log
When you have a pool, everyone will want to get in — even a critter or two. If a frog or small turtle gets in, the instinct will be to swim toward the wall to escape. A FrogLog will offer the animal an escape ramp so they can safely get on dry land. In addition, the FrogLog will make it easier to keep your pool water clean by keeping animals out of the water.
---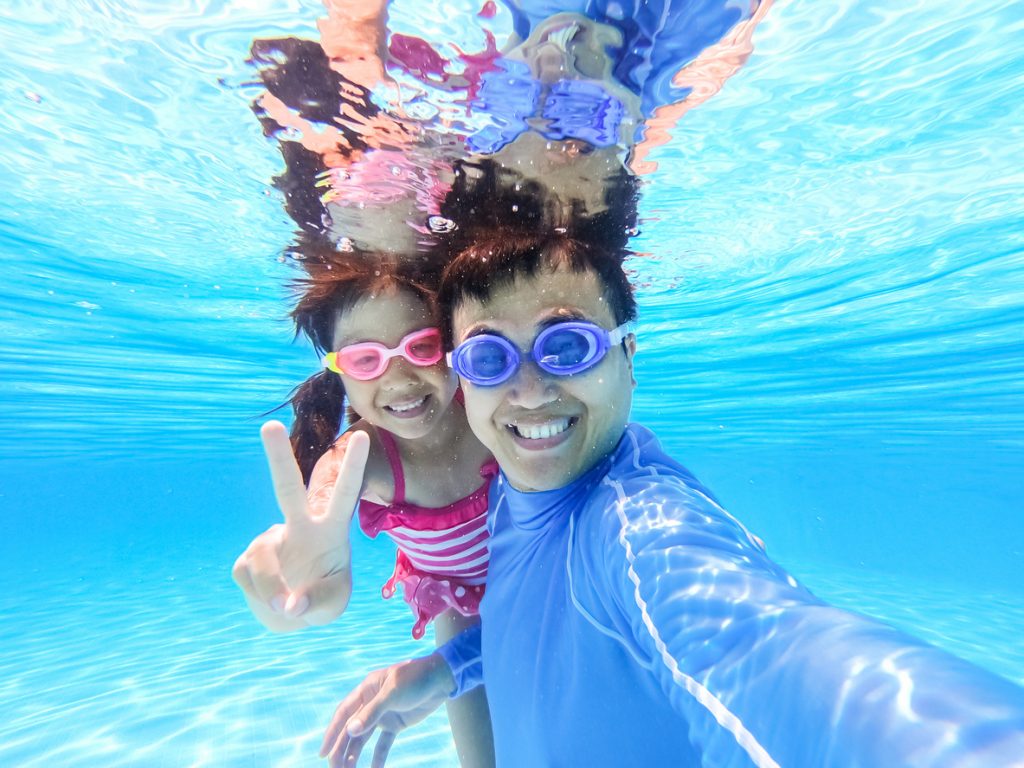 Swim Goggles
Whether your children will try to practice swimming or just want to go diving for toys, swim goggles are a must-have activity. But goggles are easily lost, broken, or borrowed by a neighbor kid. Every pool owner should have a few extra pairs of goggles on hand. You can often find them in packs of three in bright colors. Assign each child a color so they can keep track of their goggles and to keep germs at bay. Having extra goggles is also a good idea for pool parties and entertaining family.
---
Alexa, Change the Station
You're lounging on your favorite pool float and just found the perfect spot in the water, a mix of sunshine and cool breeze. But, then you're taken out of the perfect spot when your least favorite song starts playing through the speakers. Instead of hopping out of the water to turn on a new playlist, you can use an Echo Dot (or similar product) and ask Alexa to change the music. You can also use the device to control other accessories on your patio so you can spend more time relaxing and enjoying the space.
---
Tabletop Tiki Torches
Function and style come together in these tabletop tiki torches, our last pick for must have pool accessories. Filled with citronella oil, they help keep away bugs. But with there a variety of designs and styles to choose from, allowing you to complement the design of your outdoor living area. Be careful as some of the designs are glass and could break near the pool deck. This tabletop torch features a lantern design that protects, and it's perfect for pool decks and patios.