March 8, 2021
Outdoor pools are hot. An at-home swimming pool, whether in-ground or are above ground, have grown in popularity in recent years. Homeowners want a safe, comfortable place to swim and relax with loved ones.
But the dream of a backyard pool can feel out of reach if you have a small backyard.
The average backyard size is about a quarter of an acre, according to Home Advisor. But that's just average. Some owners have a spacious outdoor space ideal for a backyard pool. Others, though, might have a small or narrow backyard.
If you have a small lot, how do you install an outdoor pool?
The answer seems obvious — choose a smaller pool. However, an above-ground pool can give you a place to hang out on a hot summer day without sacrificing your entire space. The above-ground pool can be installed with minimal prep and still give you space for a patio or deck.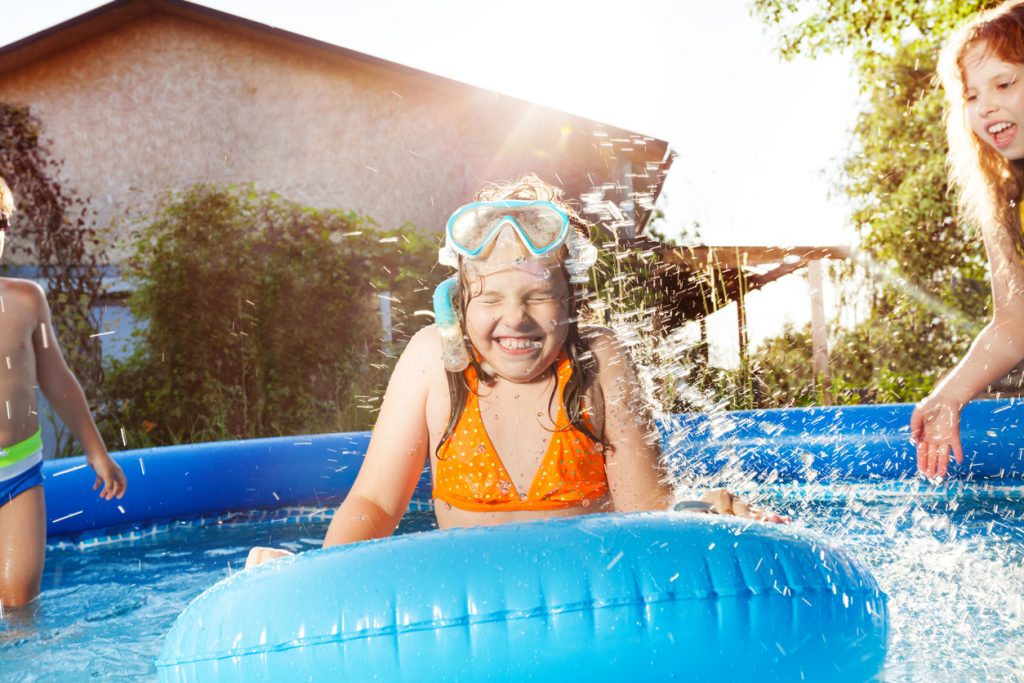 Above-Ground Pool Options
When you begin shopping for an above-ground pool for your small backyard, you might be surprised by just how many options there are. You can go small and temporary with an inflatable pool or choose a more durable option like steel.
While an above-ground pool can vary widely in cost, they are a more affordable option when compared to an in-ground swimming pool,
Among the types of above-ground pools:
Kiddie pool. These small, shallow pools are good for little ones to splash around. Some kiddie pools are inflatable while others are made from a durable plastic that maintains its shape.
Inflatable pool. Inflatable swimming pools can vary in size but are often small. These budget-friendly pools are perfect for day use. Be cautious as these can easily spring a leak.
Steel above-ground pool. An above-ground steel swimming pool is a great choice if you want a strong pool. These are the most budget-friendly pools and are easy to install. With advances in coatings, these pools can last decades.
Aluminum pool. This pool is typically made of one rolled sheet of aluminum. These pools are strong and designed to resist corrosion.
Resin above-ground pool. Resin pools are, typically, a more expensive above-ground pool option. Durable and built to last, resin pools are rust and corrosion free. Resin pools, though, are subject to cracking when in extreme temperatures.
Choosing the best above-ground swimming pool for your small backyard will often depend on your budget. When you are planning, be sure to consider how big the dig area will be. Most above-ground pools require the site to be leveled and prepped.
Do you have questions about owning and maintaining a small pool for your backyard? Join the PoolspaForum.
Best-Rated Above-Ground Pools
The Intex 12ft x 30in metal frame above ground pool has room for six so the entire family can cool off this summer. Easy to set-up, this pool can be ready for water in 45 minutes.
---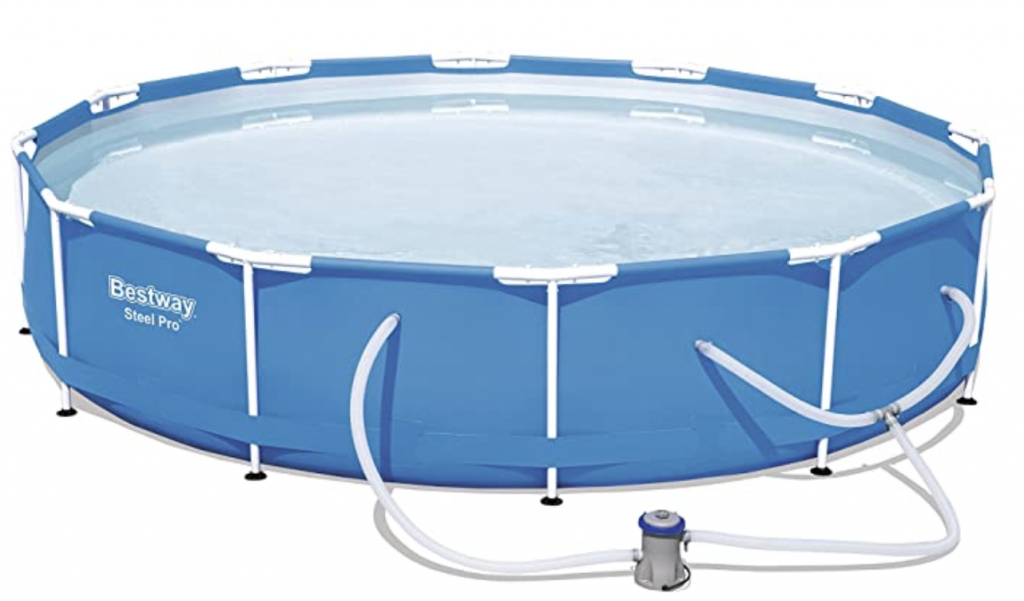 Kids all ages can enjoy swimming and splashing in Bestway's Steel Pro Above Ground Pool. The pool frame has a coating to make it rust and corrosion-resistant coating, protecting it from UV damage.
---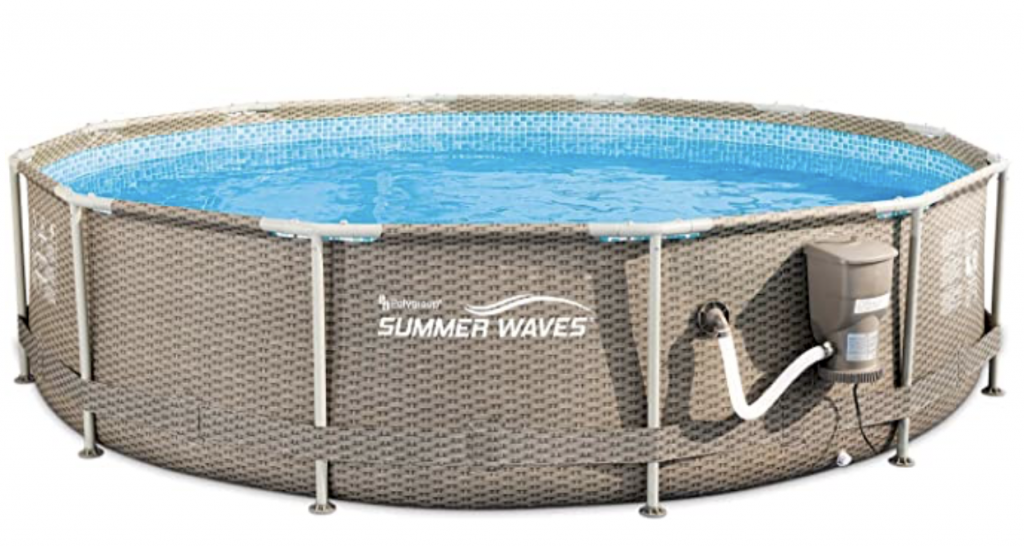 A family-sized pool, the Summer Waves Round Above Ground Swimming Pool lets you splash and play in the privacy of your backyard. This pool is 12 feet in diameter and 2.5 feet deep. It holds 1,836 gallons of water. 
---

This above-ground pool is made from galvanized steel and has an outer powder coating to avoid rust. The interlock design makes installation easy, and it is ready for water in about 60 minutes. The set includes a pool ladder, sand filter, ground cloth, and debris filter.
---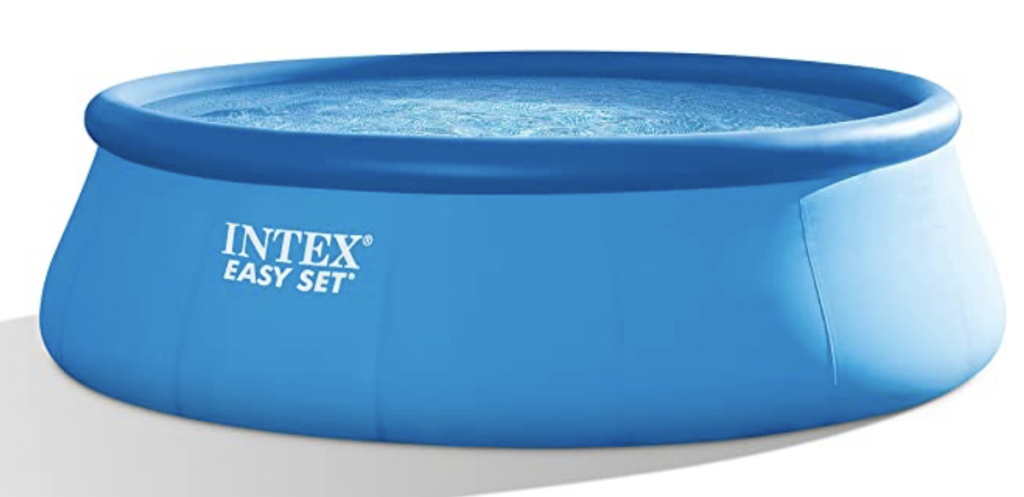 Best-Rated Inflatable Pools
Ready to fill in 30 minutes, the Intex Easy Set Pool is ideal for any backyard. It is made from laminated PVC sidewalls and has room for eight people. This pool has a filter pump, ground fault interrupter, ladder, ground cloth, and debris cover.
---
Skip the backyard project and cool off in the QPAU inflatable pool. This inflatable pool is made from a durable PVC, which resists rips. This is a budget-friendly choice for kids who enjoy splashing and soaking in a pool.
Pool Alternative: The Swim Spa
For people who want a pool for more than recreation, a swim spa can be an option for small backyards.
Swim spas allow you to swim, exercise, relax, and play year-round. While they require less space than an in-ground pool, they come in a variety of sizes to fit your lifestyle, budget, and backyard. You can choose a 12-foot swim spa for a small lot or indulge in a 19-foot swim spa if your backyard allows.
What is a swim spa? It's a portable above-ground pool that looks like an oversized hot tub. A swim spa will have jets, a propulsion unit, or a system that creates a continuous current of water. This current allows for stationary swimming, water running, and walking. However, depending on the manufacturer and model, a tether might be required for swimming in place.
Another benefit of a swim spa is that you can heat the water. A warmer setting, in the low to mid-90s, is perfect for relaxing and aquatherapy. Or, leave it in the 80s for exercise and swimming.