November 1, 2022
Summer afternoons are better spent by the pool. But the carefree season is not the only time you can enjoy your backyard swimming pool. You can make a splash this holiday season by using these outdoor Christmas decorating ideas to transform your pool into a winter wonderland.
Whether you have a heated pool or live in a warmer climate, you can spend the holidays in the water or on the deck. You can take a break from the hustle and bustle of the season to relax. Or, bring some holiday cheer to friends and family by inviting them over for a Christmas pool party.
But how do you transform your pool into a winter wonderland?
With so many options for Christmas decor, choosing a theme can help you select accessories for your pool area. There's classic cheer, silver bells or, maybe the perfect theme, Christmas by the sea. You could select your theme based on a color, a pattern, or even a winter floral.
Together, your theme and backyard swimming pool will create an unforgettable holiday season for you and your loved ones.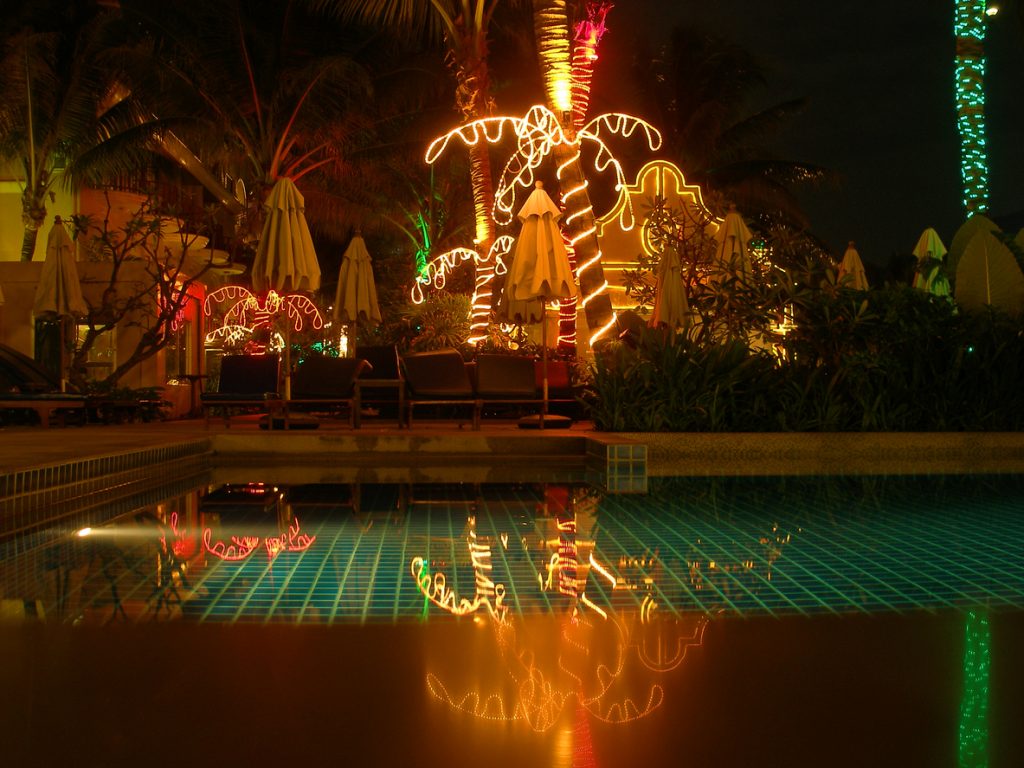 Outdoor Christmas decorating ideas
Outdoor holiday decorations, especially for the backyard, are all about setting the scene. You want to create a space that's as festive as it is inviting. From lighting to patio heaters, make it a space where you will enjoy a cup of cheer or Christmas pool party.
Outdoor holiday lights
More than 80 million homes are decorated with strings of lights each holiday season. From muted whites to bright bulbs, lights are a part of the Christmas tradition. But you don't need to channel your inner Clark Griswold to add a festive flair to your patio and pool deck. (Although we wouldn't blame you if you did!)
You can line your roof with holiday lights, deck the fence with bulbs, and wrap tree trunks with twinkling lights. Outdoor pathway lights, whether they feature a snowflake or candy cane design, can be an especially festive touch.
A fun twist on Christmas lights for your backyard pool are floating pool lights in vibrant red and green. These solar lights are easy to inflate, and you can change the colors depending on the season or your mood.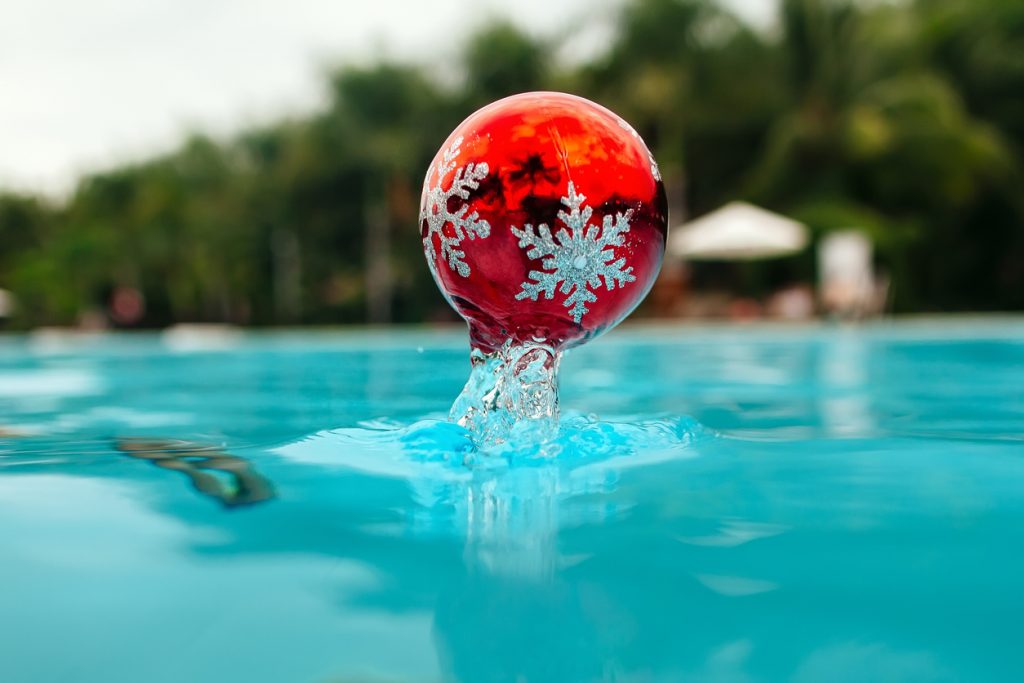 Floating decorations
Even Santa deserves to take a break during the busy holiday season and take a dip in the pool.
OK, OK. The real Santa might be too busy at the North Pole but you can decorate your pool with a floating Santa decoration. There are also inflatable ball ornament decorations and even a Christmas tree that are perfect for any outdoor patio this holiday season.
Holiday pool floats
Festive pool decor is more than just setting the mood. You want to make a splash. Hop in the water with a decorative pool float. This wreath ring, with its red and gold accents, is perfect if you chose a traditional theme for your holiday decor.
Evergreen accents
A great way to transform your backyard pool for the holiday is to add seasonal plants and greenery. Whether in pots or on tables or around lighting fixtures, miniature pine trees, rosemary bushes, poinsettia, and holly add a festive look to your outdoor space.
Also consider adding seasonal greenery to planters over your railing. You can use a mix of berries and evergreen, even adding in pinecones for texture. Fresh Christmas wreaths fashioned from classic balsam fir and decorated with a simple red bow are perfect for adorning windows.
Trim every tree
Who says you can only decorate an indoor tree? Buy some plastic ornaments and hang them from the greenery in your pool area. Who knows, maybe Santa will see the tricked-out trees and leave some gifts there as well!
Patio heater
The winter nights can be cold. Even if you live in a warm area like Florida or southern California, there will still be a chill in the air. However, you don't have to hibernate indoors or hang out by the fire with a mug of hot cocoa. Patio heaters, rolling fire pits, and other options encourage you to get outside and enjoy your pool area in comfort.
This propane heater has a unique round table propane tank cover, providing space for snacks, drinks, and even your phones. Chimineas not only provide warmth but become a focal point of your outdoor patio. This chiminea features a rustic design, and it is the perfect spot to light a winter fire.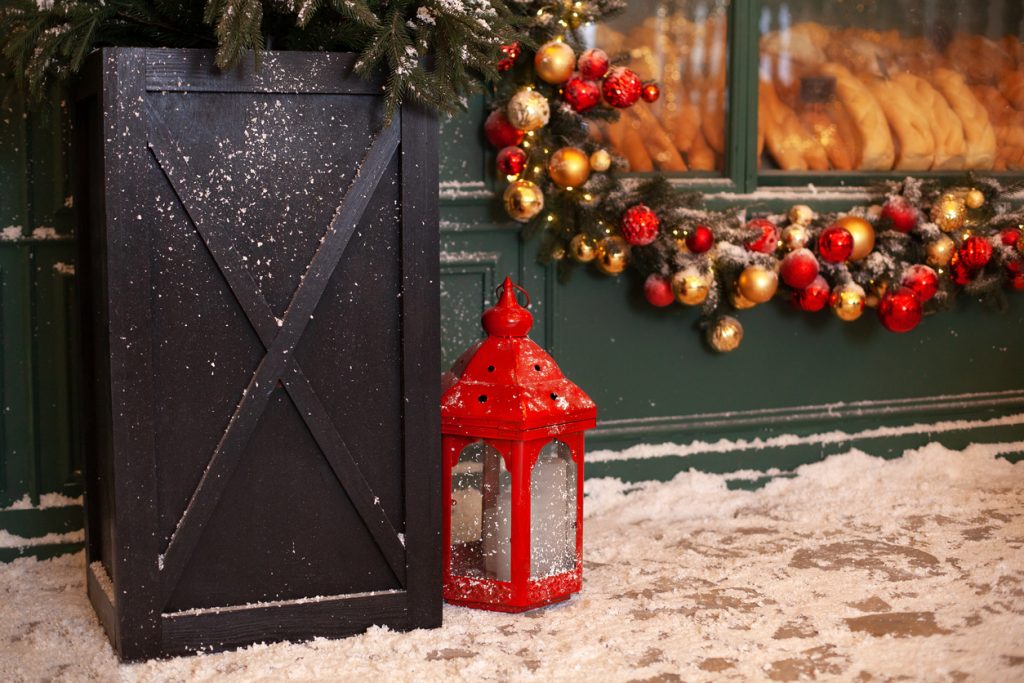 Lanterns
Lanterns have been used for millennia to provide light, whether at home or on a long journey. But this Christmas season, you can make your patio and pool deck cozy with oversized lanterns. There are a variety of designs to fit your decor theme, whether you are going for a traditional look or want to channel your inner Joanna Gaines with modern farmhouse accessories.
This traditional style decorative lantern is decorated with cranberries, sprigs of evergreen, pinecones, and a quintessential red plaid bow. The LED candle is perfect for adding a soft glow to your outdoor space throughout the holiday season.
Holiday seating
Whether you are hosting a Christmas pool party or just want to have a space to relax, cozy seating is key. You can add a holiday flair to your outdoor seating with Christmas pillow covers and cozy plaid blankets. Small candles can add ambiance, and you can decorate the area with oversized pinecones and ornaments.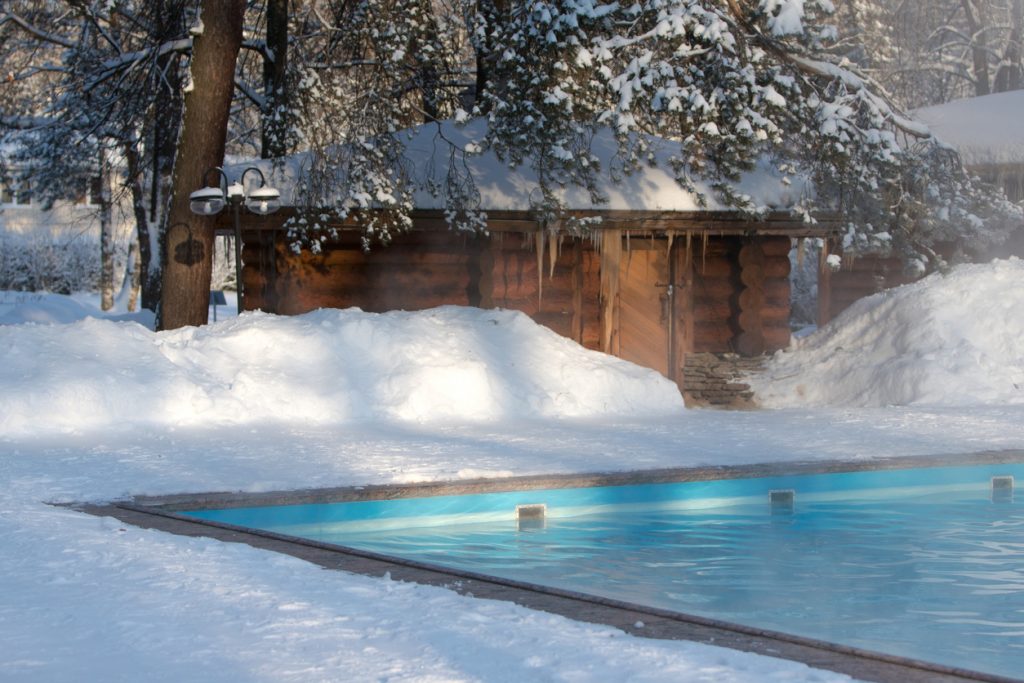 More backyard ideas and backyard pool tips
Whether you need help managing water care or want backyard ideas, our forum and its members offer tips and tricks.