October 10, 2022
It's the most wonderful time of the year, and a festive party is the perfect way to spread some holiday cheer.
But while friends and family might be throwing an indoor soiree, you can give your friends a true break from the hustle and bustle by inviting them to a winter hot tub party. After all, nothing will raise holiday spirits like a relaxing soak in a spa. 
What do you need to do to deck your patio for an outdoor Christmas party? These tips will make sure that you and your guests have a jolly good time.
Outdoor Christmas party tips
An outdoor holiday party is a fun twist to the seasonal calendar. But entertaining outdoors, especially around the holidays, does require additional planning and preparation.
Clean your hot tub
Your hot tub requires routine maintenance — even in the winter. Basic water care includes testing the water, balancing the chemicals, and cleaning your filters. A day or two before the party, be sure to check the clarity and chemical levels of your hot tub. You can rinse and clean your filters. Or, swap them out with a backup set.
If you are hosting a larger gathering, you can raise your chlorine slightly over the recommended level. The additional chlorine will not only sanitize the water but be able to handle the additional bather load.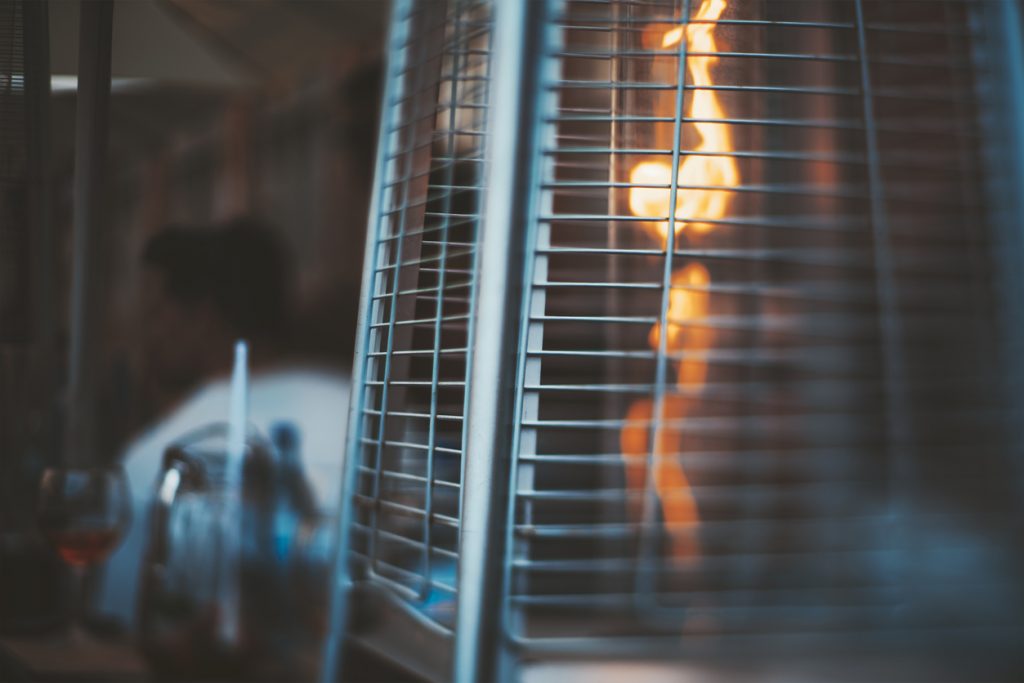 Heat things up
Even if you live in a warmer climate, the winter nights can get a bit chilly. You want your guests to warm up to the idea of an outdoor holiday party.
Patio heaters can be thoughtfully placed around your space, and this model provides heat in a 9-foot radius. Not only will guests appreciate the heat provided but you can use them to extend your patio season.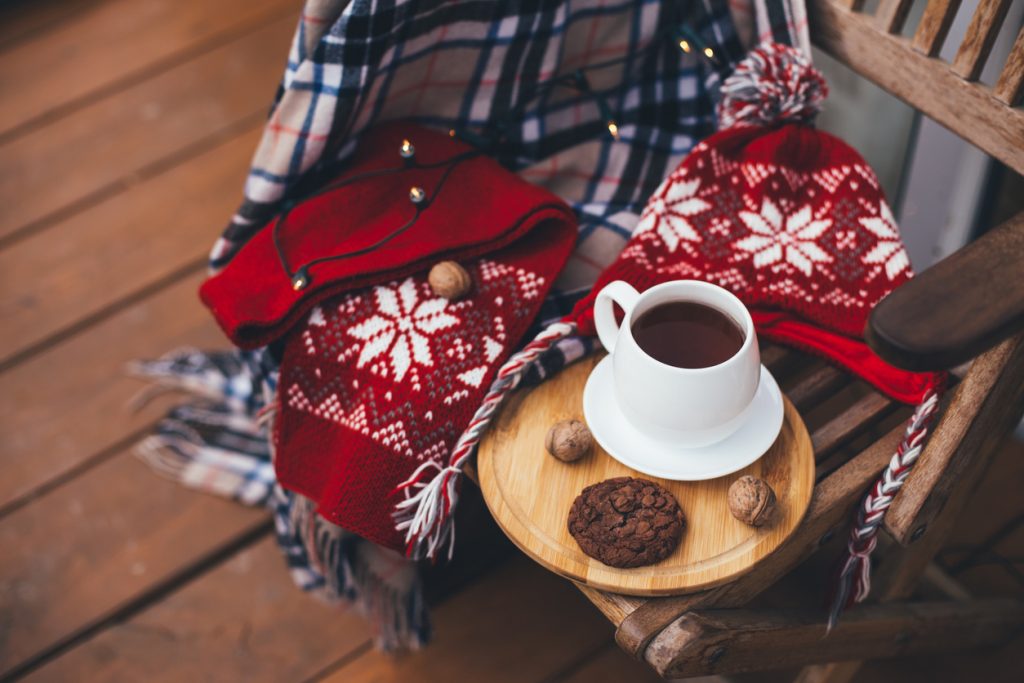 Keep things cozy
Embrace those cozy holiday vibes for your outdoor holiday party. Cushions on patio furniture not only add to the coziness but will keep guests from sitting on cold chairs. Baskets of blankets encourage guests to cuddle up and keep them warm. You can even give them as a gift to each guest, spreading some holiday cheer.
But when you are hosting a winter hot tub party, it's important to think beyond the blankets. Guests who get in the spa will need dry towels and robes, depending on their preference.
These fleece towels are super soft, extra absorbent, and fast drying. They are perfect for drying off after soaking in the hot tub, whether it's on a weeknight or during your outdoor holiday party. Plus, they come in a set of six — perfect for entertaining.
Deck the patio
The holidays are all about the decor. Help your guests get in the Christmas spirit by transforming your patio into a space that's merry and bright.
You can create an elegant space or embrace the kitsch — the choice is yours. For a chic look, consider hanging meteor shower rain lights from your trees. Pre-lit firs strategically placed around the space add festive charm. You can also wrap the columns of a pergola or porch with fresh garland, which will fill the air with evergreen fragrance. Create centerpieces with vibrant poinsettias or even go for a more muted look with white and pink petals.
Do you want to embrace a more cheerful style? You can hang snowflakes and lights from the trees near your hot tub. Line the walkways with lighted candy canes. Christmas lighted boxes are also a fun addition to any patio, whether you are hosting a Christmas hot tub party or just want a festive backyard.
Create the perfect playlist
Is a holiday party even a holiday party without a festive playlist? Christmas and winter-themed music can help set the tone for your holiday party. You can stream your playlist on an outdoor sound system, portable waterproof speakers, or even your spa if it has a built-in stereo system.
A fun way to ring in the holidays, especially if you are hosting an intimate gathering, is to host a holiday movie viewing party. Friends can even soak in the hot tub as they watch the movie on an outdoor TV or inflatable movie screen.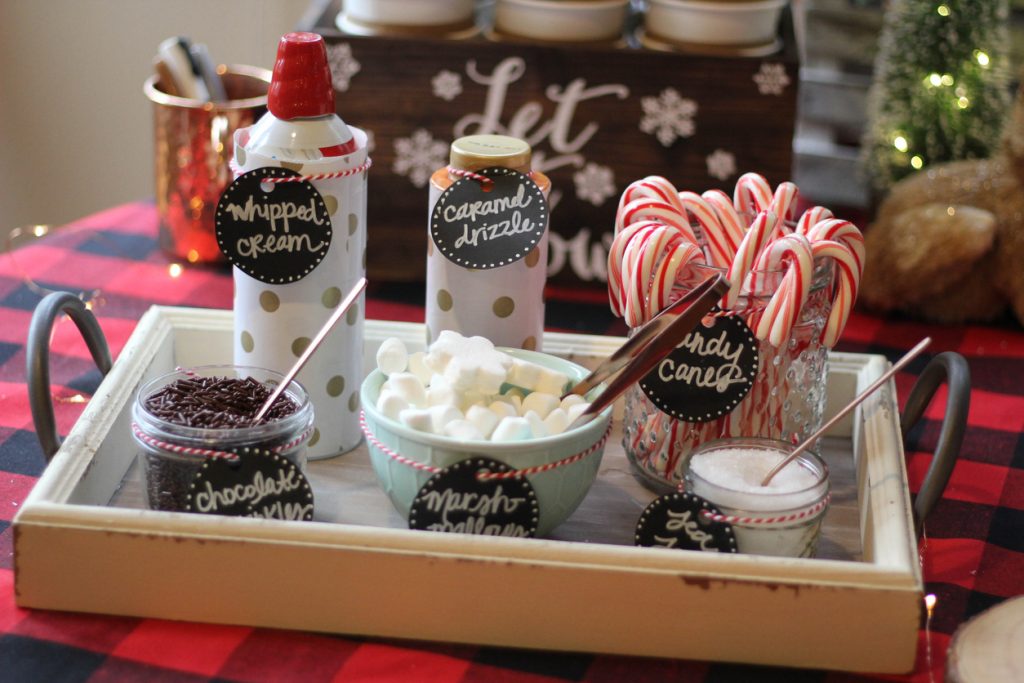 Serve festive food and drinks
The holidays are just as much about family and friends as they are about the food. And you can have a festive menu that you can prepare in advance. Charcuterie trays are popular and an easy way to wow guests. You can arrange the meats, cheeses, olives and other snacks in the shape of a Christmas tree. Or, use sprigs of rosemary as a garnish for a subtle winter touch.
Instead of baking a dessert, invite guests to bring a plate of Christmas cookies to share. Other sweets that are perfect for a holiday party are holiday M&Ms, gingerbread cookies, peppermint bark, and truffles.
A fun way to celebrate with friends and family is to set up a hot chocolate bar. Before guests arrive, prepare a pot of hot chocolate and keep it warm in an urn. Toppings and mix-ins can include candy canes, marshmallows, red and green sprinkles, whipped cream, graham cracker crumbs, milano cookies, and more. You can also offer guests hot apple cider and peppermint tea.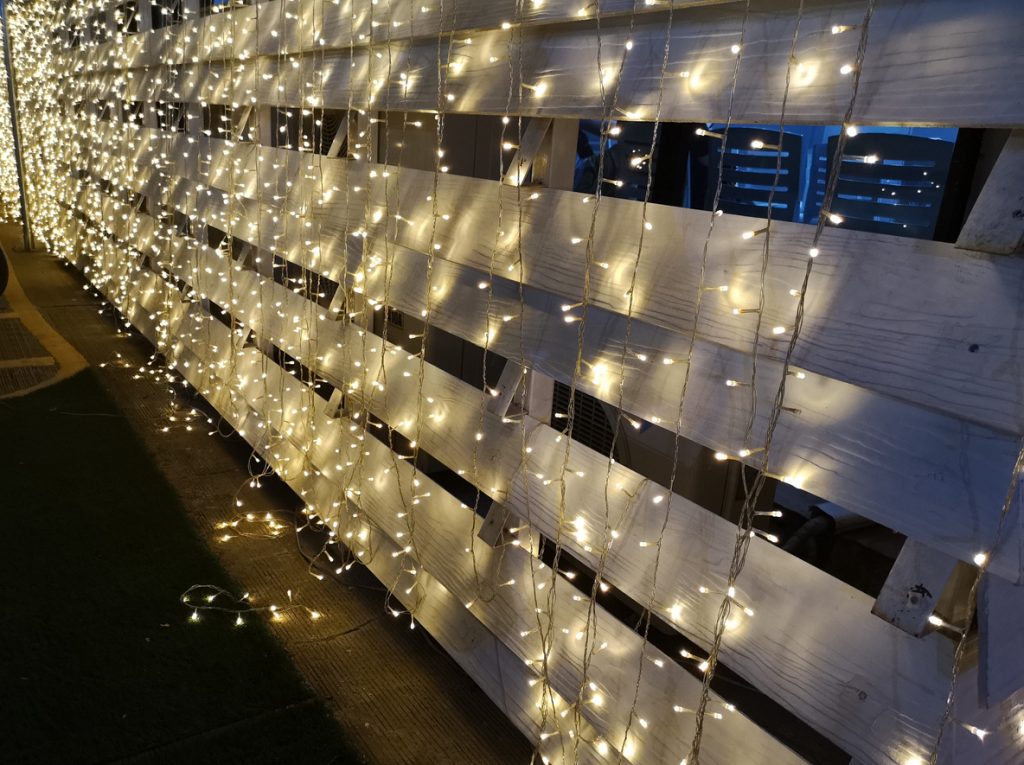 Outdoor lighting
Since it gets dark so much earlier in late winter, you will need extra lighting if you are hosting an outdoor party. String lights can add a festive flair but it's important to make sure that key spots are illuminated. Solar lights are perfect for any outdoor steps, and make sure that the entryway is well lit.
If guests will be walking around your side yard, make sure that they can safely walk from the backyard to their cars at the end of the evening.
More backyard ideas
Whether you need help managing water care or want backyard ideas, our forum and its members offer tips and tricks.