September 26, 2022
A backyard hot tub is a place where you can relax, enjoy the fresh air, and escape from the stress of daily life. You can start your day in the spa as you sip a cup of coffee or unwind with your loved ones before going to bed.
But you can enhance your soaking experience with the best hot tub accessories.
Enjoy your spa more with accessories like a towel warmer and a spa caddy for your favorite beverage. LED lighting, non-slip mats, and spa steps make your experience more comfortable and safer.
Do you have your swimsuit ready? We're sharing our list of must-have hot tub accessories.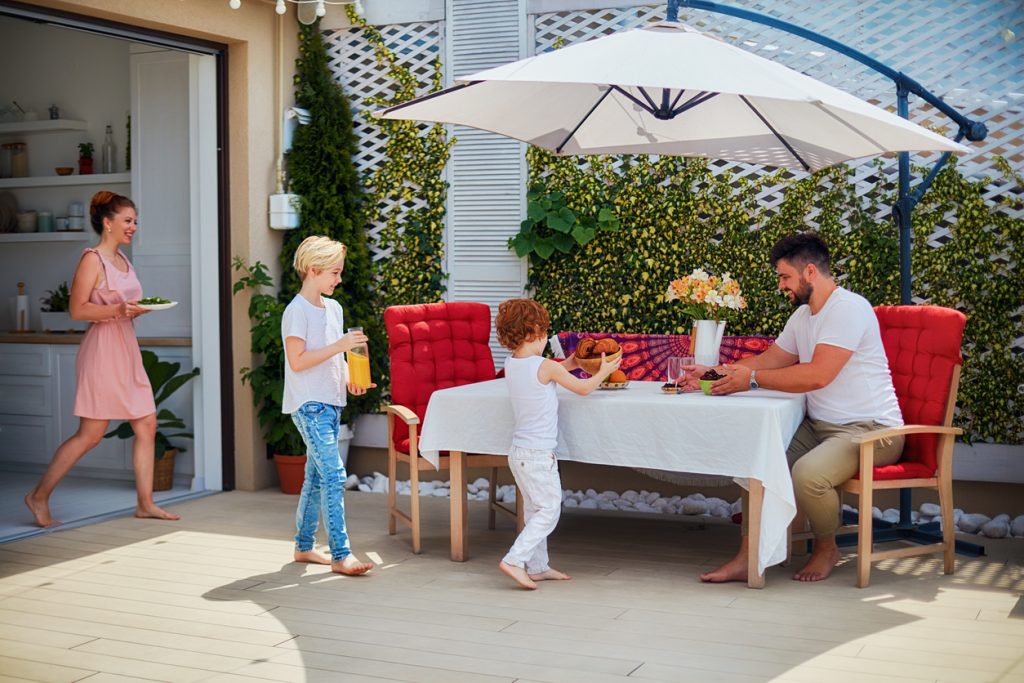 Best hot tub accessories for your backyard
The benefits of owning a hot tub are abounding. You can ease pain and discomfort from a chronic illness. The warm water increases your circulation and lowers your stress. Soaking in a hot tub at night can improve the quality of your sleep.
And you don't need hot tub accessories to realize those benefits.
However, the best hot tub experiences can build on those benefits and allow you to enjoy your spa in new ways.
Offset patio umbrella
Adding an offset umbrella can do more than help protect you from the sun on a hot day. An umbrella also helps reduce glare, protect your skin, and keep leaves and other elements out of your hot tub water. An offset umbrella is easier to position near your hot tub so you can raise it when you need it or close it when the weather's just right. 
Bonus: You can also lift up the umbrella when it's raining or snowing so you can soak even when the weather is less than ideal.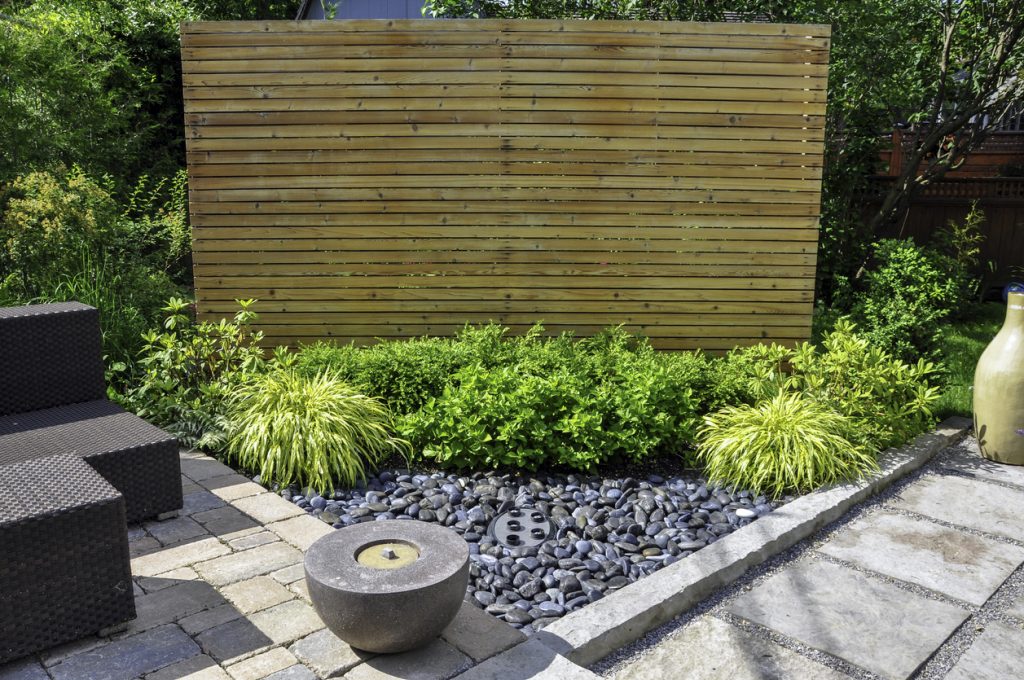 Privacy screen
It can be hard to get away from it all when you can see your neighbor mowing his grass or the kids swinging on a playset. Privacy screens can help you create a space that's ideal for relaxation, as well as block any unwanted views. From modern cutout screens to earthy trellis styles, you can choose a screen that complements your backyard space and style.
Towel butler
Wouldn't it be nice to have a clean, dry towel when you get out of your hot tub? A towel butler is a convenient spot to hang your towels next to the spa. This pool valet is sturdy, easy to set up, and weather resistant.
Spa cushion
The seats of a backyard hot tub are designed so you can sink down into the water. You can relax and recline as the jets deliver a therapeutic massage. However, if you consider yourself short, you might feel like you are in deeper than you would like. Cushions like this hot tub booster seat can help elevate you in the spa. You can sit comfortably without getting your hair wet.
Lighting
Hot tub lighting can go from ambient to dramatic, waterline to outdoor steps. You want to set the mood while being able to safely enjoy your hot tub after dusk.
These solar lights are designed to be installed on your outdoor steps. They help illuminate your walkways without having to add wiring. You can use the included hardware to mount to the steps or use adhesive strips to attach them to your outdoor steps.
If you want to turn up the fun factor on your outdoor space, these underwater disco lights are ideal. They are designed to float in your hot tub, swim spa, or pool. And while they float, the light is projected under the water line.
Sound systems
The right music can help you unwind at the end of the day and set the mood for your soaking session. Some backyard hot tubs have built-in bluetooth speakers. But if you opted out of the spa sound system, a water-proof speaker is a must-have hot tub accessory.
This portable bluetooth speaker can float next to you in the spa or you can place it on the ledge.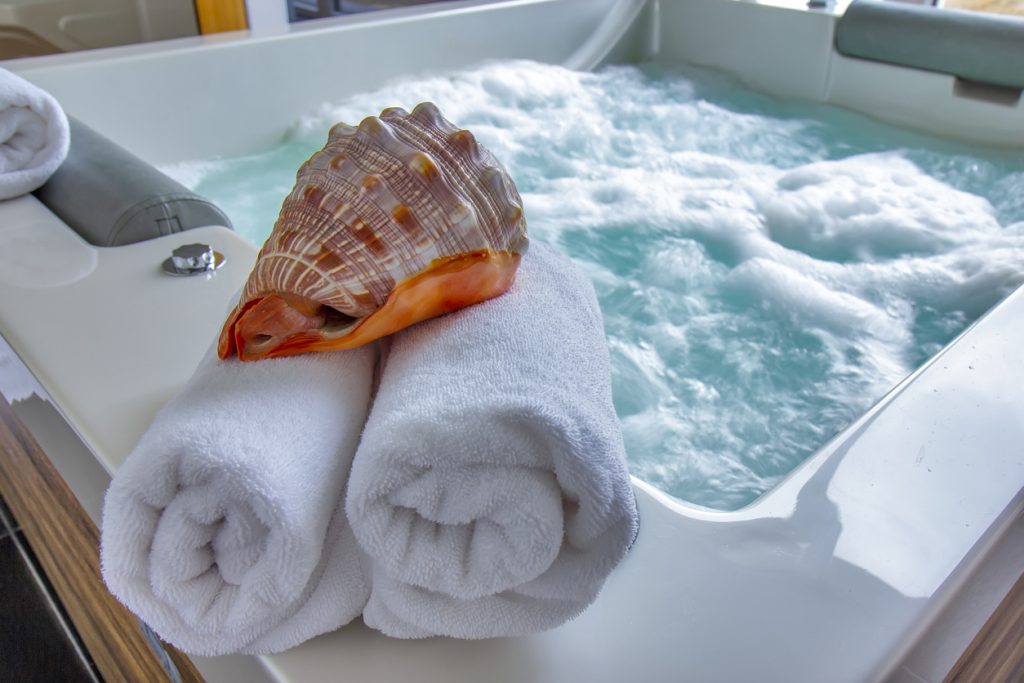 Hot tub caddy
Want another spot to put your spa speaker or your morning cup of coffee? This hot tub caddy is the perfect spot to put your drink, phone, or even towel. There's even a bucket built-in so you can keep your drinks on ice.
Featuring a sturdy design and made of ABS, the mounting hardware screws into the side of your hot tub cabinet. The tray slides onto the mounting block and rests on the side of the spa for additional support.
Signage
Life is better when you can spend time relaxing in a hot tub. This funny hot tub sign has a rustic design and is easy to hang.
But you can also add signs that create clear guidelines for using your hot tub.
Rules with safety guidelines are never a bad idea. This sign reminds users not to use glass around the spa, to keep children supervised, and enter and exit safely.
Portable towel warmer
Backyard spas are designed to be used year-round, and many owners find that winter is the best season for soaking. And there's nothing better on a wintery day than drying off with a warm towel and wrapping up in a rope. The Hot Tub Therma Hamper not only warms up your towels and robes but keeps them dry.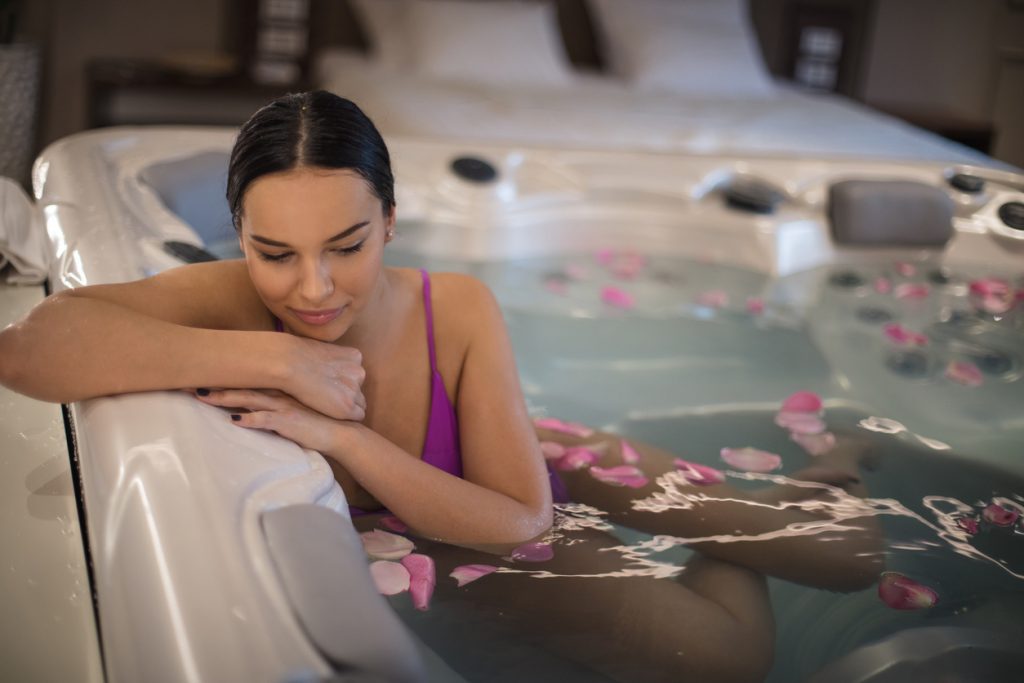 Aromatherapy
Aromatherapy crystals are a way to boost your hot tub experience. Hot tub aromatherapy crystals are designed for spa use and won't affect the quality of your water.
For users, too, the aromatherapy crystals can help your skin feel soft. One Amazon reviewer says, "The scent is coconut and it makes the water feel much better and it helps to prevent that dry chlorine feel to my skin. I am so glad that I can put this in our hot tub. It is a much more aromatic experience with soft skin."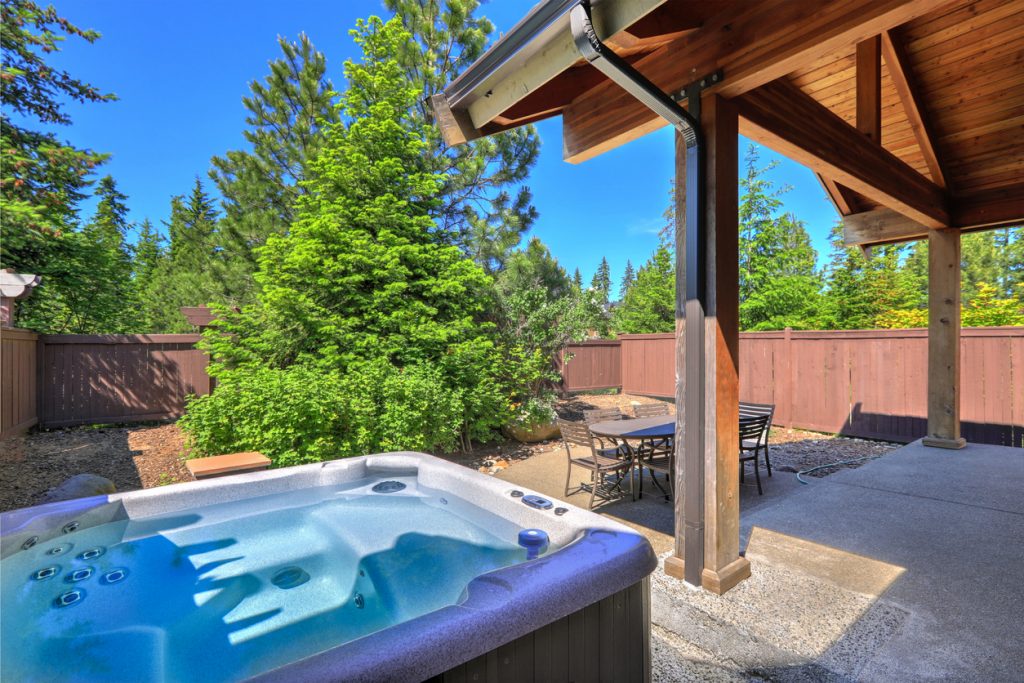 Do you want more hot tub ideas
Whether you need help managing water care or want backyard ideas, our forum and its members offer tips and tricks.