September 19, 2022
'Tis the season of pumpkin spice lattes, apple picking, and flannel shackets. There's something about the cooler weather and changing colors that have turned autumn from a season into a phenomenon.
While there are so many events and family moments to enjoy, the fall season is also one of the most enjoyable times for hot tub owners. The warm water and hydrotherapy jets are an invitation to relax after an afternoon of picking pumpkins or raking leaves. Make the most of the longer nights by star gazing as you soak.
Fall, though, is also the perfect time to take care of your hot tub. Taking care to do seasonal maintenance will not only help you enjoy your evening soaks but protect your spa.
These tips will help you get the most out of your fall hot tub season.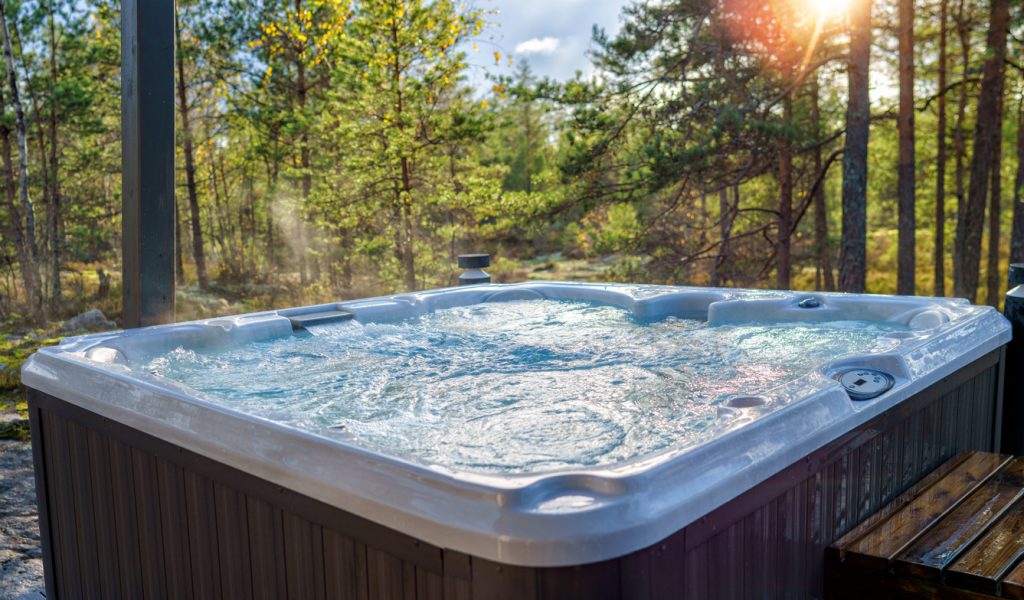 Fall hot tub tips
One of the best ways to enjoy the cool fall weather is relaxing in a hot tub. But the secret to the perfect autumn soak? Clean, clear water. The best way to accomplish that is routine water care.
Take advantage of a sunny fall day to maintain your water and check off some seasonal maintenance that you won't want to do when it's colder.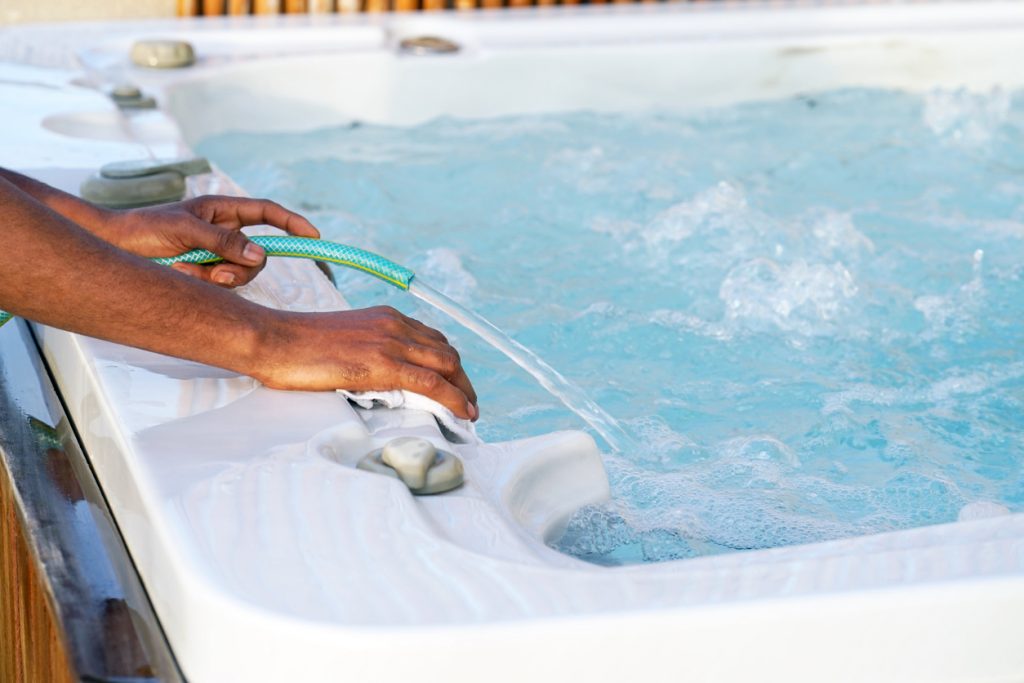 Drain your hot tub
Most hot tub manufacturers recommend draining your hot tub every three to six months. It's a quick job, depending on the size of your spa. And come winter, when you are soaking as it snows, you'll be glad you took an hour or two to drain your spa.
There are several ways to drain your hot tub: internal drain, garden hose, and submersible pump. Many spa owners find that a submersible pump is the quickest way to drain your hot tub. No matter the method you use, you will have a small amount of water on the bottom of the spa. You can use a wet/dry vac to remove the remaining water.
Bonus tip: If you drain your hot tub in late autumn, you won't need to do so again until early spring. You will have avoided the need to do so in the coldest months of the year.
Clean your spa
Once your hot tub is empty, it's ready for some cleaning. You can clean the spa shell with a specialty cleaner, diluted white vinegar, or diluted bleach. Be sure to get into the nooks and crannies where mildew, algae, or bacteria could build up. Wipe down the shell with a soft cloth and rinse well.
Bonus tip: Ammonia-free window cleaner can help make your spa shell sparkle.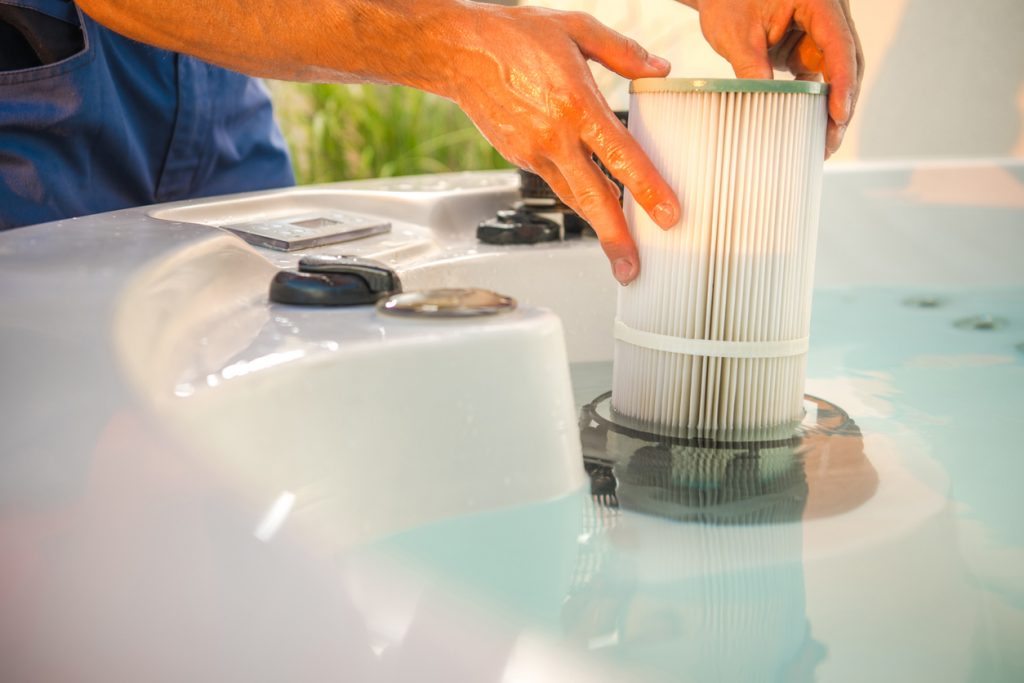 Clean and replace filters
Hot tub filters are the unsung heroes of water care. The fabric of the filters helps catch debris and other contaminants in the water. You should rinse your filters once a week and clean them once a month.
Specialty filter cleaners will help you remove any built-up oils or body care products on the filter fabric. Most filter cleaners are designed to be mixed with water to create a solution. Soak your filters according to the product's directions. Rinse thoroughly before placing them back in the hot tub.
Over time, the filter fabric can become stretched or harder to clean. Most filters will last six months to a year depending on your water care routine. If you don't remember the last time you replaced your filters, fall is the perfect time to get a new set.
Bonus tip: Extend the life of your filters and make hot tub maintenance easier by having a backup set of filters. You can replace dirty filters with an alternate set, giving you time to rinse and clean them.
Refill your hot tub
Once your hot tub is squeaky clean, you can refill. Be sure to use a pre-filter and follow the recommendations of the spa manufacturer.
Bonus tip: Make sure the jets are open and to fill through the filter compartment. This will reduce airlocks in the equipment.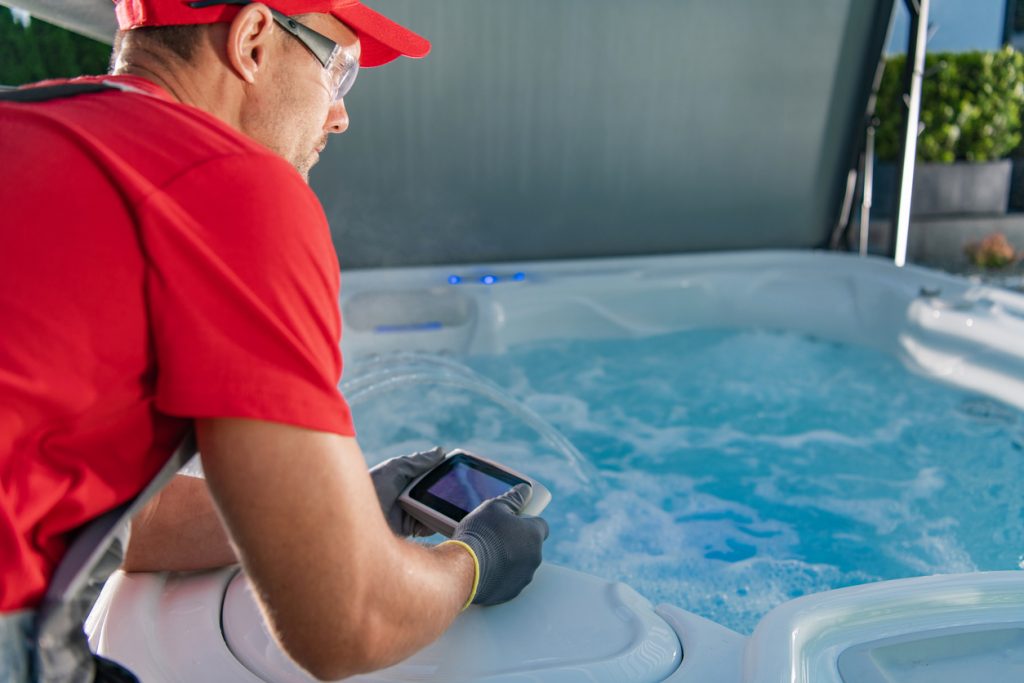 Inspect your hot tub cover
Your hot tub cover not only keeps out the elements but locks in the heat. A high density foam cover can help keep your energy costs low, especially in the winter months. Inspecting the cover should be on any fall hot tub maintenance checklist.
What should you look for? Check to see whether the vinyl looks brittle, torn, cracked or dirty. The straps and locking hardware should not be torn or broken. It's also important to look at the foam core, as it's essential to heat retention. Make sure that it is not sagging or heavier than normal.
Bonus tip: If you notice a mildew odor, there is likely water in the foam core. Time to replace your cover! A new cover will not only make water care easier but improve the heat retention.
Check for leaks
A spa leak can seem like a big problem. But most leaks are minor. However, with winter weather approaching, you want to make sure that everything is in good working order. You can remove the service panel on your cabinet. Look at the plumbing components for any wet spots or puddles. Pay special attention to the areas around the pumps and heaters.
Bonus tip: You can also contact a spa service provider to inspect the plumbing and help with seasonal maintenance.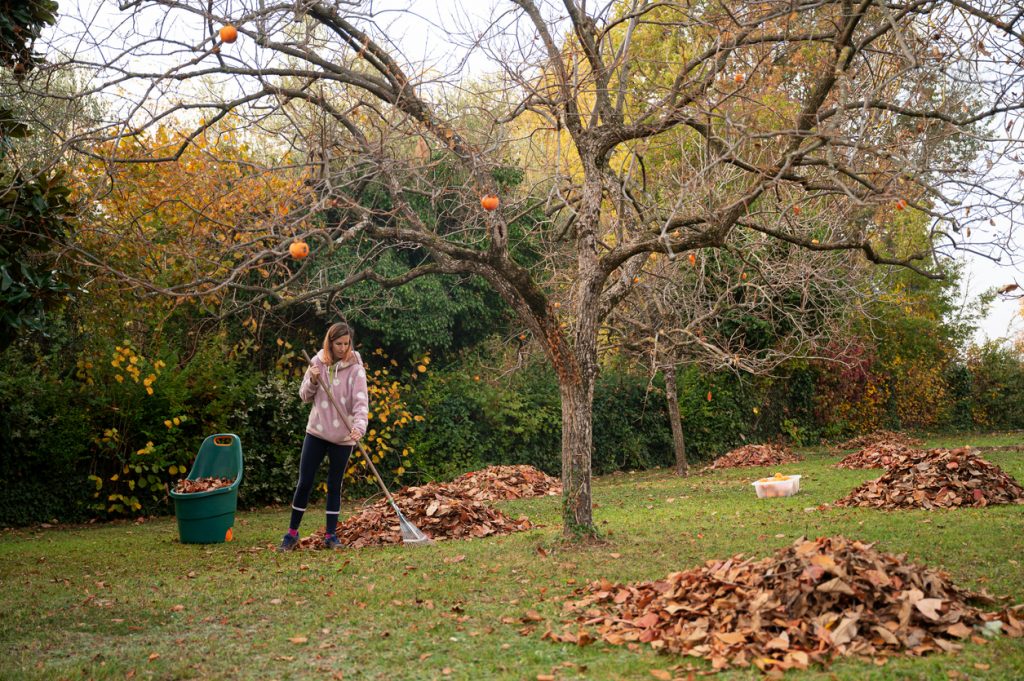 Maintain area around hot tub
The changing fall leaves are beautiful … when they are on the trees. However, as the leaves begin to fall and limbs become bare, it is time to break out the rake.
Yeah, yeah — it's another thing to put on your fall hot tub checklist.
Not only does raking leaves help maintain the health of your lawn but keeps leaves from blowing into your hot tub. Natural elements, such as leaves and sticks, can clog up your filter and affect your overall water quality.
Bonus tip: You can chop or mow the leaves into a mulch and put it into your compost pile.
Need more hot tub tips?
Whether you need help managing water care or want backyard ideas, our forum and its members offer tips and tricks.