June 12, 2022
Saunas aren't just hot — they're cool. Buildings or rooms that allow for "heat bathing," backyard saunas are growing in popularity among homeowners.
Saunas have been used for thousands of years because of their therapeutic properties. Ancient Mayans found respite in sweat houses, and the more traditional sauna was first used 2,000 years ago in northern Europe. In modern times, people would travel to overnight retreats and day spas to enjoy the dry heat.
However, it can be challenging to escape to the spa with the hustle and bustle of everyday life. An outdoor sauna in your backyard allows homeowners to relax and unwind in the comfort of their home.
Beyond the mental health benefits, research shows that sauna use can provide myriad health benefits including reducing the risk of vascular disease, fighting illness, burning calories, and relieving sore muscles.
Choosing an outdoor sauna is an investment in your overall well-being as well as your outdoor space. It's important to find a product that has the features you want, as well as complement your backyard. The best backyard sauna for you will depend on your budget, needs, and location.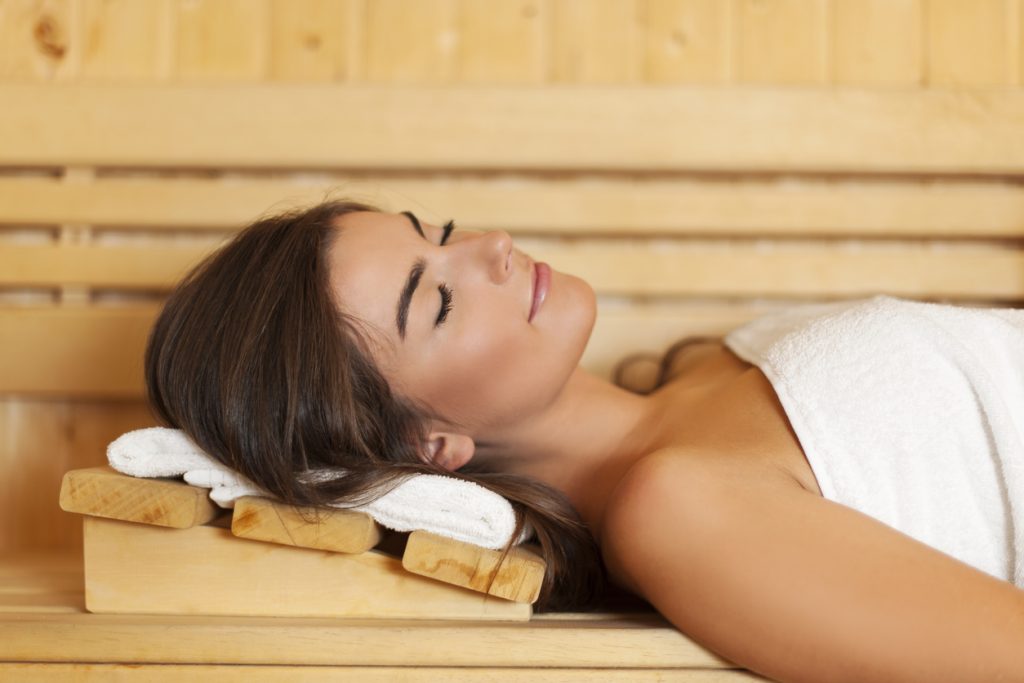 Benefits of outdoor saunas
Saunas have played a role in the Finnish culture, offering a place to sweat it out and relax However, the popularity of saunas has grown as research supports the healthy benefits of "heat bathing."
"Emerging evidence suggests that beyond its use for pleasure, sauna bathing may be linked to several health benefits, which include reduction in the risk of vascular diseases such as high blood pressure, cardiovascular disease, and neurocognitive diseases; nonvascular conditions such as pulmonary diseases; mortality; as well as amelioration of conditions such as arthritis, headache, and flu," according to the Mayo Clinic Proceedings.
Heart health
Do you want to lower your risk of stroke and lower your blood pressure? Regular sauna use can benefit your cardiovascular system, according to a 2018 study.
Researchers at the University of Eastern Finland found people who used a sauna four to seven times a week were 61% less likely to have a stroke than those who went once a week.
The researchers reported that frequent participants saw a drop in blood pressure and artery "stiffness" immediately after their sauna. In addition, participants had a higher heart rate similar to that of moderate exercise.
Stress relief
Relaxation is one of the most popular reasons to hop in a sauna. But how does a sauna help you unwind and relieve stress? The temperature of the sauna, which can be up to 190 degrees fahrenheit, helps your muscles relax and improves the flow of blood. In addition, the temperature stimulates the release of endorphins — those feel good hormones.
In addition, it's a quiet space without any distractions, allowing you to escape from the busyness of life.
Exercise recovery
Circulation is one of the key components of muscle recovery after exercise. As blood flows throughout your body, it delivers key nutrients to your body and helps remove waste. The temperature of the water helps to increase that blood flow, aiding in recovery after exercise. The release of endorphins, too, can help minimize pain and relieve aches and pains.
Improved sleep
There might not be anything worse than struggling to fall and stay asleep. Poor sleep is linked to myriad health consequences, including depression, high blood pressure, and diabetes. Research shows that using a sauna in the evening can help you fall asleep more quickly and get into a deeper sleep.
How does a sauna help you sleep? Your core body temperature will become elevated when you are in the sauna. But when you come out, your temperature will decline and this change facilitates better sleep.
It can be challenging to sleep if you are stressed out at work or going through a difficult time. The calming effects of a sauna can put your mind at ease, which can help you sleep better.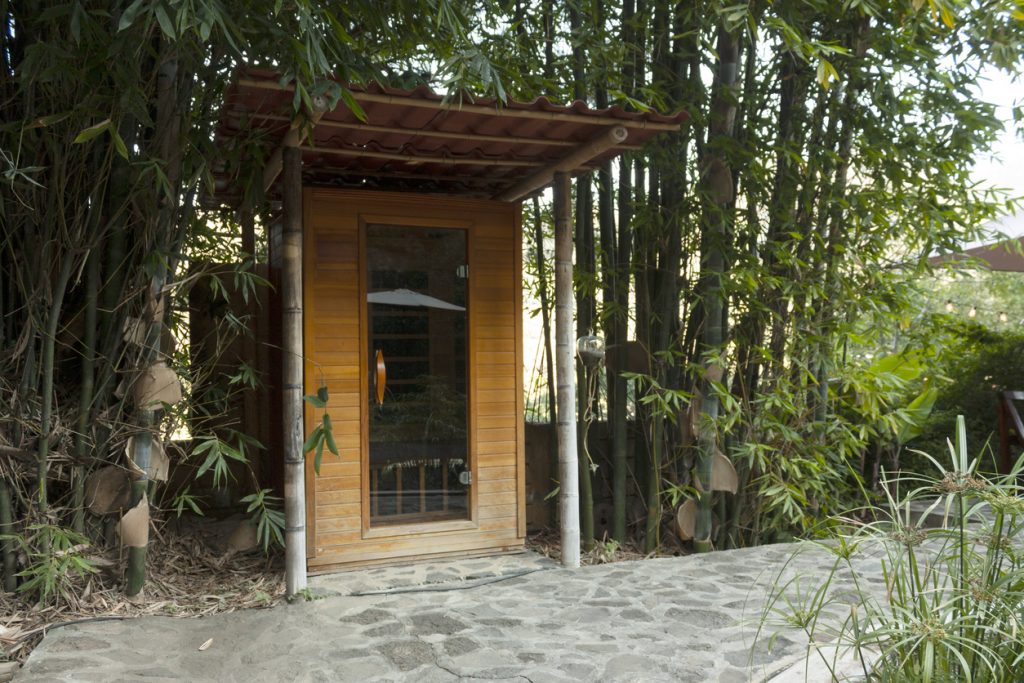 Types of backyard saunas
Statistics show that there are more than 1 million saunas in the United States, with the market continuing to grow.
And while the word sauna describes any heating system intended to create sweating, there are many choices and features to consider.
Finnish sauna
The most traditional option, a Finnish sauna uses a wood-burning stove to create heat. There is a basket of rocks, which are heated by the stove, and you can toss on water to create steam.
Dry sauna
A dry sauna is similar to a Finnish sauna but it will have an electric or propane-heater. The walls of the sauna are made of wood.
The temperature in a dry sauna can be up to 195 degrees, and you can safely enjoy the experience for 15 minutes or depending on your comfort.
Backyard dry sauna models can vary in size, from cozy two-person structures to roomier ones that accommodate five adults.
Infrared sauna
Do you want to sweat it out without overheating? Some people find the infrared sauna experience more enjoyable because it's heated to a lower temperature, typically between 120 degrees and 140 degrees. An infrared light is used to heat the space, as well as penetrate the skin for additional health benefits.
Infrared saunas can be popular for indoor use, as well as in a backyard sanctuary. Models can feature reclining benches, smart controls, and chromotherapy lighting.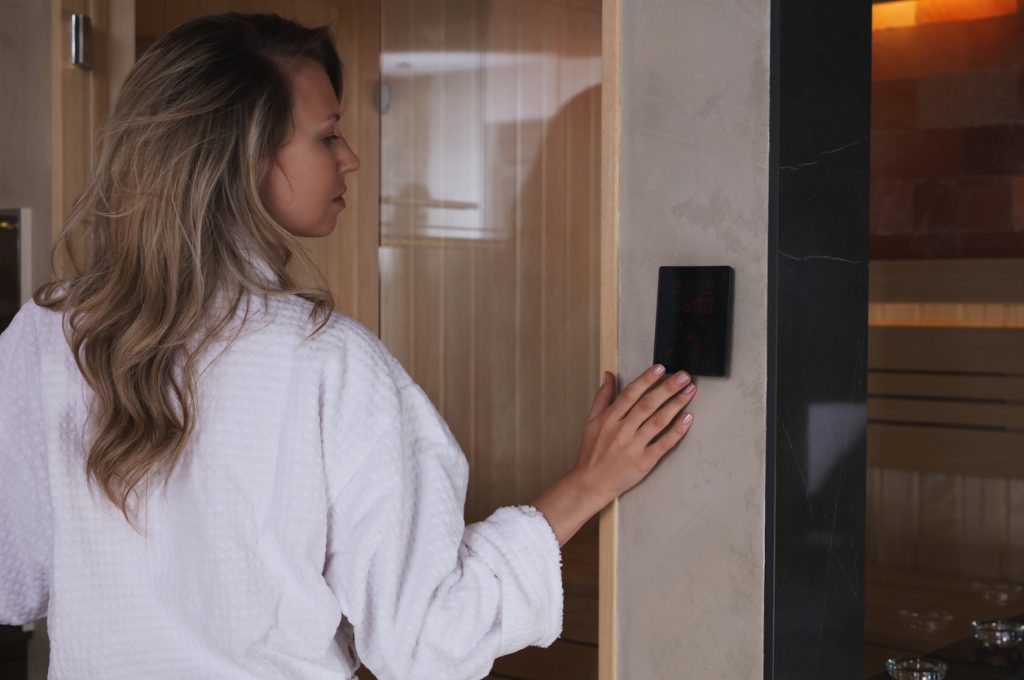 Outdoor sauna considerations
Are you considering adding an outdoor sauna to your backyard? Before you make the investment, it's important to find a model that fits your space, budget, and how often you plan to use it. Factors such as design, size, and features can play an important role in your decision, too.
Sauna design
Created to enhance well-being, modern saunas are also designed to enhance your outdoor living space. There are a variety of materials, sizes, and shapes — from saunas featuring glass walls to the traditional barrel shape. However, most backyard saunas are made from cedar, hemlock, or spruce wood. The wood helps keep the heat in and elements out. Doors might also be made of wood while others have glass doors and windows to open up the view of the outdoors.
Manufacturers are also creating designs that allow you to extend the sauna experience. Terraces and porches allow you to cool off and head in for another sweat session or simply relax. These extensions also provide storage for robes, sandals, and towels.
Beyond the outdoor aesthetic, the design also includes the location of the heater and whether there are air vents to aid with circulation. Some outdoor saunas have guards that surround the heater, aiding in the safety of the sauna.
Seating capacity
An outdoor sauna can be installed in nearly any backyard, no matter the size. One to two-person saunas can be the superior choice for those with limited space, while a larger model is ideal for entertaining.
When you consider the seating capacity of a sauna, there's more to think about than how many people might use it. A four-to-five-person might have benches on either side, making it easier to stretch out. Some manufacturers even make benches that can transform into a lounger.
Accessories
The first saunas were created by using animal skins to close off a cave, and fire was used to heat the area. But they have come a long way since then.
Beyond the design and size, you will also want to consider what modern amenities will make your experience enjoyable. You might want to be able to regulate the temperature using smart controls, choosing your preferred temperature.
Other features include LED lighting, chromotherapy lights, Bluetooth speakers, and more.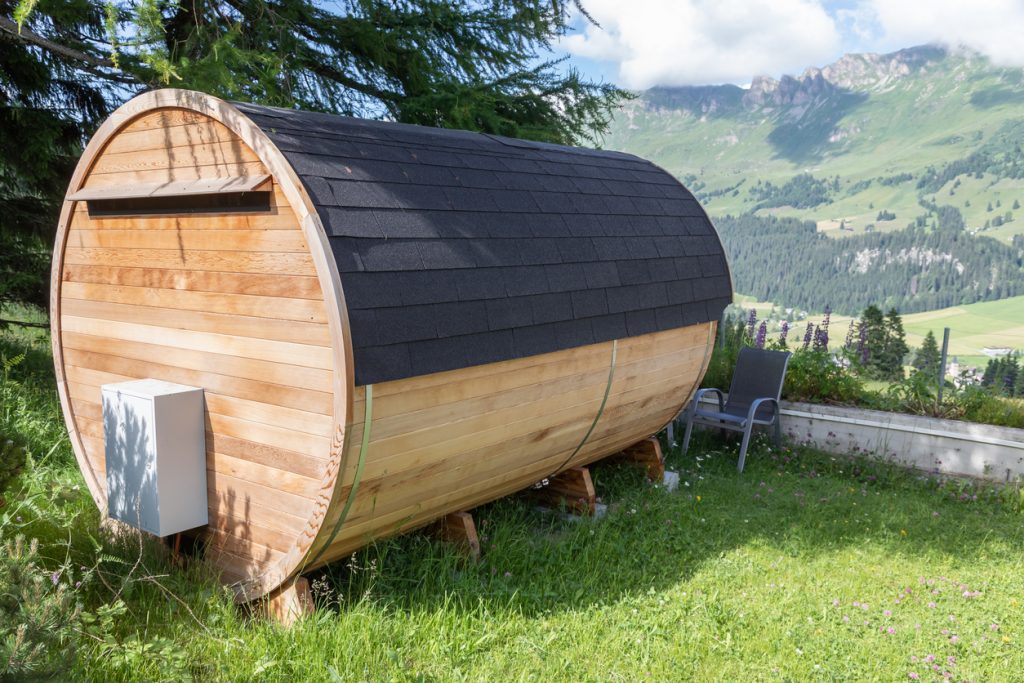 Should you buy an outdoor sauna?
Many homeowners are looking for ways to enjoy their outdoors and turn their backyard into a space where they can truly live. An outdoor sauna not only adds to your landscape but is emotionally appealing, as well. An outdoor sauna can add value to your property and your life.
More backyard ideas
Whether you want to install a pool or soak away your stress in a hot tub, our forum and its members offer tips and tricks.