May 18, 2021
Find the best way to store your pool floats and toys this summer!
There's a pair of swim goggles on the floor of the mud room. A wet towel in the downstairs half-bath. And, for some reason, your dog is playing with the oversized beach ball that you bought for your human children. There needs to be a good option for pool float storage!
The summer months are full of fun, especially with a backyard swimming pool. Whether you want to lounge on your favorite float or see who can make the biggest splash off the inflatable slide, the water is a perfect place to spend a hot day. But what do you do when the sun goes down and it's time to put away your pool floats and toys? You can't leave them in the water or toss them on the deck. (See above comment about the dog and the beach ball — we all know how that is going to end.)
As a pool owner, it's important to find an easy and practical way to store your pool toys and floats. It's not just that pool accessories tossed about can make your yard look unkempt (although it will). When you don't properly store pool floats and toys, they can be at risk for unwanted damage. Wind can carry pool floats into the bushes, where they will pick up dirt and mulch. A rose bush can puncture a float. Animals can destroy pool noodles.
While some pool owners choose to replace floats and toys each year, these swimming pool float storage ideas will help you enjoy this summer and those to come. Just be sure to encourage kids (and adults) to take them out after their pool session.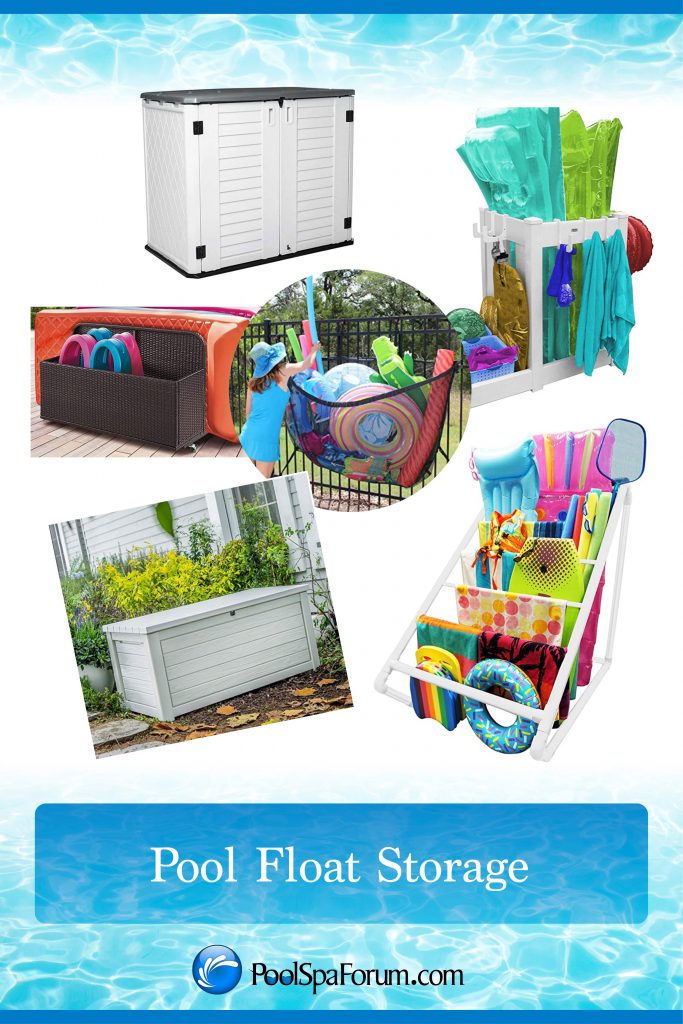 Pool Float Storage Ideas
There are many swimming pool storage options but the best pick will depend on your budget. These Amazon pool float storage solutions range in cost from less than $50 to more than $500.
On the Fence
A popular pool float storage idea is to hang a cargo net on your privacy fence. You can find an inexpensive cargo net or buy a hanging storage bag that's designed for pool floats. The Mesh Titan cargo net can hang easily on your privacy fence. It has adjustable straps and a non-sagging design, so that you can put other items in it as well. You can also use a hose to spray down the floats while their in the net, making cleaning a breeze.
---
Towel Rack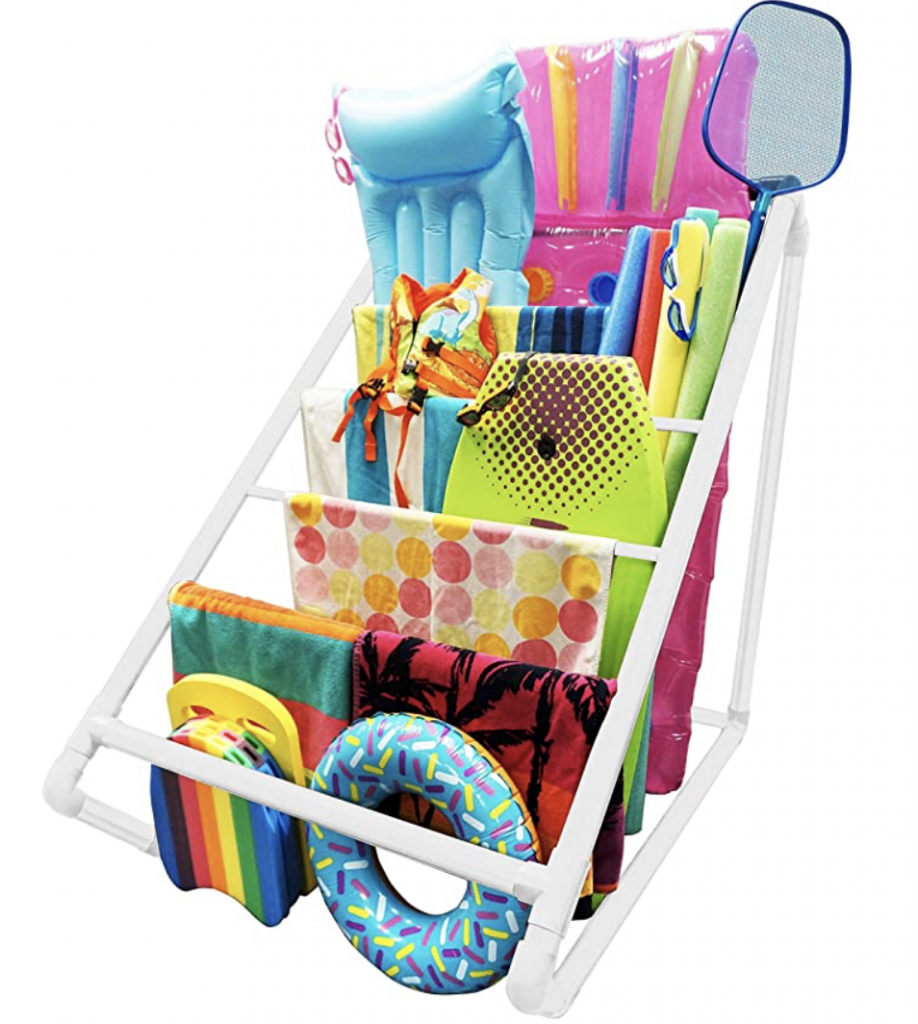 This rack is part towel holder, part pool float storage. Made by Essentially Yours, it features seven crossbars that are perfect for drying towels, storing your skimmer, and holding up kickboards. You can also use it to store pool noodles, wakeboards, and life jackets. It's made from PVC, and it was designed for easy assembly. 
Heavy Duty Pool Organizer
Organizing your pool accessories is easy with this set-up from Essentially Yours. This poolside toy and float organizer has hooks for your towels and goggles, along with space for floats and fins. Made from a vinyl-type material, the design will add to the look of your backyard but not detract from it.
---
Pool Noodle Storage Cart
One easy way to organize pool noodles, floats, and other toys is a rolling mesh cart. You can find them in a variety of sizes, some with multiple compartments, to fit your backyard and swimming pool storage needs. It can be moved out of sight if you are having guests or in bad weather. And the mesh design makes it easy for toys to dry off.
---
Deck Box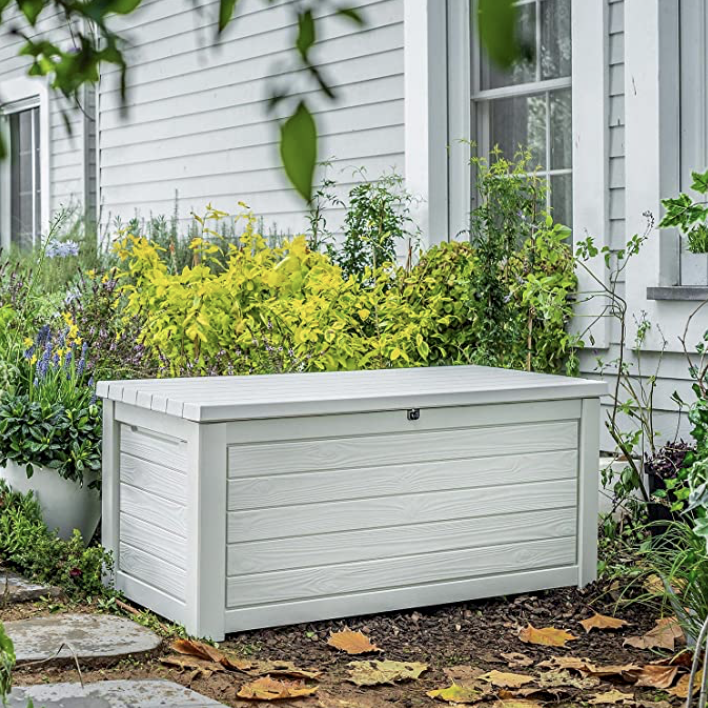 Depending on the size of your pool floats, a deck box is an easy way to store pool floats and other items you might need. The design of this deck box, which is made from a weather-resistant resin, will complement your other patio furniture while keeping pool toys out of sight. Bonus: When it's closed, you can use it as a seating spot.
---
Rolling Pool Caddy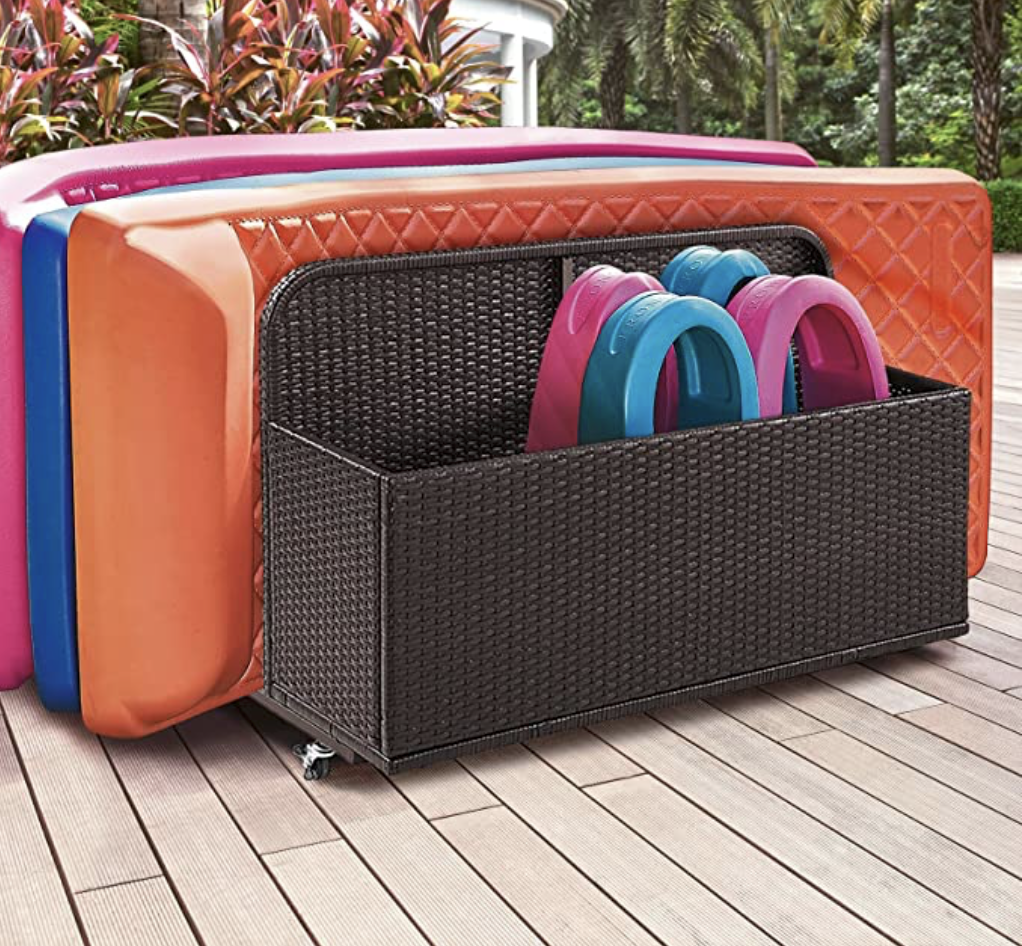 The rolling pool float caddy from Crosley Furniture can help keep your pool toys and floaties from piling up on the deck. It's unique design allows you to store oversized floats on their side, as well as a compartment for smaller floats, kickboards, and other accessories. The wicker design is patio perfect, and the wheels will allow you to move it near the pool for easy clean-up at the end of the day.
---
Plastic Garden Shed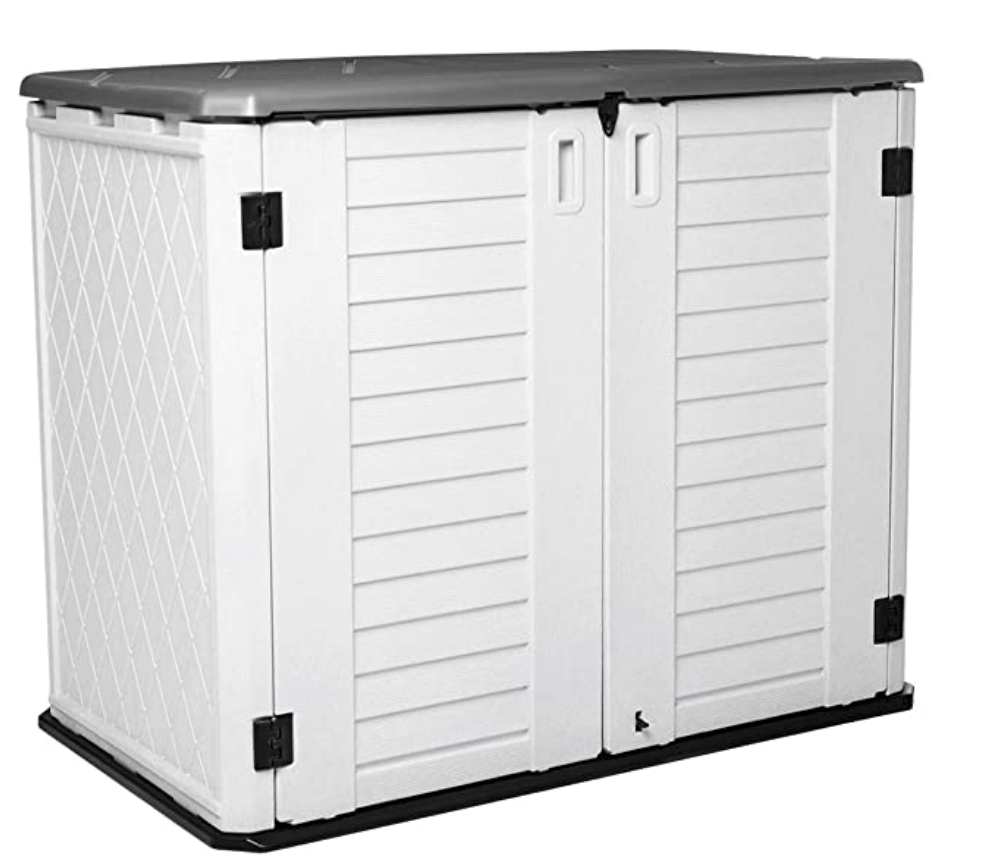 A garden shed isn't just for your lawn mower and tools. You can also use a plastic storage shed like this one from KINYING to store pool floats, toys, and even some of your supplies. This shed has a three-door system to make it easy to access your floats when you want them. In addition, there are lockable doors to keep your pool accessories safe.