October 7, 2020
Winter might be the most wonderful time of the year — at least according to the song. But the great outdoors can feel less inviting when cold air stings your cheeks and snow crunches underneath your feet. Even in warmer climates, like the Arizona desert, the winter nights can be chilly.
As the temperatures dip, there is the temptation to cozy up indoors and close up your outdoor living space. But hot tub owners know there is a more relaxing way to warm this winter.
Hot tubs are a great way to stay warm in the colder months without donning your thickest parka. The water can be set up to 104 degrees, and you can forget about the freezing temperatures as you relax with the jets on.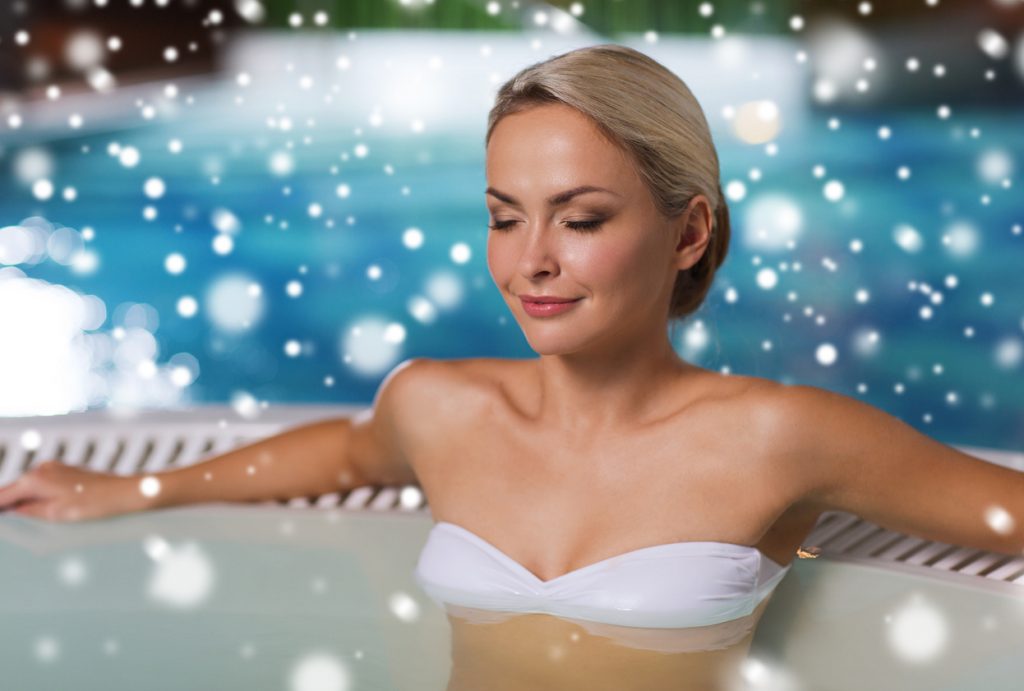 Using a Hot Tub in Winter
Heading outside in just a swimsuit when the temperature has dipped below freezing sounds a bit crazy. But if you want to take advantage of your hot tub in the winter, you might have to do just that.
These outdoor accessories can make your winter hot tubbing experience more comfortable.
Heat Lamp. An outdoor heater, positioned in a safe place, can make using your hot tub more more comfortable on even the coldest nights. An electric heater can be mounted on the ceiling, keeping a large area of your patio warm. You won't even notice the cold as you get in and out of the hot tub.
Towel Warmer. It's time to avoid the post-hot tub chill. Keep your towels dry and toasty with a towel warmer. 
Coat Tree. Keep your robe nearby — and dry — with a coat tree. Be sure that it's tall enough that longer styles won't billow on the snowy patio. 
Snow-Melting Walkway. A snow-melting walkway is a great solution for hot tub owners who live in snowy areas. The slip-free mat will create a safe path to and from your hot tub in the winter.
Floating Thermal Cover. This cover acts as an additional barrier between the water and the elements in the winter. You can use a floating thermal cover to help keep down the energy costs associated with using your hot tub in winter. 
Winterizing Your Hot Tub
Many acrylic portable hot tubs are designed to be used year-round. Foam insulation and a weather-proof cover will protect your hot tub and keep heat in during the coldest months.
For many hot tub owners, it's those coldest months when they most appreciate their hot tub. It can be relaxing to get in your hot tub and watch the snow fall.
However, you can also "close up" your hot tub — otherwise known as winterizing.
If you want to winterize your hot tub, you will need to completely drain your hot tub and power it down. It's imperative to remove all water in the spa, especially in the plumbing, to prevent damage from freezing.
A shop vac can be helpful when removing water in the plumbing; just use it on "blowing mode." Put the hose onto the nozzles of the jets and blow the water into the hot tub foot well.
Once you have removed all water, secure the cover on your spa and cover with a tarp. The cover can keep in warmth but precipitation can make its way into the hot tub and build up. The tarp will act as a barrier, preventing snow, ice, and water from building up.
When you winterize your hot tub, you still need to keep an eye on it. You want to make sure that water has not entered the hot tub through or around the cover. No one wants to encounter water damage come spring and deal with freeze damage repairs.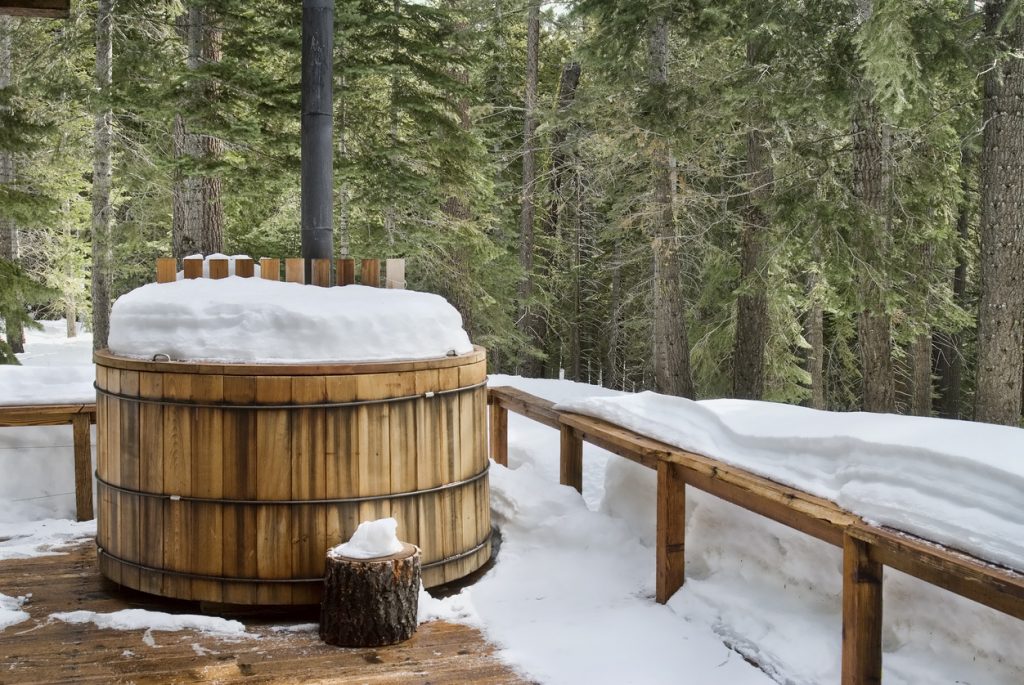 Protect Your Hot Tub in the Winter
The warm water of your hot tub will feel nice in the winter. But if you don't plan on using it regularly, there are some precautions you can take to protect your hot tub in the winter.
Check on your hot tub weekly. During these cold days, you should take a peek at your spa to make sure it's working properly. You want to make sure the heater is running and the filters are cycling. You want to catch a potential problem and take action in the event that the heater goes out. 
Keep an eye on water levels. You do not want the water levels to drop too much in the winter. If needed, add more water so that it is at the manufacturer's recommended level.
Plan for power outages. Just as you keep candles around in the event of a power outage, it's a good idea to know how to protect your hot tub. A prolonged power outage could potentially lead to frozen hot tub plumbing. Your hot tub cover can keep your water from freezing, at least for a few days. However, the internal equipment and cabinet area plumbing can freeze more quickly. A desk-type heater can be placed inside the cabinet area to circulate warmth and prevent unwanted freezing.