August 24, 2020
Nickelodeon, Legendary Swimmer Team Up for Water Safety
Michael Phelps is a world champion swimmer, Gold Medalist, and water safety advocate. Now, the GOAT is a PAW Patrol Safety First! Global Water Safety Ambassador.
PAW Patrol's heroic pups and the swimmer are helping to spread the word about the importance of water safety through the PAW Patrol Safety First! Initiative. The program, in partnership with the Michael Phelps Foundation, will share how kids and grown-ups alike can play in the water safely.
"Water safety has been a priority in my family since I was a child as my mom was adamant that my sisters and I learn to swim for safety purposes," Phelps says. "The statistics around accidental drowning are alarming and we want to help educate and encourage families with a few basic tips in a fun and informative way."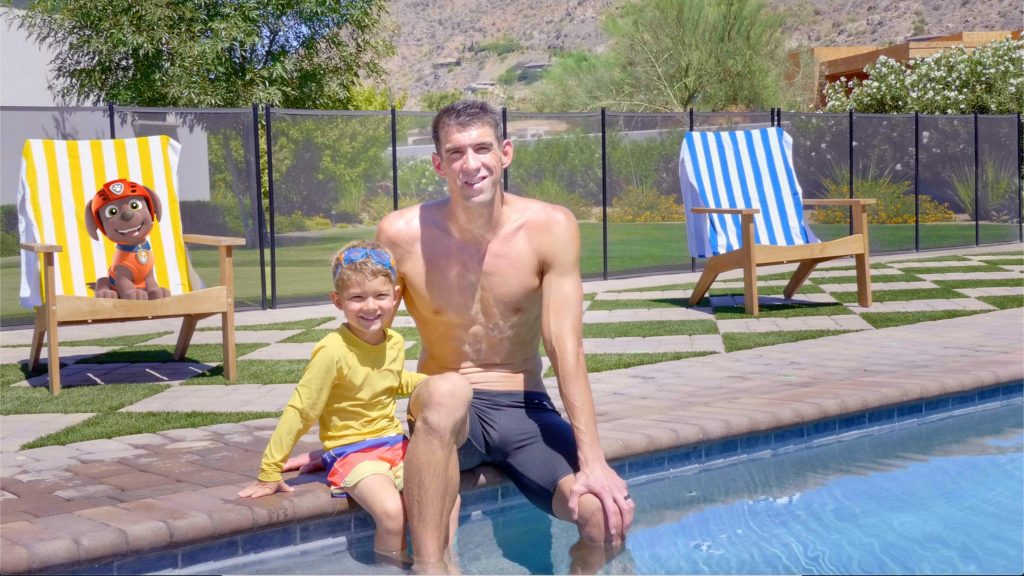 Water Safety Statistics
According to the U.S. Consumer Product Safety Commission, about 350 children younger than age 15 fatally drown in pools and spas each year. In addition, from 2015 through 2017, an estimated average of 6,400 children younger than 15 years old were reportedly treated in hospital emergency rooms for nonfatal drowning injuries in pools or spas.
Data from the National Safety Council also show that 74% of drowning incidents for children younger than 15 between 2015 and 2017 occurred in residential locations.
"Water safety vigilance remains as important as ever, especially in light of ongoing public health concerns and community restrictions related to COVID-19," said CPSC Acting Chairman Robert Adler. "Our latest report confirms that most child drownings take place at home during the summer months. This year, with more families spending time at home, the delayed opening of many public pools, and a pause on many traditional group swimming lessons, I urge everyone to take critical safety steps to reverse the upward trend in fatal child drownings."
Swim Safety Tips for Children
The importance of water safety can feel scary but Phelps and the PAW Patrol gang are making it fun.
The PAW Patrol pups, as well as Phelps and his son Boomer star in a video to teach the "ABCs and 123s of Swim Safety." Using a sing-along format, the entire family can keep safe while enjoying time in the pool and through other water-based activities.
For adults, that means following the ABCs. A is for Adult Supervision – always be within arms distance of kids, providing focused supervision. B is for Barriers – All pools should have a barrier for entry and a self-latching gate; C is for Classes that concentrate on swimming for kids and CPR for adults are an important way to make sure everyone feels safe and confident in the water.
Children should remember the "123s of Swim Safety."
1: Never swim alone. Ask a grownup if you want to jump in.
2: Know your surroundings. Look around and know which is the shallow and deep end.
3: Take swimming classes. Learn basic swimming skills like floating and strokes before getting in the pool.
The Michael Phelps Foundation, which is also a part of the campaign, promotes water safety and healthy living. The foundation, which began in 2008, has provided learn-to-swim, healthy living, and goal-setting programming to youth through partnerships with the Boys & Girls Club of America, Special Olympics International, and the Level Field Fund.
Water Safety Tips
Remove any toys and floats from the pool area when not in use. These toys can attract children to the pool.
Teach your children to never go near a pool without an adult.
Designate an adult to be the "water watcher" and provide supervision for the children in the pool.
Take a CPR class as those skills can be helpful in an emergency
Stay engaged with your children while they are playing in the pool
If you have an in-ground pool, make sure you have a proper cover on it when the season ends. 
Consider installing a pool alarm to prevent children from using the pool unattended or walking on the cover in the off-season.
Swim lessons are important. But remember that swim lessons do not make your child "drown-proof."