August 12, 2020
For most Americans, Labor Day is the unofficial end to summer. It's the last big weekend to host a pool party before life gets busy with school and the temperature dips. It's also a time to celebrate the American Labor movement, giving yourself and those a much needed break.
But while it might seem like the end of summer, the weather might indicate otherwise. Many places in the U.S. might still enjoy summer temperatures (and humidity). A pool party is the perfect way to cool off over the long holiday weekend. Friends and family will love having the chance to splash around.
A patriotic nod and tasty treats will help you host the perfect pool party over the Labor Day party weekend.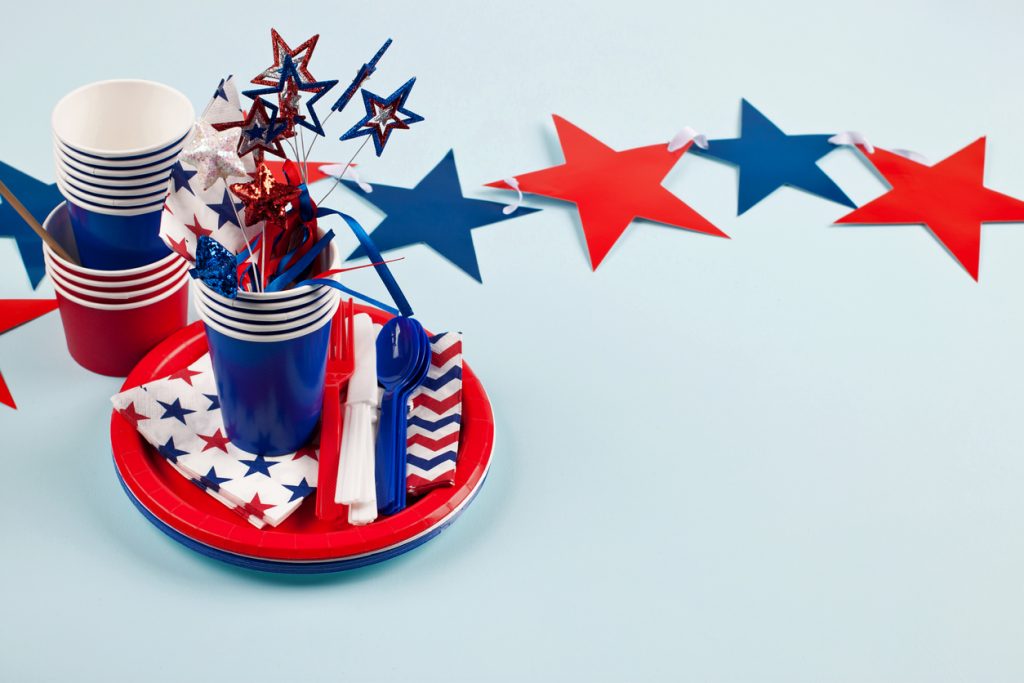 7 Patriotic Party Tips
Keep It Simple
You want to enjoy the time around the pool while friends and family are there — not stressing out. Find ways to make the party easy for you to host. Choose patriotic paper products that keep with the Labor Day theme but doesn't cause extra work.
Some of our other favorites include Patriotic Popcorn Boxes, which you can fill with popcorn, candy, or other treats; clear patriotic stars cups, which guests can mark with their names; and don't forget these cute paper straws.
Painted Lawn Stars
Wow guests with an impressive star walkway without spending hours decorating your yard. Use an oversized star stencil and spray paint red, white, and blue stars on your grass. To make it even more DIY, cut the star shape out of a piece of cardboard. The best part of this project is there's no clean-up. You can leave the stars on your lawn until you cut the grass or it rains.
LED Pool Fountain
Fountains are a popular pool feature. But incorporating a water feature into your backyard pool is not always feasible. But floating LED fountains and lights are a more affordable alternative and don't detract from the swim experience. Create a custom light show with this LED pool fountain. The battery-powered color lights have a range of up to 15 feet, and the fountain can spray up to 3.5 feet high. Or, choose floating LED lights for an evening party.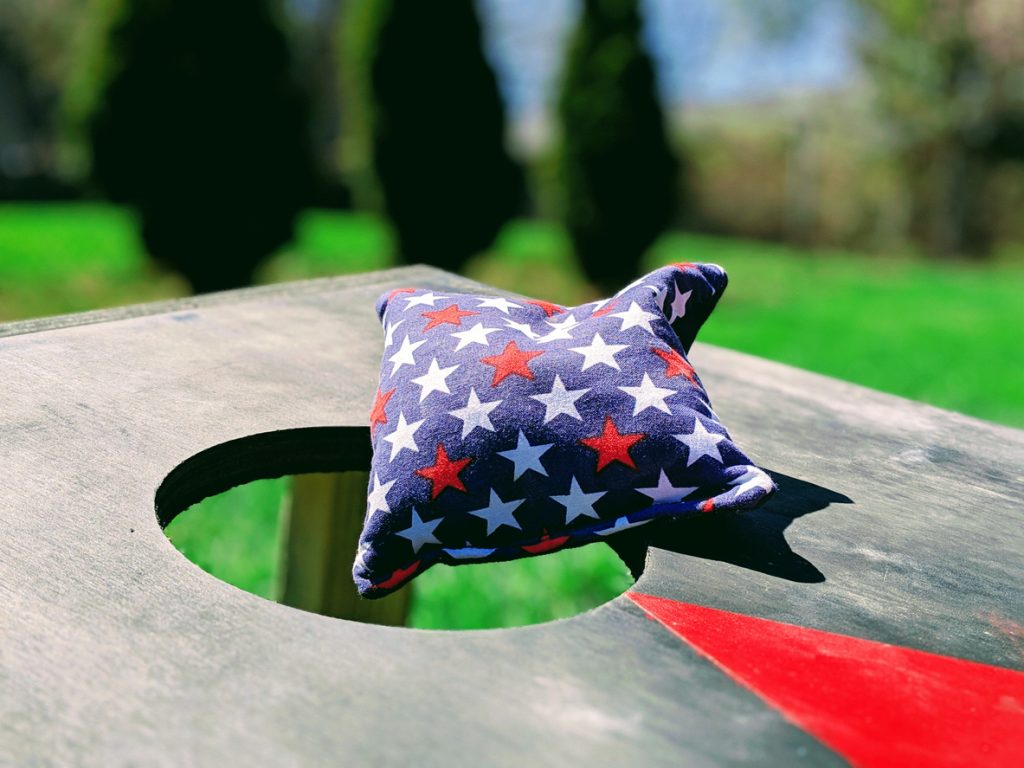 On Dry Land
Make it comfortable and safe for guests to get in and out of the pool by making sure there's places for them to dry off. Place a few outdoor rugs or door mats in high traffic areas so that no one slips. Have a stack of dry towels and some baskets for wet towels. You can also invest in a poolside towel rack for grab-and-go convenience.
Get in the Game
Even though you'll be hanging and splashing by the pool, guests might want some land-based fun. Keep your guests entertained with fun lawn games. Spike ball is fun for all ages, and you might even make someone to an unexpected dip by bouncing the ball into the pool. And what's better on Labor Day than an American flag cornhole set.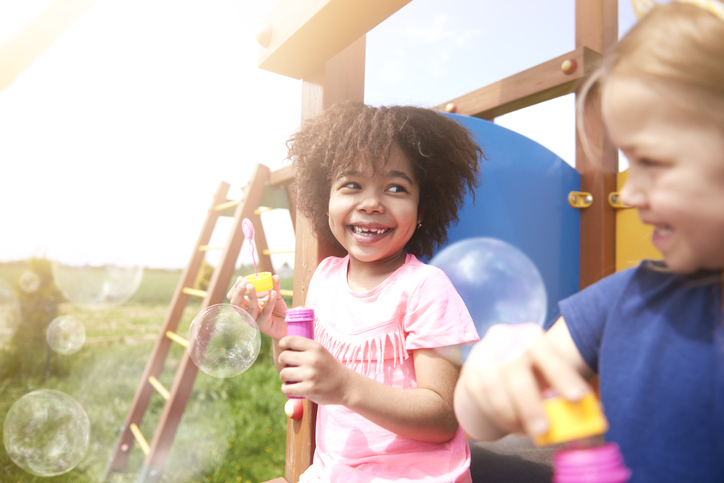 Bubble Station
Keep the kiddos busy and impress the parents with a bubble station. Fill a beverage dispenser with bubble fluid. Kids can grab a patriotic paper cup, fill it with bubble fluid, and choose from a selection of wands. The best part? You don't have to worry about someone accidentally spilling all the bubbles.
Grab Those Sunnies
The best pool days are full of sunshine. Treat your entire guest list to a pair of patriotic sunglasses. The sunnies are perfect for snappie selfies and striking the perfect pose nest to the pool. And while flip-flops are a popular party favor, sunglasses are one size fits all.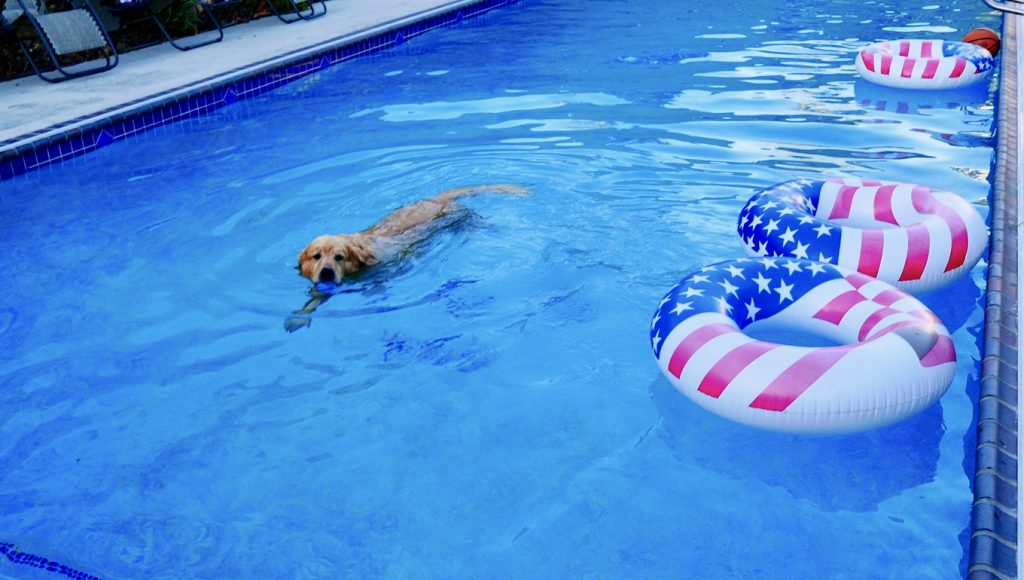 Patriotic Pool Party Treats
Layered Drinks
Pitchers or a beverage dispenser filled with a layered drink is a surprisingly simple way to wow guests. The trick is the sugar content of the beverages. The drink with the highest sugar content will "sink" to the bottom while less sugary drinks will hang out on top. For Labor Day, fill a dispenser full of ice. Add a red punch first, followed by a blue sport's drink. A diet lemon-lime soda is last. In a matter of minutes, you'll have the perfect red, blue, and white drink that any guest can try.
Hydration Essentials
Cold, refreshing drinks are required when you are spending the day by the pool. In addition to fun a layered drink or fun punch, be sure to have a cooler with bottled water, sports drink, and other beverages. An inflatable stars-and-stripes cooler is an easy way to keep drinks cold and match the theme of your Labor Day party. Or, if you are the party spot for holiday parties — think Memorial Day and Fourth of July, too — a furniture-inspired cooler with a flag design is the way to go.
Watermelon Wedges on a Stick
There might not be anything better on a hot day than watermelon. Make it party friendly by cutting it in wedges and using a craft stick to make it a "pop." A wider stick will be sturdier and easier to hold while you relax by the pool.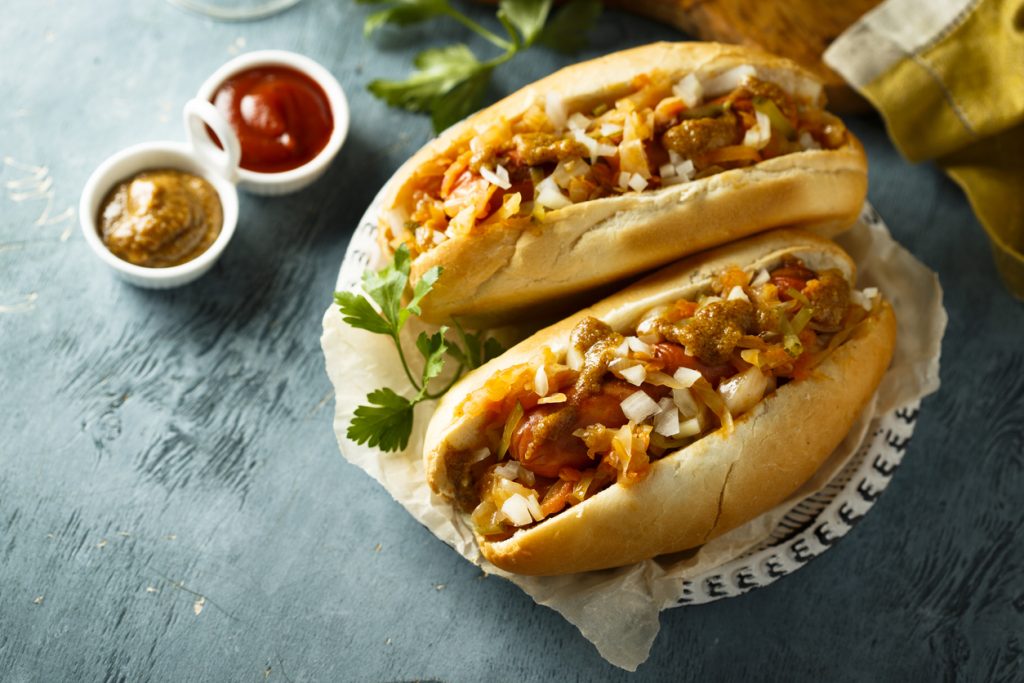 Hot Dog Bar
Is there a food more all American than a hot dog? But you can take this favorite ballpark treat and make it party worthy. Serve a hot dog bar with a variety of toppings while offering combo suggestions. Consider the Buffalo dog with celery leaves, buffalo wing sauce, ranch dressing, and blue cheese. Another fun, summer-perfect idea is the Hawaiian dog, which is topped with grilled pineapple, barbecue sauce and diced shallot.
Make hosting easier with hot dog trays made of recyclable paper. Not only will clean-up be a breeze but party-goers can easily carry around their custom dogs as they mingle.
American Flag Cereal Treats
Cereal treats are an easy, beloved dessert to prepare for a party — whether you are hosting a small group or extended family. You can use a cookie cutter to create a star shape and sprinkles to add a patriotic flair. Or, cut into bars and dip into blue candy melts. Don't forget to top with red and white sprinkles!
Homemade Bomb Pops
From the lemonade flavor to the color, the bomb pop is a festive treat that is as refreshing as it is nostalgic. But you can make it your own by creating a layered frozen pop full of fresh fruit and yogurt. We love this recipe from Sugar and Charm! You can use paper cups and craft sticks to make the pops or get a star-shaped mold for your Labor Day pool party.