July 14, 2020
There are things we want — a new car, vacation. And there are things we need — food, water, good health. While some might see it as a luxury, a hot tub can be both. A hot tub can help you relax, relieve stress, and manage a chronic condition. But it's also a way to transform your backyard and hang out with friends and family.
As you consider becoming a first-time hot tub owner, you might be filled with questions. What is the best hot tub brand? What kind of foundation do you need? How hard is it to take care of a hot tub?
Whether you are searching for your fist hot tub or recently took the plunge, you want to feel confident and knowledgable so that you can enjoy your hot tub once it's installed.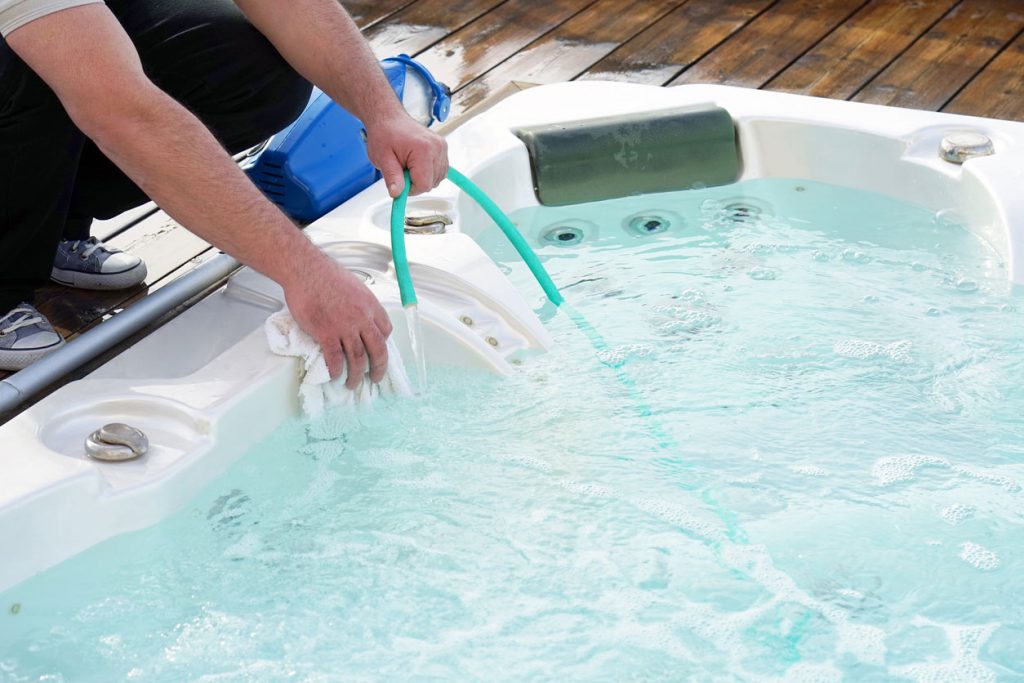 Buying Your First Hot Tub
When you are shopping for your fist hot tub, you might be excited about the "bells and whistles" of the spa. The jets, the lounger, the Bluetooth stereo system.
However, it's important to look beyond the feature sheets. There are other factors that will contribute to a positive hot tub ownership experience.
BBB Rating
When you buy your first hot tub, you want to be confident that you are buying from a reputable company. Check to see if the manufacturer is registered with the Better Business Bureau and whether it has a good rating. A good rating represents the BBB's confidence that "the business is operating in a trustworthy manner and will make a good faith effort to resolve any customer concerns filed."
Warranty
Whether you are buying a car or a hot tub, it's important that a company stands behind its products. Ask your salesperson about the hot tub warranty. Key points to check are what the warranty covers and who underwrites the warranty.
Insulation
It's what is on the inside that matters and that is definitely true when it comes to a hot tub. Insulation can help protect the components of your spa while helping to maintain water temperature. The type and amount of insulation can vary among hot tub manufacturers. When shopping for your first spa and want to control the cost of operating a hot tub, you will want to look for a foam insulation.
Hot Tub Brand
A hot tub store might offer a variety of spas from different brands. While shopping for your first hot tub, be sure to ask about the hot tub brand. Important questions will be how long the brand has been around, where it makes its spas, and what kind of customer support it provides.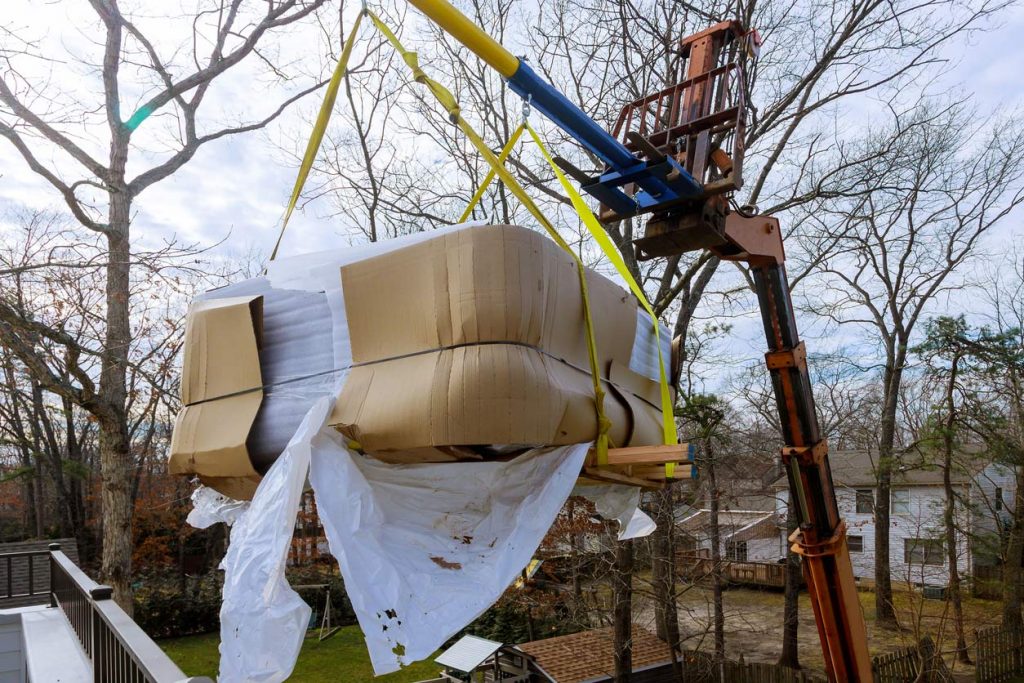 4 Considerations for First-Time Hot Tub Owners
Even if you have already ordered your hot tub, you might have some questions before it is delivered.
Taking the time to familiarize yourself with hot tub basics can help you enjoy your hot tub and feel like a seasoned pro.
Hot Tub Installation
A hot tub needs a level surface that can support the hot tub when filled with water. Most hot tub brands will recommend a reinforced concrete pad. But you can also choose an in-ground installation. Other options include a reinforced deck, spa pad, and paver patio.
When you talk to your contractor, make sure that they know how much the hot tub will weigh with water. This information can often be found in the owner's manual for your new hot tub.
Depending on the type of hot tub you purchased, you might might need to connect with a licensed contractor. Many spas require a dedicated 240V/50-amp GFCI connection. As you plan for your first hot tub, keep in mind that the farther it is from the house, the more expensive the electrical might be.
Delivery
Depending on your space, your hot tub will be brought in on a dolly, forklift, or crane. To make sure that the process goes according to plan, here are a few things that you can do:
Walk the delivery path and make sure that there are no obstacles in the way — lawn furniture, barbeques, planters, etc.
Clean up any pet waste or items from the yard.
If possible, schedule your electrician to be on-site for the electrical hook up right after the hot tub is delivered. The faster they can hook it up, the faster you can use the hot tub!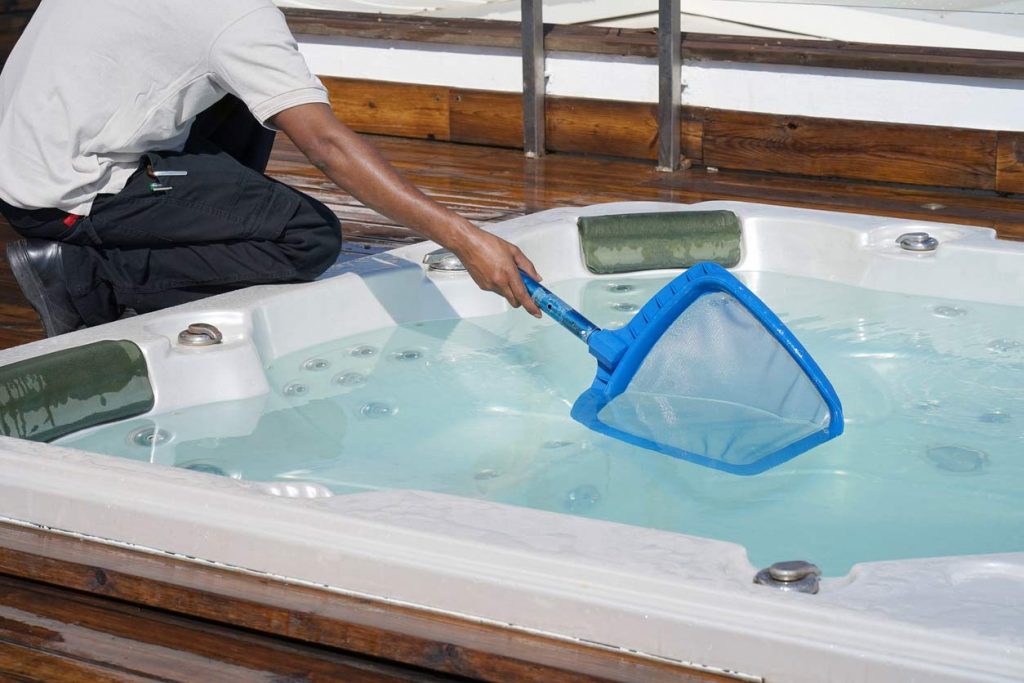 Filling Your Hot Tub
Once your hot tub is delivered and connected to the electrical, you need to fill it with water. It's important to follow a few guidelines — check the spa pump fittings, attach a pre-filter to your garden hose, and use a metal sequestering agent. You will also need to purge air from hot tub plumbing.
Manufacturers will have information about how to fill the tub in the owner's manual.
Hot Tub Chemistry
Every hot tub requires regular care, whether it has a traditional filter system or is a saltwater hot tub. As you prepare for delivery, it's a great time to learn more about the water maintenance routine — especially as a first-time hot tub owner. When it comes to the initial start-up, it's important to dial in the chemicals so you can protect your spa. After filling in the hot tub, check the pH and total alkalinity. You need to balance pH and alkalinity first or the sanitizer will not be able to work. Then, you will add the sanitizer. For initial start-up, you will add more chlorine than what's best for daily use.