September 21, 2021
The days are getting shorter and the air is getting cooler. While some people might be closing up their pools and getting ready to get cozy on the couch, fall might be the best season to enjoy your patio.
Warm up a mug of apple cider, grab a comfortable throw, and enjoy all that fall has to offer.
But as you're embracing the cozy vibes of fall, you don't want to look out at summer decor and flower beds that are past their prime. Small changes to your patio and backyard decor will help you get the most out of your space — this season and beyond.
Here are 12 fall backyard ideas to create a cozy patio for this season and beyond.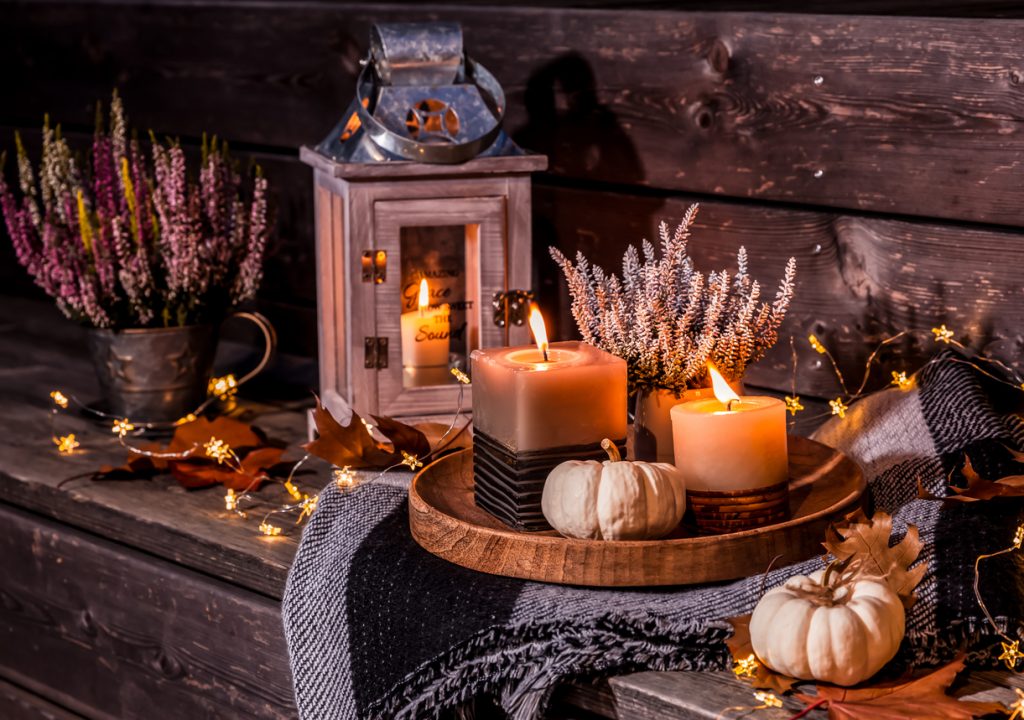 Fall backyard ideas
Lanterns and lighting
Lighting is essential to creating the ultimate fall patio. Not only does it add ambiance, it's functional, too, as the days get shorter. Oversized lanterns can also be a statement piece and placed on your patio or near your hot tub. 
Oh my gourd
Gourds, pumpkins, and other natural decor are not just for carving for Halloween. These natural elements are available in a variety of colors, textures, and shapes. You can choose a muted color palette for a modern look or celebrate the fall colors. You can place arrangements of pumpkins and gourds on your patio steps, in the corner of your deck, or next to the skirting of your hot tub.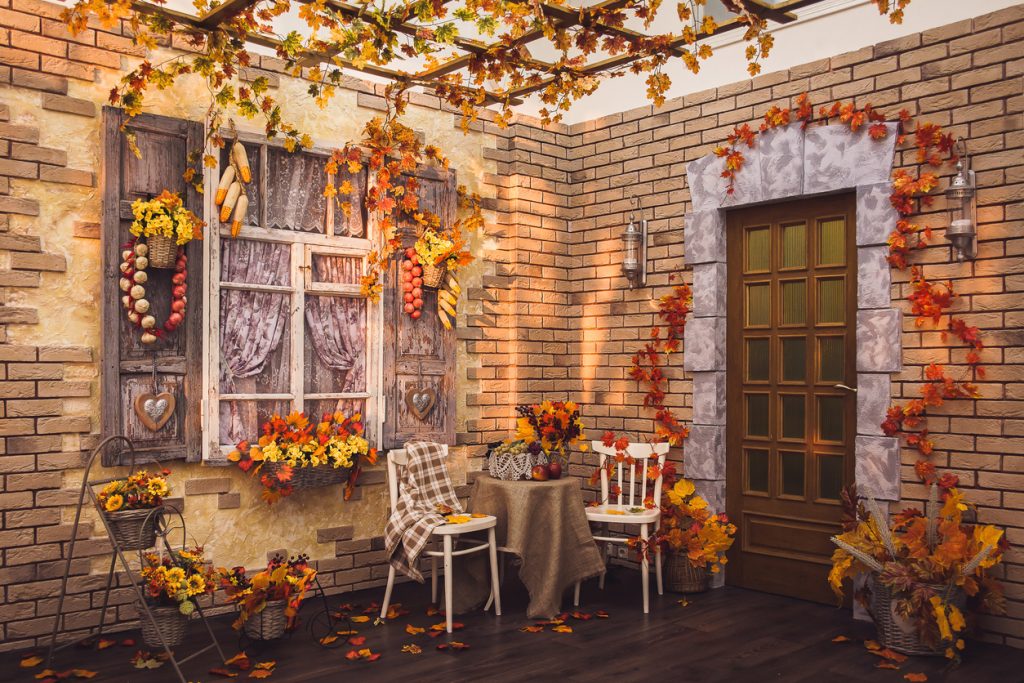 Look up
Fall patio decor can often be limited to what you put on the ground. However, there's more to your backyard than the patio or deck. Use natural garland and vines to decorate the eaves of a pergola or drape around your patio door. Take advantage of your shutters and decorate them with fall swags.
Go rustic
There's something about autumn that calls for rustic touches. It creates a warm, casual setting that's ideal for nights around the fire pit and one last dinner al fresco. Burlap tablecloths, planters made from barrels, and wicker create the ideal fall setting. You can use metal baskets, filled with ornamental cabbage, for centerpieces. And don't forget the candles — they're not just for your fall mantel.
It's all about hue
A fall color palette is rich and warm. Embrace the season with golden yellows, burnt orange, and deep burgundies. Decorate your patio with hardy fall mums, outdoor throw pillows, and outdoor rugs.
To the top
Fall is the perfect time to make upgrades to your patio. Not only are pergolas, patio roofs, and canopies an architectural element, they are functional. In the fall, they can protect you from the rain and falling leaves. During the warmer months, they provide much-needed shade. A pergola or cover is also a perfect addition to your hot tub installation.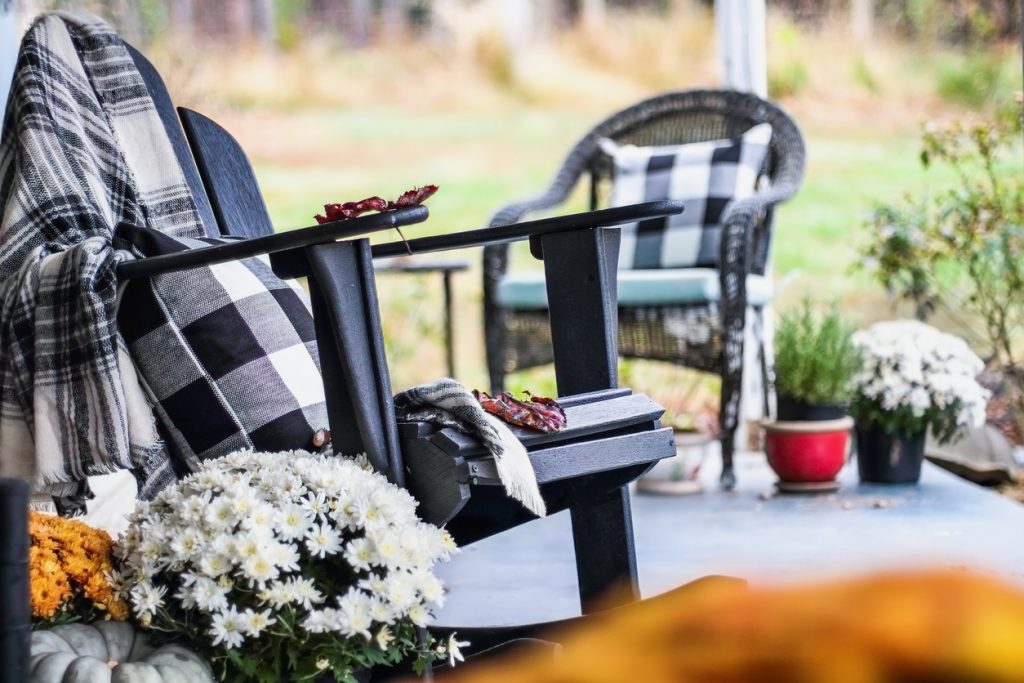 Blanket statement
The cool nights are made warmer with a thick blanket or quilt. Keep plenty of these on your patio deck for nights on your porch swing. You can choose a few of your favorites or pick up a few that are just for the outdoors, with colors and patterns that complement the season.
Turn on the lights
Outdoor lighting goes beyond permanent fixtures on your house. String lights, LED rope lighting, and torches can be used to create an intimate setting. One of our favorite fall backyard ideas is decorating a tree with fairy lights, adding instant charm.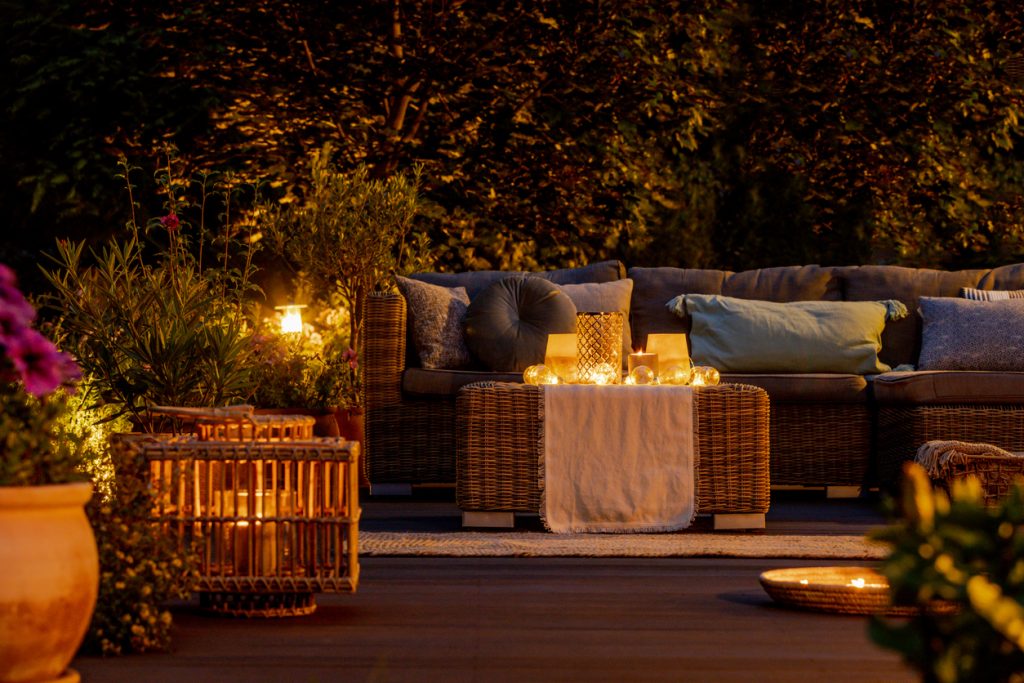 Cozy couches and comfortable chairs
Patio furniture has gone from aluminum and wicker chairs to modern pieces that mimic indoor living. While you always want a cozy place to sit no matter the season, fall is an ideal time to cuddle up. As you think about your fall backyard decor, put a cozy seating arrangement at the top of the list. You want a place to enjoy a cup of coffee in the morning and relax at the end of the day. Adirondack chairs can be arranged around a fire pit, where you roast marshmallows and sip hot chocolate.
Get started
Traditionally, fall is a time when contractors' schedules begin to free up. Summer projects are completed and the holidays are drawing closer. If you have a patio or deck project on your wishlist, it's the perfect time to get started. Maybe you want to install a hot tub in 2022. Consider pouring the foundation before the ground freezes and booking the electrician.
Organize
No one wants to pack up their seasonal and outdoor decor when the temperatures are below freezing and snow is on the ground. While you are savoring nights on the patio, spend your days preparing for winter. Your checklist should include putting away hoses, covering your grill, cleaning gutters, and storing yard equipment.