July 24, 2020
Are you ready to make a splash? With an inflatable swimming pool, you can cool off and have fun without sinking your budget.
It's hard to deny that summer days are better spent at the pool. But you can skip the search for a free lounge chair with a backyard pool. And while larger above-ground options are worth considering, an inflatable swimming pool lets you skip the construction project and go straight to the fun.
From rainbow designs for kids to larger options for adults, these pools are available in a variety of sizes, shapes, and colors.
Inflatable Pool Questions
How much do inflatable pools cost?
Inflatable pools are the most affordable type of above-ground pool. They vary from oversized kiddie pools to semi-permanent structures. You can spend as little as $100 and up to $1,000.
How long do inflatable pools last?
While it depends on the model, inflatable pools can offer years of fun with proper care. You can expect the pool to last one to five years.
Can I keep water in an inflatable pool?
Most of the best-rated inflatable pools hold at least 100 gallons of water. The largest inflatable pools can hold even thousands of gallons. Smaller pools are easier to drain and refill. If you have a bigger pool, consider keeping water in it and treating the water. You will need a need a circulation pump to disperse chemicals and remove contaminants from the water.
Do I need to put anything under an inflatable pool?
If you are just splashing around in a kiddie pool, you don't need to put anything between the pool and the grass. You can use a tarp, though, if there is a lot of grass or debris. For larger pools, consider a ground cloth or liner pad to protect the pool and prevent damage.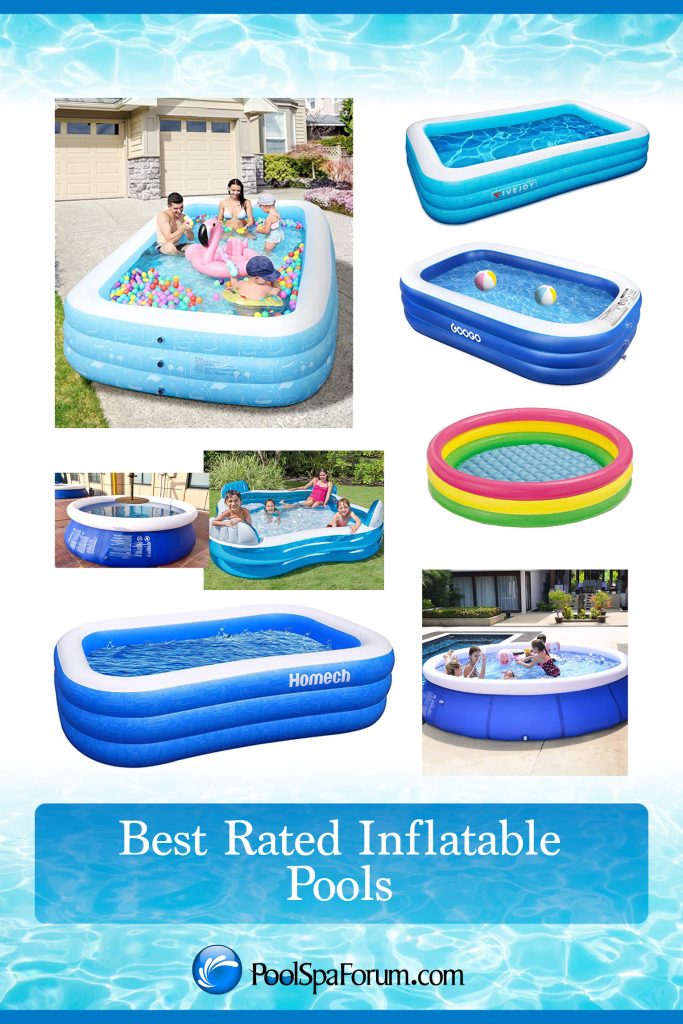 Best-Rated Inflatable Swimming Pools on Amazon
These budget-friendly inflatable pools are perfect for family fun, no matter the size of your backyard.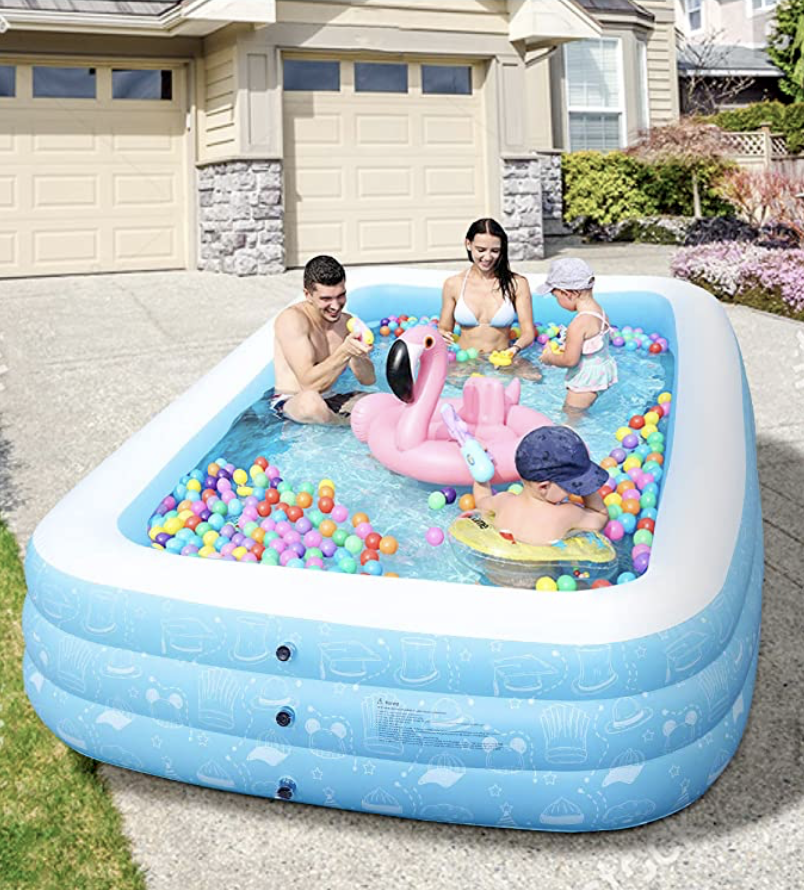 Enjoy time with your whole family with this swimming pool. Made with BPA-free PVC, this pool is safe and durable. With an electric pump, you can inflate in less than 5 minutes. There are also three drain plugs, making it easy to drain and deflate the pool when necessary. 
---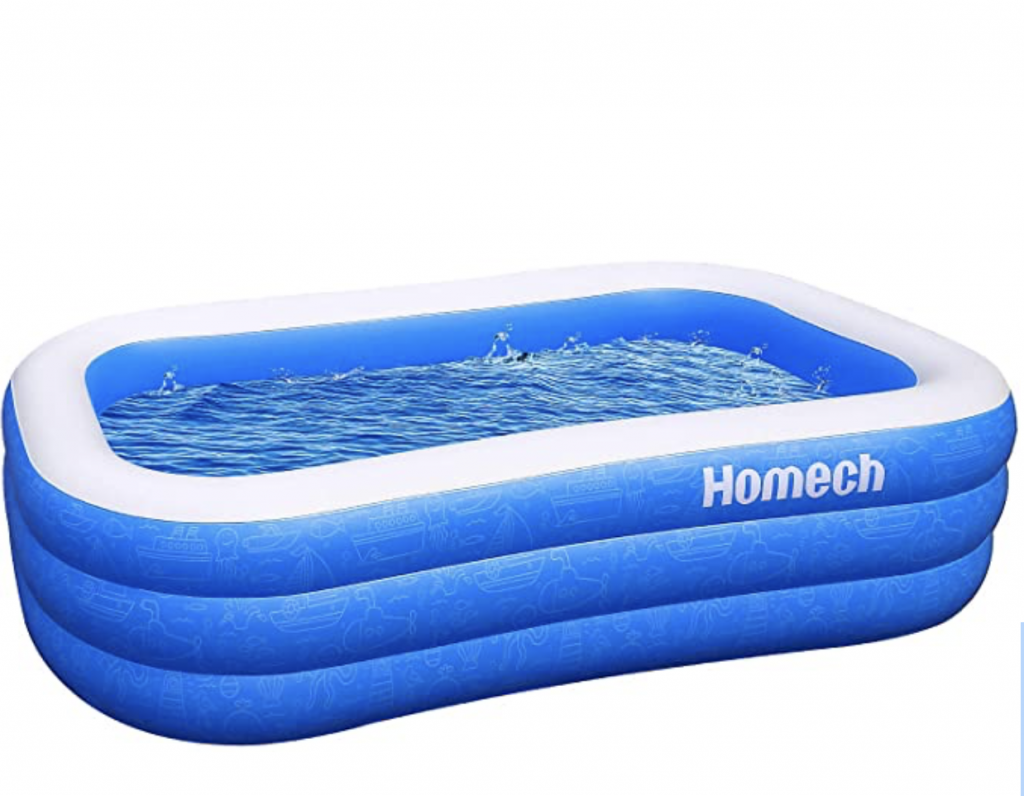 Perfect for lounging, this pool holds 162 gallons of water. This pool is durable and wear-resistant, and it is made with 0.4mm thickness PVC. A perfect kiddie pool, this Homech model is made with BPA-free materials that meet the standards of international children's toys
---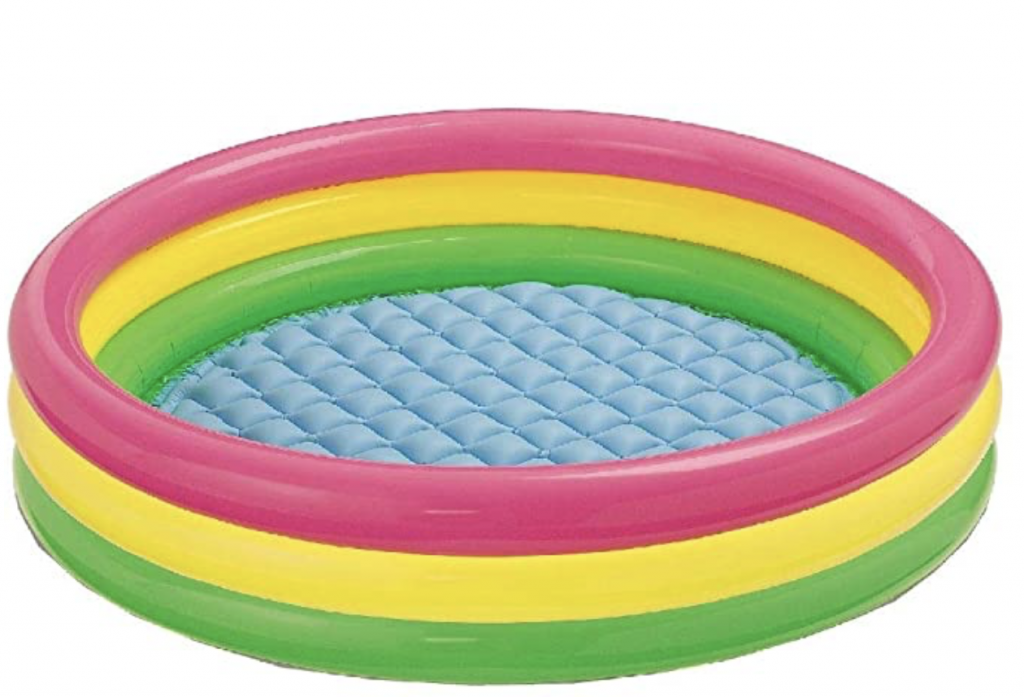 Beat the heat in the Sunset Glow inflatable pool. A three-ring kiddie pool, it is made from durable vinyl so you can cool off all summer long.
---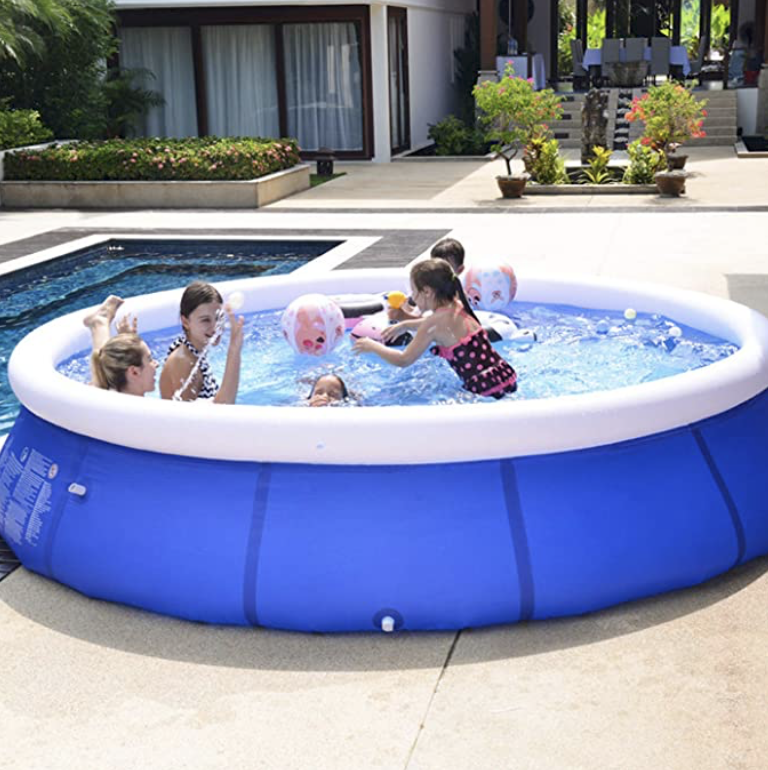 Have fun without leaving home with this safe and convenient pool. Easy to assemble, this pool can be inflated in about 5 minutes.
---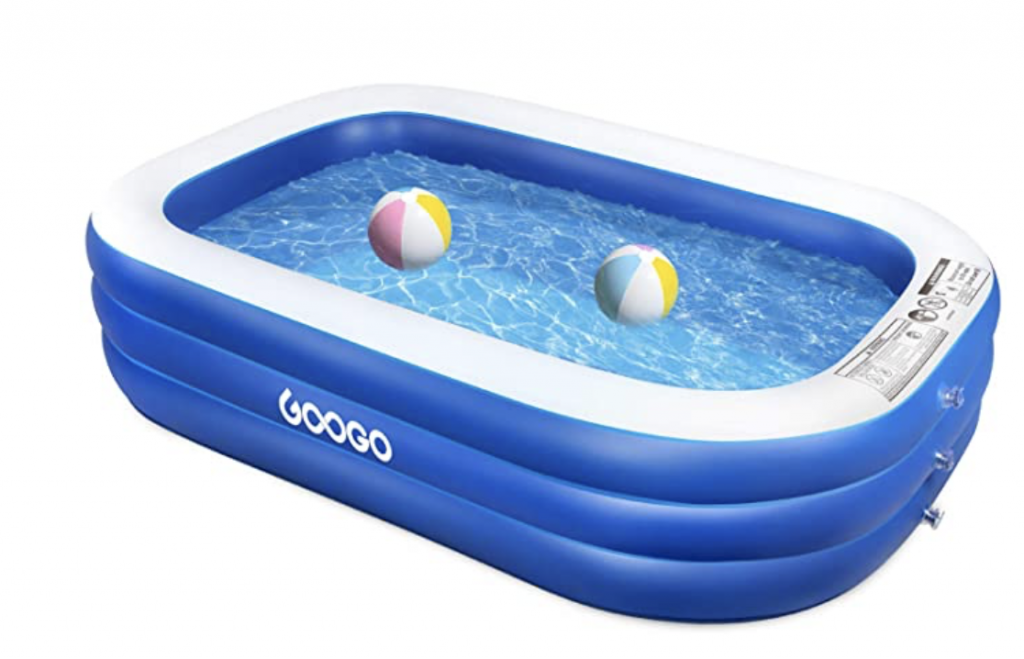 Summer fun awaits with this family swimming pool. Made from durable materials, the bottom of this pool was designed to prevent tearing while keeping comfort in mind.
---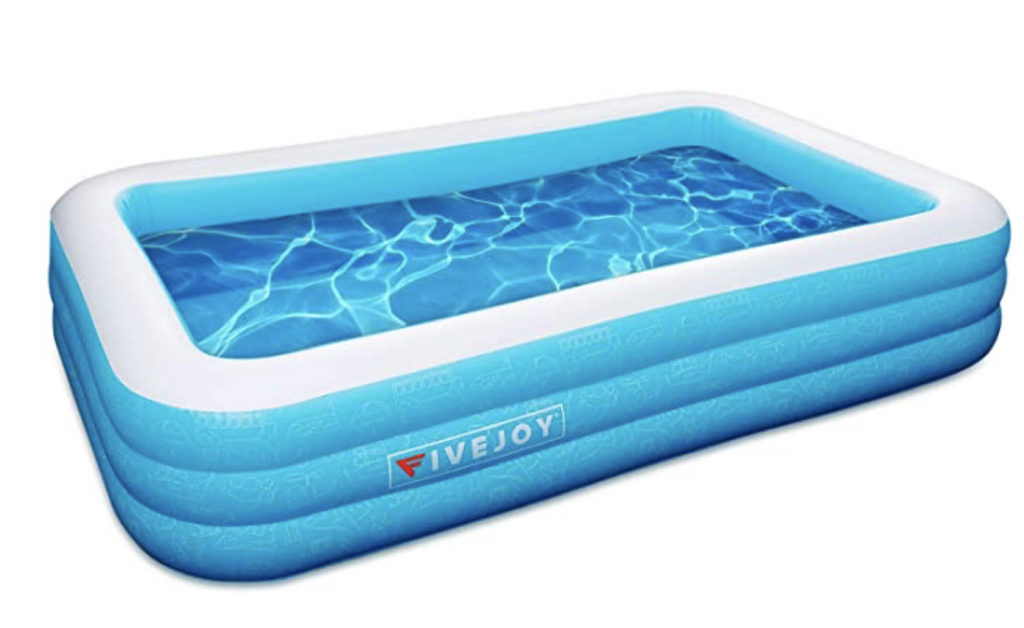 The perfect family pool to stay cool! This swimming pool holds an impressive 312 gallons of water so you can play and relax together. Made with a durable PVC, you can chill confidently and not worry about tears or punctures. A built-in drain plug makes it easy to remove water when summer is over.
---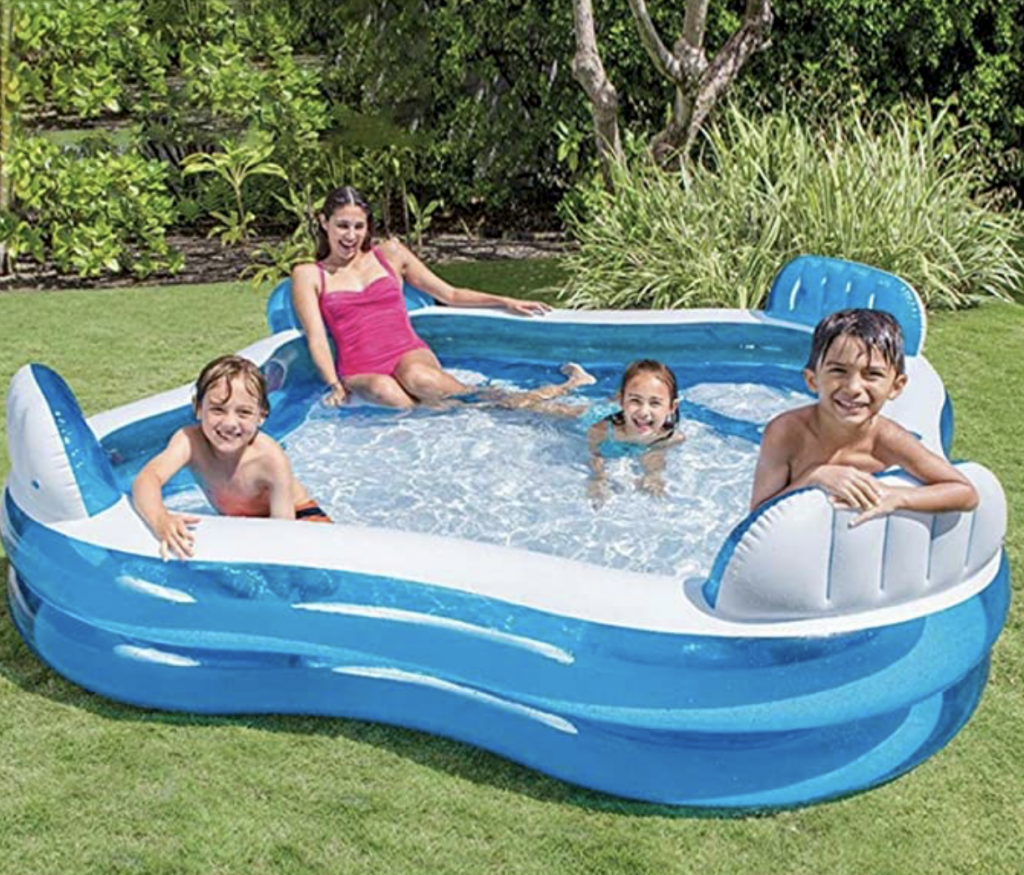 When you really just want to sit and chill, this pool is perfect. This model has four seats with backrests, as well as two cup holders. A bottom plug makes draining and cleaning a breeze so the only thing you have to worry about is whether you grab a cup of lemonade or flavored water.