November 15, 2021
The average American vacation costs just less than $1,145 … per person. A family of four can expect to spend nearly $5,000 on a domestic getaway. While there are ways to save money on a trip, there's no denying that vacations are expensive. And never long enough. The break from the stress of daily life is just temporary.
But what if you could get away every day without booking a plane and not breaking the bank?
Hot tubs are a way to enjoy daily relaxation and health benefits. From inflatable models to plug-and-play spas, there are budget-friendly hot tubs that cost less than the average vacation. There are also more luxurious models if you want to re-create your favorite vacation spot in your backyard.
What better time than the holidays to surprise your family with a hot tub? It's a gift that never goes out of style or loses its appeal.
But don't wait until December to start shopping for a hot tub for Christmas. These Black Friday deals can help make your family's spirits bright.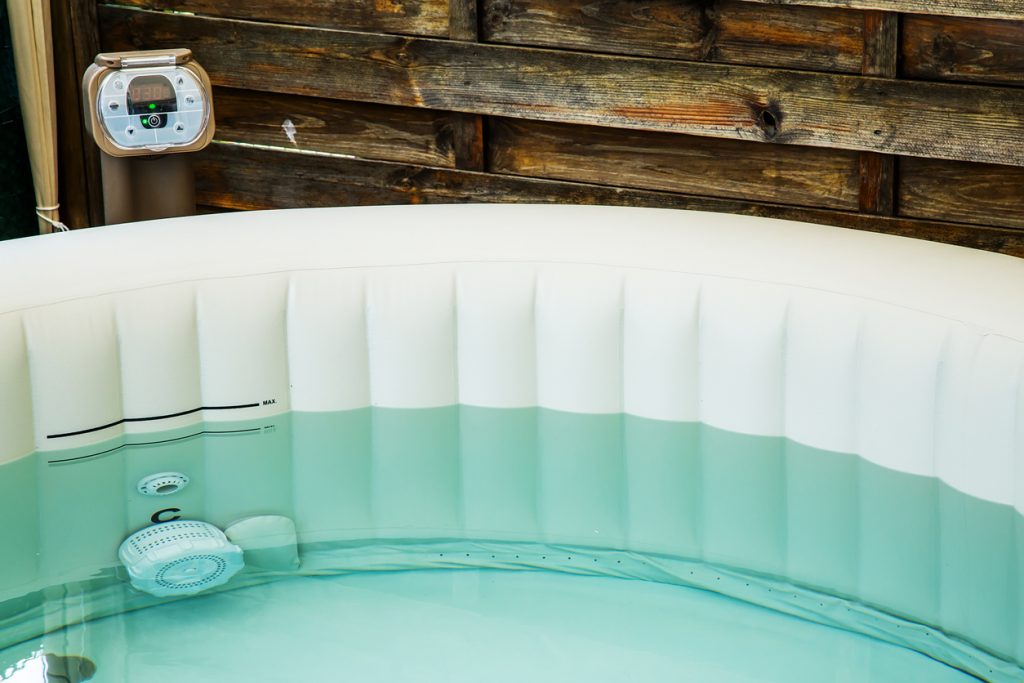 Inflatable hot tubs
An inflatable hot tub is just what it sounds like — a portable spa that requires a flat foundation and a pump for set-up. These budget-friendly hot tubs offer a way to enjoy the spa experience without spending upwards of $10,000.
Many inflatable hot tubs feature jets that help massage your body while creating bubbles in the water. The warm water is soothing to the joints and helps you relax as you soak.
Often made from PVC and I-beam construction, inflatable hot tubs are often more durable than you would think. Don't get us wrong — they aren't puncture proof. However, they aren't like the inflatable pools designed for children. The vinyl has a thickness of at least 30 millimeters and can be as thick as 50 millimeters.
Another benefit of a portable inflatable hot tub is that it can be moved from spot to spot, with some featuring easy-lift handles.
Best Black Friday 2021 hot tub deals
Experts at Saver Trends have helped shoppers by finding some of the best hot tub deals for Black Friday 2021.
You can save up to $450 on the best inflatable hot tubs from Coleman, Intex and Bestway.
Coleman inflatable jacuzzis
The Coleman SaluSpa is a six-person inflatable spa. A best-seller on Amazon, this spa holds up to 242 gallons of water. The hot tub dimensions are 77 inches in diameter and 28 inches deep. Features include the AirJet system, which releases massaging bubbles into the spa; a power-saving timer; and Chemconnect dispenser. The spa can reach a temperature of 104 degrees. 
Turn on the lights with this Coleman inflatable hot tub. This square-shaped spa has room for up to four adults, LED lighting and soothing air jet system. It also comes with a liner, cover, spa pump, chemical floater, filter cartridges, air pad protector and repair kit.
---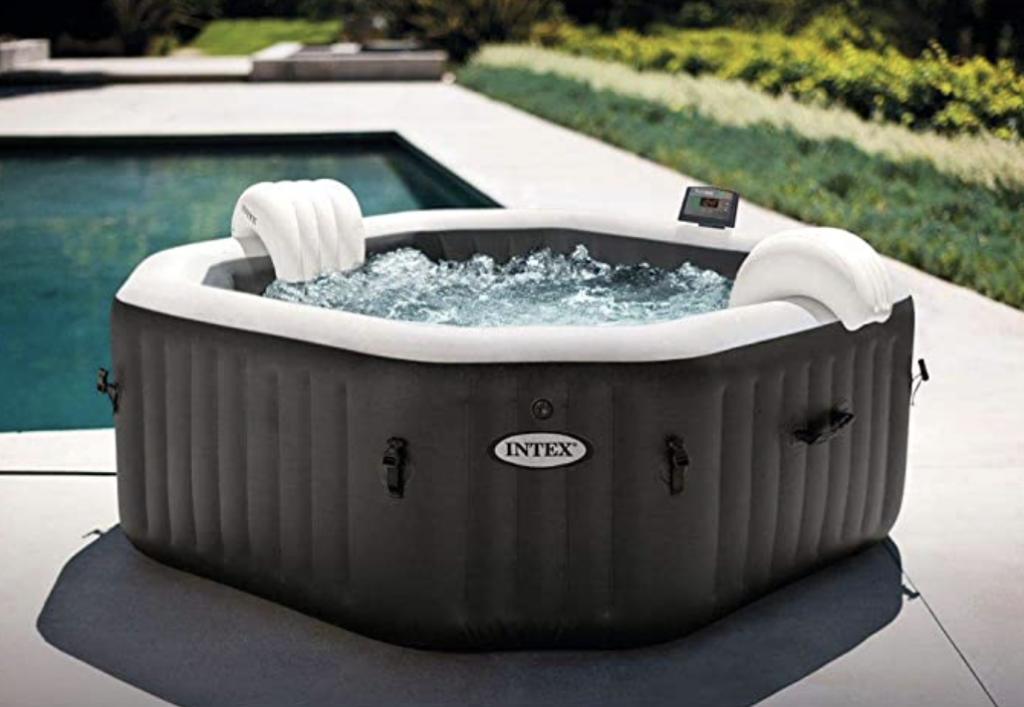 Intex portable spas
This six-person outdoor spa is definitely a PLUS! The Intex PureSpa Plus has enough room for six adults and 170 water jets. Including features not available in many inflatable spas, the PureSpa Plus has LED lighting and built-in headrests. It holds 290 gallons of water and can heat up to 104 degrees. Also, it comes with an insulated cover, hard water system, filter cartridges, thermal ground cloth, floating chlorine dispenser, and test strips.
While many portable plug-and-play spas are budget-friendly, you can still choose an inflatable model that feels cozy and comfy. The PureSpa Jet and Bubble Deluxe spa from Intex has room for four adults. It's easy to use and even has a removable wireless control panel.
---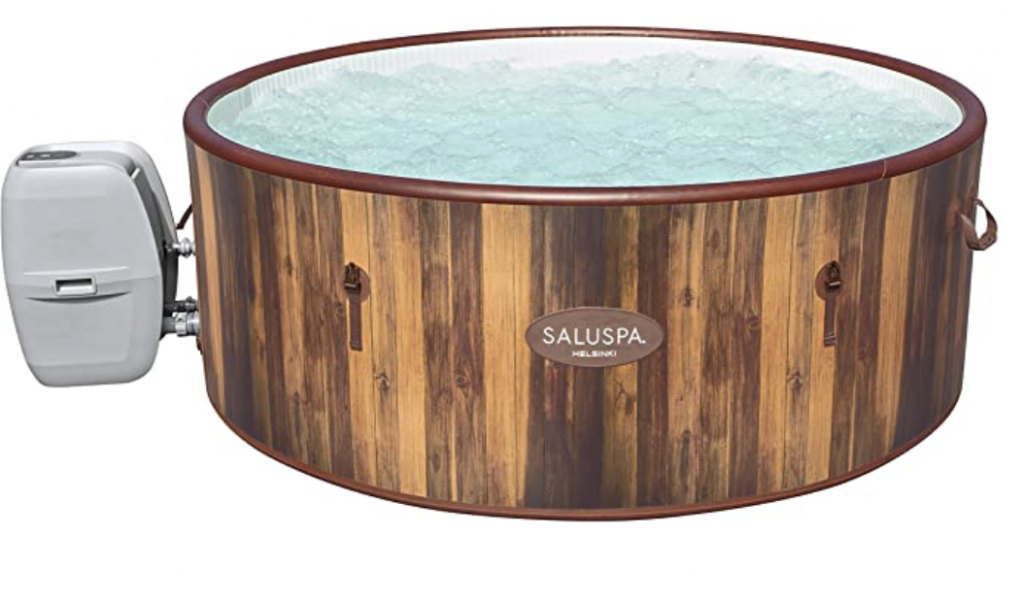 Bestway inflatable hot tubs
Looking for a modestly priced spa? The Bestway St. Lucia is one of the most affordable options, coming in less than $400. The hot tub dimensions are 49 inches in diameter and 28 inches deep, making it ideal for two to three people. It has a water capacity of 193 gallons, and it's max temperature is 104 degrees. The St. Lucia features combination air and heat massage, as well as a chemical dispenser.
An inflatable jacuzzi with a splash of style?! The Bestway SaluSpa Helsinki model has a wooden spa-inspired design. Its dimensions are 71 inches in diameter and 26 inches tall, and it has a capacity of 297 gallons. You don't need any tools for set-up — just use the spa and hand pump that is included with your purchase.
Inflatable hot tub accessories
Already have an inflatable spa? You can still gift a loved one accessories to make his soak even more relaxing.
Intex PureSpa Cup Holder. Enjoy your favorite beverage as your soak with convenience and ease.
PureSpa Headrest. Designed to be placed on top of the spa wall, this pillow allows you to rest your head as you relax.
Spa surround. Take your inflatable spa to the next level with this stylish black rattan surround. The surround keeps essentials accessible while making it easier to get in and out.